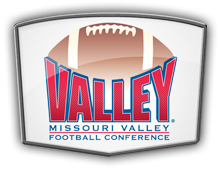 The week's slate of MVFC games kicks of a little early, with a matchup of Northern Iowa at Indiana State on Thursday evening. The rest of the games are all on Saturday starting between 2:30 and 6 PM. All times listed as Central time zone and ranking numbers based on the AGS Poll. Here's the full list along with starting times and places you can find them on TV/streaming video:
Thursday, September 27
6:00 PM – #22 Northern Iowa (1-2) at Indiana State (2-1), ESPN3
Saturday, September 29
2:00 PM – #6 Illinois State (3-0) at Missouri State (2-1), ESPN+
2:30 PM – #3 South Dakota State (2-0) at #1 North Dakota State (3-0), ESPN3
3:00 PM – Youngstown State (1-2) at #25 Western Illinois (1-2), ESPN3
6:00 PM – South Dakota (1-2) at Southern Illinois (1-2), ESPN3
So, with this being still pretty early in the season, it's hard to tell how things are going to shake out. Some teams have played incredibly difficult schedules to start the season (USD, WIU, UNI) and some have played stupidly easy schedules (ILSU, SDSU, INSU). With no conference teams playing each other yet, record and SoS is probably the best way to compare teams. This first week of conference games, I'll pretty much just mention the top few players for each team stats-wise and give a quick prediction. For transparency, I will attempt to be as unbiased as possible, but I have been a WIU football fan for ~22 years, just so you're aware.
#22 Northern Iowa  at Indiana State
Last Year – UNI won 41-3 in Cedar Falls
Northern Iowa is 1-2 after losing a close game at Montana, getting beaten up by FBS Iowa, and then steamrolling Hampton back at the UNIDome. Indiana State is 2-1 following a big win over DII Quincy, a loss at FBS Louisville and winning by 14 on the road at Eastern Illinois. According to Massey, UNI has played the 4th toughest schedule in the FCS so far and INSU has played the 89th toughest.
UNI's True Freshman WR Deion McShane currently leads the team in receiving yards with 54 per game and 1 TD, although he really only got in on 1 play against Iowa and had most of his yards (117) against Hampton last week. He was named MVFC Newcomer of the Week, and with older brother Steve McShane frequently making plays at RB with Western Illinois, it'll be interesting to see if we end up with brothers on two different teams getting Player of the Week awards in the same week, or even both ending up on the All-MVFC teams at the end of the season. Redshirt Freshman LB Chris Kolarevic is already up to 31 tackles through 3 games, has 2 tackles for loss and an INT so far this season. DL Bryce Douglas leads the team in tackles for loss with 5 including ½ sack so far.
INSU Freshman WR Dakota Caton earned himself a special teams player of the week award after the first weekend of games following a 71-yard punt return TD against DII Quincy. Senior HB Ja'Quan Keys ran for 232 yards and 4 TDs in their game against Eastern IL and picked up an offensive player of the week award. He currently leads the Sycamores with a 138.67 yard per game average and 6 rushing TDs. On defense, Junior LB Jonas Griffith leads the team with 30 total tackles, 2 for loss, and 1 INT. Junior DL Inoke Moala is on top for both tackles for loss (2.5) and sacks (1.5) to go along with 11 tackles. One of the better kickers in the conference is INSU's Jerry Nunez. The junior PK is 15 for 15 on XP attempts and 2 for 2 on FG attempts so far this year, although to be fair, they were both in the 20-29 yard range, so he hasn't really been tested this year.
INSU didn't win a single game last year, so they've already infinitely improved over last year (that's how that works, right?). I do think they're better, but not really that much better. Offensively, the Sycamores can put up some points, but so can Northern Iowa. Defensively…I think the Panthers have a distinct advantage and will be able to hold Indiana State to a couple of scores…maybe a TD and a couple of FGs, while putting up something close to 30 points themselves. I'm going to have to go with something resembling a 30-13 win for UNI in this one.
#6 Illinois State at Missouri State
Last Year – ILSU won 34-9 in Springfield, MO
Illinois State has rifled off three solid wins so far this season against the 77th ranked SoS (currently) opponents. They crushed NAIA St. Xavier (as expected), steamrolled Eastern Illinois by 38 points, which wasn't a huge surprise although it is generally a closer game than that, but then they headed out to Colorado State and ran all over the FBS CSU Rams. Missouri State has played the 57th toughest SoS and are 2-1 coming out of it. They lost at Big 12 Oklahoma State, then opened at home on a Thursday afternoon (schedule adjusted due to weather) in a big win over DII Lincoln University of Missouri, and…like Illinois State, finished up their OOC slate with a big win over a tough program…in the Bears' case, a 40-8 demolishing of Northern Arizona.
Illinois State sophomore DB Devin Taylor was last week's MVFC defensive player of the week after a 8-tackle (6 solo) and an INT performance against Colorado State. Sophomore punter JT Bohlken received the special teams player of the week award for his performance in the same game, averaging 51.4 yards per punt on 7 punts and pinning CSU within their own 20 yard line 3 times. ILSU's transfer QB (from Memphis) Brady Davis has had an impressive first few games, throwing for 237 yards per game and 7 TDs with 0 INTs so far for a 177.22 efficiency rating, which earned him a newcomer of the week award following the first game of the year. RB James Robinson has been steadily chugging away, putting up 127.3 yards per game with 5 rushing TDs. Senior LB Zackary Mathews currently leads the team with 23 total tackles (10 solo) and has 3 tackles for loss w/ 1 sack.
Missouri State Sophomore LB Tyler Lovelace picked up a defensive player of the week award following a strong performance against Northern Arizona where he had 2 solo tackles, a fumble recovery, and an interception returned 18 yards. QB Peyton Huslig has thrown for 176.3 yards per game with 4 TDs, but also 4 INTs so far this season. In addition, he's run for 58.3 yards per game and has 2 TDs on the ground. Jason Randall is the primary rusher for the Bears, putting up 75.7 yards per game and 4 TDs. Jr. LB McNeece Egbim leads the team with 23 tackles (11 solo) including 1 sack and So. DT Claudio Martin is at the top for sacks with 3 (out of 4 total tackles).
Like Indiana State, I feel like Missouri State has taken a bit of a step forward after last year. Unfortunately for the Bears, it looks like Illinois State has taking a very big step forward and will likely compete at the top of the conference for much of the year. They put up 35 points against an FBS team and should be able to surpass that against Missouri State. MSU has also put up a lot of points, but I think they'll struggle against a solid ILSU defense. I'm going with a 36-20 Redbird victory at MSU's Family Weekend game.
#3 South Dakota State at #1 North Dakota State
Last Year – SDSU won 33-21 in Brookings, SD
South Dakota State had their first game of the season against Iowa State cancelled due to storms. In their first actual game, they hosted Montana State and cruised to a 45-14 victory. Two weeks ago, Arkansas-Pine Bluff came to town and the Jackrabbits set all kinds of records in a 90-6 beatdown before taking last weekend off to prepare for this week. SDSU has currently played the 86th toughest schedule in the FCS and have a 2-0 record. North Dakota State has steamrolled everyone put in front of them, holding a 3-0 record and the #1 rank in nearly every poll out there. Their schedule so far is the 67th toughest in the FCS although they've won every game in very convincing fashion…by 46 points over Cal Poly, by 31 over North Alabama, and by 28 over Delaware. With so many of the games for both teams being very lopsided, individual player stats can be misleading. I'm pretty sure that in the majority of these games, most of the starters were sitting by the start of the second half, if not sooner in some cases.
South Dakota State Sophomore Guard Edward Miller was awarded the MVFC lineman of the week after the matchup with Pine Bluff. The week before that, Sophomore WR Cade Johnson picked up 4 TDs and 138 yards against Montana State and earned the co-offensive player of the week award. Johnson is averaging 150 yards per game for the season. Senior punter Brady Hale was the special teams player of the week the same week for a 4-punt 48-yard average performance that had 3 punts inside the opponent's 20 yard line. RB Isaac Wallace has been getting the job done on the ground, with a 111 yard/game average and 15.9 yards per run. QB Taryn Christion has started off his senior season solidly, with a 275.3 efficiency rating, 325.5 yards per game passing with 9 TDs and 0 INTs. Defensively senior LB Eric Kleinschmit leads the team in tackles with 11.
North Dakota State QB Easton Stick picked up the offensive player of the week award after last week's performance against Delaware. He's averaging 163.3 yards per game and has 3 TDs through the air and 32 yards per game with 4 TDs on the ground. Sophomore tackle Dillon Radunz was the MVFC Lineman of the week for the same game. Senior RB Bruce Anderson and Senior C Tanner Volson received offensive and O-Line player of the week awards during the first week of the season. Anderson is averaging 88 ypg and 8.2 yards per carry with 3 TDs. LB Jabril Cox has had an impressive start to his season with 15 tackles (11 solo), but also INTs returned for TDs in back-to-back games, which means that technically, Cox currently leads the Bison in receiving TDs with 2. Safety Robbie Grimsley leads the team in tackles with 22, 1.5 for loss, and has 1 INT.
So, if you don't consider this the FCS game of the week, then I don't know what you're on. The #3 team in the FCS against the #1 team and defending national champions. Last year, NDSU lost one game all season…this one.. The year before, NDSU lost the game in the regular season, but then got revenge by beating SDSU in the playoffs. Over the last few years, the Jackrabbits haven't always come away victorious, but they've proven to be just about the only team that can compete with the Bison on a regular basis. This game is also the Dakota Marker game…a comparatively new rivalry trophy, but the rivalry itself goes back to 1903 with 107 matchups throughout its history. I think this will be a big-time battle, and SDSU is still one of the best teams in the FCS, but NDSU looks even better this year than they have the past few years and I think they'll come away with a 1-score win….35-28.
Youngstown State at #25 Western Illinois
Last Year – YSU and WIU haven't played each other since 2015, which was a 23-21 Penguin victory.
Youngstown State has played the 52nd toughest FCS schedule this season and have a 1-2 record to show for it. They started the season with a surprising loss to non-scholarship Butler, then went down to FBS West Virginia and got rolled by 35 points. They then headed back home to take on another non-scholarship Pioneer League team, this time finding their first win, by 35 points over Valparaiso. Western Illinois has the same record as YSU, 1-2, but have played a much tougher schedule (3rd in the FCS). The Leathernecks started off the season losing a close game by a FG at Montana State. They then traveled to FBS Illinois, where they lost by 20. Finally heading back home, WIU got their first win of the season, beating Top 25-ranked Montana by 4.
YSU RB Tevin McCaster is the focus of the Penguin offense, rushing for 126.3 yards per game and 3 TDs. QB Montgomery VanGorder has been throwing 197.7 yards per game with 7 TDs and 1 INT so far. Senior LB Armand Dellovade leads the defense with 23 tackles (17 solo) and 1 INT. WR Zach Farrar has a 57.7 yards/game average on 11 catches.
WIU had both the special teams player and newcomer of the week awards two weeks ago, with RB Steve McShane returning a punt for a TD for the first one and transfer WR John Brunner earning the other with a 144 yard, 2 TD performance. McShane is only averaging 40.67 yards per game on the ground with 1 TD, but he's also the #2 receiver with 47.67 yards per game and 3 TDs on 21 catches. Brunner has 19.5 yards per catch and 78 yards per game averages through the first 3 games. Senior QB Sean McGuire has been throwing for 266.67 yards per game with 7 TDs but has had 5 INTs this year. LBs Zach Glisan and Quentin Moon lead the team with 34 tackles each (21 and 22 solo, respectively). Moon also has ½ sack and a forced fumble and recovery.
Both teams appear to be down a bit from the past few years, although YSU has had problems both on and off the field. They both have RBs who can make huge plays at times, but I think that WIU has the advantage through the air. With those factors, and the game being played at WIU, I think that points to something like a 30-23 Western Illinois win.
South Dakota at Southern Illinois
Last Year – South Dakota won 42-0 in Vermillion, SD
South Dakota is currently 1-2, but having faced the #1 toughest schedule in the FCS so far. They started off the season at Big 12 K-State, leading for much of the game up until around halfway through the 4th quarter but ultimately falling by 3. They then headed home and took on Northern Colorado, who they beat 43-28. Finally, they headed out to Utah to take on Weber State, a highly-ranked team that was probably the toughest non-seeded team in the playoffs last year, where they fell 27-10. Southern Illinois is also 1-2, against the 35th strongest schedule. They began their season with a 39-point walloping of Murray State. They then played at SEC's Ole Miss, where they competed well for a while, before getting blown out late, 76-41. Finally, they had their home opener against non-conference rival Southeast Missouri State, who beat the Salukis in a back-and-forth nailbiter, 48-44.
USD Junior QB Austin Simmons was the co-offensive player of the week a few weeks ago following a 462 yard 4 TD passing (plus 80 yards and 1 TD rushing) performance. He is averaging 309.67 yards per game overall with 6 TDs and 2 INTs. Junior DE Darin Greenfield had the defensive player of the week award the same week, putting up 7 tackles including 2 sacks, and has 14 total tackles on the season. The first week of the season, Senior LB Alex Gray took and INT back for a TD, recovered a fumble, had 2 sacks and 6 tackles against K-State and earned the defensive player of the week. Gray currently leads the team with 25 total tackles, 4.5 for loss.
Southern Illinois RB DJ Davis leads the team (actually the entire conference) with 140 yards per game and 2 TDs on the ground. On the receiving front, WR Raphael Leonard has had 2 straight games of 100+ yards receiving and 2 TDs. He's averaging 88 yards per game overall. QB Sam Straub has been doing well, throwing for 275.67 yards per game and has 7 TDs, but he also has 6 INTs. Straub also runs pretty well, picking up an average of 22 yards per game and has 2 TDs rushing. Safety Jeremy Chinn has 21 total tackles (20 solo) and 2 forced fumbles.
Let's see….take last year's result…42-0, add maybe two TDs because SIU looks better this year. Subtract a TD from the Coyotes because Simmons is good, but isn't quite Streveler. Give SIU another 3 points for home field advantage and it all works out to…a 35-17 USD victory. #hedidthemath