The Scores
(for both games, not just MVFC)
South Dakota State – 21
North Dakota State – 44
Maine – 19
Eastern Washington – 50
---
South Dakota State at North Dakota State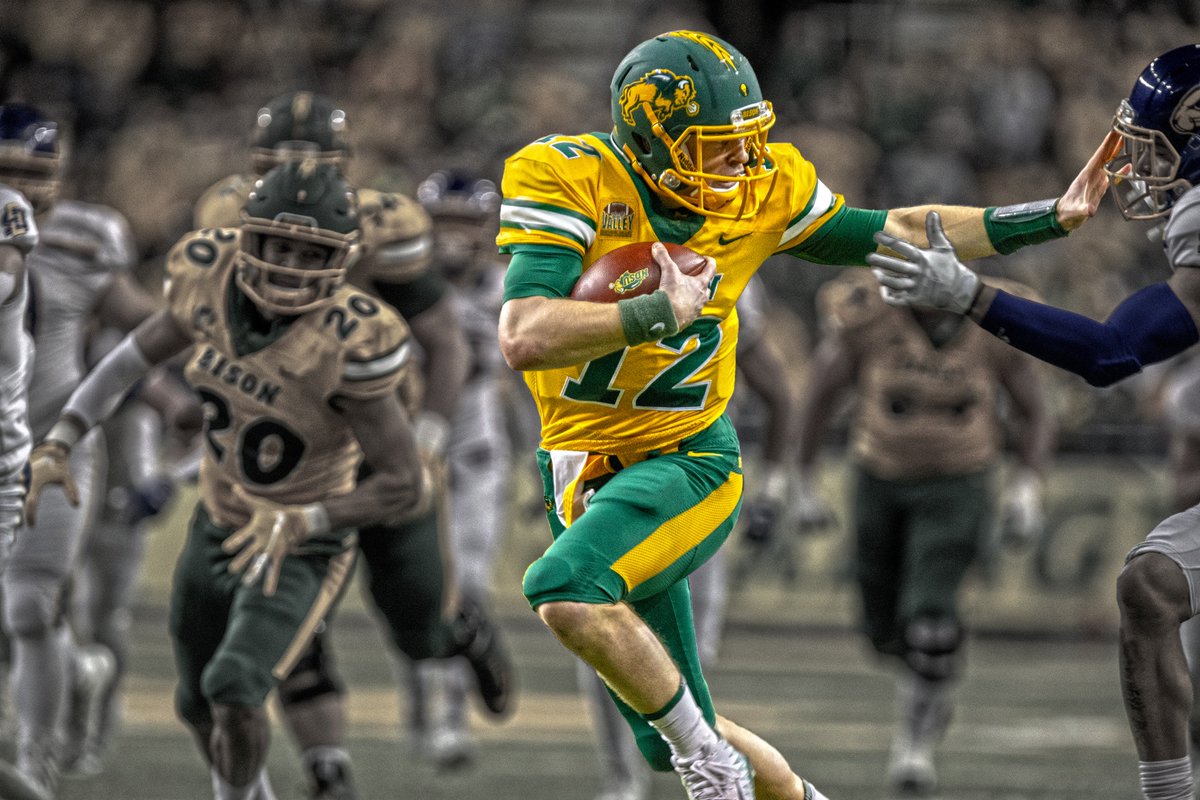 The Not-Dakota-Marker game started off this time around as a defensive battle, with a couple of 3-and-outs to start the game. The Bison would break the stalemate, using a 32-yard pass from QB Easton Stick to RB Seth Wilson to get down close to the end zone and a 5-yard run from Stick in for the TD. SDSU responded on their next drive, going to RB Pierre Strong Jr. for a couple of big runs including a 30-yard weaving TD run to tie things up. The drive wasn't without issue for the Jackrabbits, as QB Taryn Christion was hit while going to the ground and was down for a few minutes. Despite only being out for one play, he seemed somewhat shaken up, and combined with a few other hits throughout the rest of the game, looked like it had a negative affect on his playing ability. Early in the 2nd quarter, NDSU got down to the 30 before having to go for a FG, but the kick pulled wide right and the score remained tied. Late in the first half, NDSU pulled ahead again after a 4-play drive involving a couple of 15-yard passes and a 34-yard run by QB Stick straight up the middle (including a RB-style stiff-arm of an SDSU defender) and into the end zone. This made the score 14-7, which would hold through halftime.
Coming out of break, NDSU started with the ball and on the first play from scrimmage RB Wilson took it 78 yards before being pulled down from behind by SDSU CB Marshon Harris at the 3. After being assessed a penalty for the horse-collar tackle, RB Bruce Anderson was able to run it the final yard into the end zone, putting the Bison ahead 21-7. SDSU's next drive was highlighted by a big 47-yard pass to WR Isaiah Hill and capped off by an 8-yard pass to TE Blake Kunz between a couple of NDSU defenders, making it a 1-score game again. The Bison came right back with a methodical drive covering 75 yards in 10 plays and finding the end zone again on a 14-yard pass to RB Bruce Anderson. SDSU was held to a 3-and-out on their next drive and NDSU blew things open with a 41-yard TD run by RB Anderson, breaking a couple of tackles and scampering down the sideline into the end zone, making it 35-14. The Jackrabbits weren't going to go away quietly though, as QB Christion launched a perfectly-placed 52-yard TD strike to WR Cade Johnson for a TD to pull within 14 near the end of the 3rd quarter. Into the 4th quarter though, NDSU executed one of their slow, defense-killing drives that they're known for, eating up just over 9 minutes and 61 yards in 15 plays and ending with a 32-yard FG. SDSU wasn't able to get anything going on their next drive, turning the ball over on downs, and NDSU didn't even need 90 seconds to score again, with QB Stick running 28-yard for a TD. The XP attempt failed, making it 44-21. SDSU was able to get down to the NDSU 39 yard line on what would be their final drive, before SS Robbie Grimsley intercepted the ball at the 5 and took it back out to the 38. NDSU RB Adam Cofield had a 51-yard run after what appeared to be an initial stop that got the Bison down to the SDSU 6 yard line. With slightly over a minute left in the game, up by 23, and with SDSU only having 1 time out left, they probably could have gotten one final TD, but instead chose to kneel a couple of times, running out the clock, and securing their spot in the FCS championship game for the 7th time in the last 8 years. Despite the decisive win, NDSU was actually penalized 9 times in the game for 70 yards (much of it in the first half), which was more penalties than they'd had in any game this season.
SDSU QB Taryn Christion threw for 180 yards, 2 TDs, and 1 interception while running for 32 yards. RB Pierre Strong was the vast majority of the ground game, picking up 135 yards and 1 TD. WR Cade Johnson had 3 catches for 89 yards and 1 TD. LB Christian Rozeboom led the Jackrabbits with 11 tackles (8 solo) including 1 for loss and a forced fumble (was recovered by NDSU though). Safety Joshua Manchigiah picked up 10 tackles (6 solo), and punter Brady Hale averaged 40 yards on 6 punts with 2 inside the 20.
NDSU QB Easton Stick passed for 169 yards and 1 TD and ran for 147 yards and 3 TDs. His combined 316 yards of offense is his best this season (possibly career best, I'm not digging that far back in the archives though). He's had more combined TDs this season, but the 3 rushing TDs appear to be a career best for him as well. RB Seth Wilson picked up 86 yard and RB Bruce Anderson had 79 and 2 TDs on the ground with 1 receiving TD. WR Darrius Shepherd led the Bison with 4 catches for 71 yards. Punter Garrett Wegner had only 2 punts in the game, but averaged 47.5 yards on them with a long of 54. On defense, LB Dan Marlette led the team with 8 tackles (5 solo) including 1 for loss and a pass breakup. DE Derrek Tuszka picked up a sack among his 4 tackles and SS Robbie Grimsley had the essentially game-sealing interception returned 33 yards.
South Dakota State ends their season at 10-3 overall, with 2 of those losses against NDSU. Because we're saying goodbye to another MVFC team, we also say goodbye to the senior Jackrabbits. These names include QB Taryn Christion, RB Isaac Wallace, O-linemen Sepestiano Pupungatoa and Tyler Weir, Punter Brady Hale, LBs Dalton Cox and Eric Kleinschmit, and DBs Jordan Brown, Brandon Snyder, and Makiah Slade.
North Dakota State improves to 14-0 and get a 3-week break before facing off against Eastern Washington on January 5th in Frisco, TX (Fargo South) for the FCS Championship Game.
Frisco. pic.twitter.com/MgpVZPLxDB

— NDSU Football (@NDSUfootball) December 15, 2018
---
How'd I Do?
I predicted a 36-28 NDSU win. It was a 44-21 NDSU win. Christion seemed to struggle quite a bit at times after that rough hit fairly early in the game. He made some excellent passes at times, but also missed on some that would have been fairly routine for him usually. Otherwise I think the margin would have been closer to what I thought.
The FCS Championship Game
There's no "next weekend" because the last two teams have a bit of a holiday break. The championship game is on Saturday, January 5th at Toyota Stadium in Frisco, TX. With Eastern Washington rolling over Maine by 31 points, they get to face off against the Bison. The two teams have a short but interesting history against each other, which I'll review, as well as previewing the championship game, once we get a bit closer to kickoff for that game.
The #FCSChampionship Finals Are Set! pic.twitter.com/CPetWb9NP0

— FCS Football (@NCAA_FCS) December 15, 2018