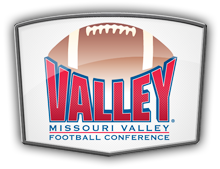 Here we are…the granddaddy of them all…this one's for all the marbles…the…wait…this isn't the championship game? Ok, fine…the "unofficial" MVFC Championship Game is this weekend with a rematch of a game that happened about 2 ½ months ago when the Jackrabbits visited Fargo to compete for the Dakota Marker trophy. This time around, it's the playoffs, and while the Dakota Marker isn't up for grabs this time, a spot in the FCS championship game is.
Couple of quick things:
I'll be using full-season stats, because most of the games will not be in-conference matchups.
Rankings of stat categories will be ranking within the entire FCS (out of 124 teams)
I will usually round to the nearest yard for things like yards per game
All times are listed as Central time zone and the rank numbers are now going to be based on the seed numbers as assigned by the playoff committee. With only two games total this weekend, here's both of them along with starting times. Both games will be shown on ESPN2.
Fri 12/14 at 7 PM – #5 South Dakota State at #1 North Dakota State
Sat 12/15 at 1 PM – #7 Maine at #3 Eastern Washington
---
# 5 South Dakota State at #1 North Dakota State
The Series: Last weekend, SDSU beat Kennesaw State in their first ever matchup. Also, NDSU beat Colgate in their first ever matchup. This weekend is a completely different story, as these two teams have spent much of their histories in the same conference including 83 years together in the old North Central Conference…how's that for conference stability. They moved up to DI together in mid-2000's, and since, have become two of the most dominant teams in the FCS and both members of the MVFC. The Jackrabbits and Bison have faced off 108 times going back to 1903, with NDSU holding a 61-42-5 series record, and they've played at least once every year since 1946. Going back to the start of the 2016 season, NDSU has lost a total of 3 games…2 were against SDSU. In the last 7 years (going back to the start of 2012) this game will be the 11th meeting…an average of 1.57 games per season…including 3 playoff meetings. Oddly enough, they've ended up playing each other in the playoffs every other year: 2012, 2014, 2016, and now 2018. So, to say that these two schools/teams/fanbases are already familiar with each other…that'd be one hell of an understatement.
SDSU's Record: The Jackrabbits went 8-2 overall with a 6-2 conference record in the regular season. Their opener at FBS Iowa State was cancelled due to weather. They then hosted Montana State and Arkansas-Pine Bluff, winning both games handily, by 31 and 84 points, respectively. In the MVFC, they lost at NDSU by 4, beat Indiana State by 3 in OT and then defeated Youngstown State before dropping a defensive battle to UNI. They followed that up with wins over Illinois State, Missouri State, Southern Illinois, and South Dakota. As a seeded team, they had the first round of the playoffs off, crushed Duquesne 51-6 two weeks ago in a snowstorm, and then handed #4 seed Kennesaw State a 10-point loss at KSU in the rain.
NDSU's Record: The Bison are undefeated this season, going 11-0 overall with an 8-0 conference record in the regular season. They decimated Cal Poly, North Alabama, and Delaware to start their season. They then went through the MVFC portion of the season with a 4-point win over SDSU and wins over UNI, WIU, ILSU, USD, then a surprisingly close game against YSU before stomping all over MSU and SIU. As the #1 seed, they also had a first-round bye and home field advantage throughout the playoffs. They hosted Montana State two weeks ago, dropping a 42-point victory on the Big Sky team, then invited Colgate to town for some Bison hospitality, where they were, by all accounts, extremely friendly to any visiting fans, and the exact opposite to the team during the game, shutting out the #8 seeded Raiders 35-0.
About South Dakota State: I think most of this is old news by now, but I'll recap it anyway. SDSU has the #7 offense in the FCS, averaging 491 ypg with 44.3 ppg (3rd). Their ground game is 17th (235 ypg) and the passing game is 30th (256 ypg), so they're pretty well balanced. QB Taryn Christion finished 7th in Walter Payton Award voting, had 237 ypg and 30 TDs passing with 7 interceptions and ran for 25 ypg with 6 TDs. Christion is also 5th in the FCS for passing efficiency. Primary receiving targets are WRs Cade Johnson (104 ypg with 16 TDs) and Adam Anderson (59 ypg with 7 TDs). On the ground, RB Pierre Strong and Mikey Daniel have been the big playmakers after early-season starters Isaac Wallace and CJ Wilson were forced to miss large portions of the season with injury. Wilson did come back and play sparingly against KSU last weekend, but in the last 5 games that the Jackrabbits have played, Strong is averaging 156 ypg and has 10 TDs and Daniel has 64 ypg. PK Chase Vinatieri has missed a few FGs this season, going 14 of 21, but has the leg to have hit a 57-yarder in UNI's dome earlier this season. Their punter, Brady Hale, averages 42.8 yards per kick on 50 punts with 7 of over 50 and 22 inside the 20-yard-line. QB Christion, WR Johnson, and O-Lineman Tiano Pupungatoa were all named first-team All-MVFC offensive players.
SDSU is 46th in total defense, giving up 367 ypg, but 13th in scoring defense, only allowing 20.5 ppg. They're 38th against the pass (200 ypg) and 56th against the run (167 ypg). LB Christian Rozeboom leads the team with 7.83 tackles per game, has 9.5 tackles for loss, 2 interceptions, 2 forced fumbles, and a fumble recovery. DB Jordan Brown had 2.33 tackles per game, but also had 3 interceptions and 11 passes defended as well as a forced fumble. DE Ryan Earith has 9 tackles for loss this season including 5 sacks and 9 QB hurries. DT Krockett Krolikowski has been very good this year, but hasn't played since their first playoff game against Duquesne, due to injury, and it sounds like he's probably out for this game as well. LB Rozeboom and DB Brown were both first-team All-MVFC players.
About North Dakota State: The Bison offense sits at #18 in the FCS for yardage (460 ypg) and 6th in scoring (41.5 ppg). Their offense is heavily reliant on the run game putting up 274 ypg (9th) and really only use passing selectively to open up an opposing defense or take advantage of mismatches. They're 87th in the FCS in terms of raw yardage (186 ypg) through the air, but are 3rd in passing efficiency with 168.14 rating. Like I've mentioned frequently before, they don't pass a ton, but when they do, they are highly effective at it. The leader on that side of the ball is Walter Payton Award Finalist and MVFC Offensive Player of the Year QB Easton Stick. Stick passes for 184 ypg with 25 TDs and only 5 interceptions and runs for 32 ypg with 11 TDs. He's also been sacked only 11 times through 13 games this season. He's obviously a great player, but a lot of credit for that can also go to their stellar offensive line, highlighted by Rimington Award (top center in the FCS) winner Tanner Volson as well as All-MVFC first-teamer Zack Johnson. NDSU has a handful of very good RBs who all do a very good job including Bruce Anderson (77 ypg w/ 7 TDs), Lance Dunn (68 ypg w/ 12 TDs), and Ty Brooks (55 ypg w/ 5 TDs). When Stick does pass, it's often to WR Darrius Shepherd (also a very good kick returner…4th in the FCS) who had 67 ypg and 7 TDs, or if in shorter down situations, TE Ben Ellefson is often relied upon with 8 receiving TDs. Punter Garret Wegner is solid with an average of 43.1 yards per punt on 54 kicks with a long of 61 and 25 dropped within the red zone.
On defense, NDSU has been (for quite a while) and continues to be one of the the most suffocating squads in college football outside of the FBS Top 25. They give up 279 ypg (4th) and a stingy 11.1 ppg (2nd). They're 12th in rushing defense allowing 107 ypg, and 10th in pass defense giving up 172 ypg. They have a number of excellent defensive players, including LB Jabril Cox who finished 4th in Buck Buchanan Award voting, has 6.46 tackles per game including 9.5 for loss, 4 sacks, 4 interceptions, and 7 passes defended. SS Robbie Grimsley averages 5.92 tackles per game, and has 5 interceptions and 5 pass breakups. DE Greg Menard has 8 sacks and 8 QB hurries. Grimsley finished 9th in Buchanan award voting, and all three players are first-team All-MVFC.
My Take: This weekend's game has taken on an additional "wrinkle" with the contract situations for both coaches. NDSU HC Chris Klieman has already been named the new HC for FBS Kansas State, but plans to continue coaching NDSU until they are done with the playoffs. Also, current DC Matt Entz has already been named the new HC. SDSU HC John Stiegelmeier meanwhile, has just signed a 5-year contract extension through 2023 to stay with SDSU. It remains to be seen how the knowledge of Klieman leaving NDSU will affect how the Bison play, but if I had to put money on any team being able to handle late-stage playoff games with coaching changes…it'd be NDSU. It could be that the distraction of the situation and playing a team they're so familiar with might shift things a bit one direction…then again, maybe the NDSU players will want to send their coach off with a big win and they'll really step up even more than they have been. SDSU over the last few years has really been one of maybe a couple of teams able to seriously challenge NDSU on any regular basis and it feels like they were really built to beat the Bison. They beat a lot of other teams too, of course, but they're set up well to compete favorably with their northern neighbors. Still, NDSU has the advantage in this game, being in the Fargodome and because they always seem to have another gear when it gets to the playoffs. For SDSU to win this, they're going to have to play probably their best game of the season and not make any dumb mistakes. They'll need to take advantage of any opportunities that present themselves and not make any trips to the red zone that end up with 0 points. I hope it's a close exciting game, but my guess on this one is a 36-28 NDSU victory.
For more discussion and analysis, here's the thread on AnyGivenSaturday.com for this game: http://www.anygivensaturday.com/showthread.php?219772-Semifinal-5-South-Dakota-State-1-North-Dakota-State
---
#7 Maine at #3 Eastern Washington
Yeah, I know…not MVFC teams, but I just wanted to touch on this one a bit, since whoever wins this will take on the winner of SDSU @ NDSU in the championship game. Eastern Washington has a high-powered offense scoring over 44 ppg this season and highlighted by QB Eric Barriere (173 ypg and 17 TDs passing, with 50 ypg and 7 TDs rushing) and RB Sam McPherson (99 ypg w/ 12 TDs). Maine got to this point via their #1 ranked run defense. They put quite a bit of pressure on opposing QBs, sitting at #2 in sacks and include LBs Sterling Sheffield (who finished 13th in Buck Buchanan Award voting) and Deshawn Stevens, and DL Kayon Whitaker, who all have over 9 sacks this season. RB Ramon Jefferson is a threat on the ground with 88.36 ypg and 8 TDs.
Personally, I think it'd be fun to see Maine in the championship game, since it's been 5 years since they even appeared in the playoffs and I don't think they've ever been in the championship game before, but many signs point to Eastern Washington having the overall advantage in this game. There are a couple of things that Maine does have going for them though…of Eastern Washington's two losses this year, the only one that was against an FCS team was against Weber State, who, like Maine, has a high-quality defense, and who was beaten by Maine just last weekend. Also, Maine was picked in the preseason to finish 8th out of 12 in the CAA this year, so to be the #7 seed and this deep into the playoffs…they kinda have nothing to lose.
I'll admit, this pick is definitely the less likely result, but what I'm hoping to see is a 21-17 Maine victory.
For more discussion and analysis, here's the AGS thread for this game: http://www.anygivensaturday.com/showthread.php?219803-7-Maine-at-3-Eastern-Washington