The Southern Conference games this week include some interesting match ups.  First we have the Military Classic of the South as The Citadel travels to Lexington Virginia to take on the Keydets of VMI.  Next, Wofford tries to make a statement for its playoff chances as the Terriers travel to Chattanooga.  The Western Carolina Catamounts visit Furman and try to notch another conference victory.  ETSU hosts NAIA Cumberland College.  And finally, The Mercer Bears will visit Samford and try and to ruin their playoff plans. (SOCON Weekly notes) 
---
#4 The Citadel at VMI 1:30PM (ESPN3) (The Citadel game notes) (VMI game notes)
It was only 55 years after the Civil War ended that these two teams first met on the gridiron in 1920. To put that in perspective, 55 years ago from today was only 1961. Heck, some of us can (almost, but not quite) remember back that far. To most football fans today, that is ancient history.
The Citadel, the Military College of South Carolina and the Virginia Military Institute have already met 71 times. Each has played other teams more often, but this one is somewhat special. Besides being conference foes, the schools share a unique heritage and dare I say it, camaraderie. And while there isn't necessarily any hate between the two, that doesn't mean they will not play to their best ability and try to thump one another on the field. It just means they have a lot of respect for each other. The Army-Navy game might compare to this game, the Military Classic of the South.
The Citadel is bringing its best record in program history, 9-0, into Lexington. VMI is playing much better than they have, but is currently sporting a 3-6 record. The Citadel has the edge in the series 39-30-2, but they have won nine in a row out of the last ten. VMI had the series tied back in 2002, the year before they left for their 11 year association with the Big South.  At stake for The Citadel is an outright Southern Conference Championship.  If they lose and Chattanooga wins, they will have to share it again.   But just as important for both teams, the winner of this game will claim the coveted Silver Shako.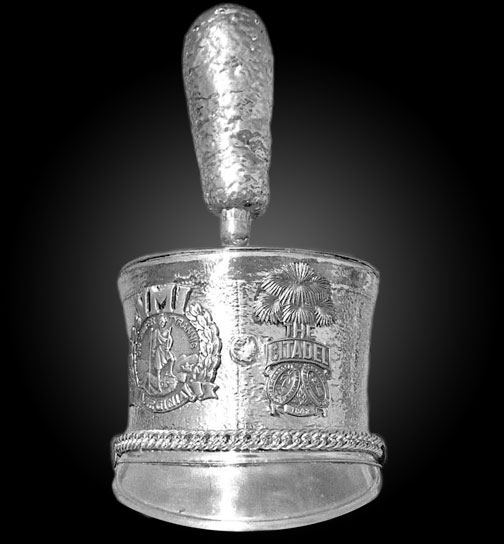 The game will be played in the beautiful Shenandoah Valley in Lexington, Virginia. If you have never been there, it is worth the trip.
After its performance this past week, The Citadel is again the leading rushing team in FCS averaging 374 yards a game. They also average 60 yards a game passing.  It has 4 of the top ten rushers in the SOCON. The Bulldogs are also #15 in total defense in FCS allowing 309 yards a game. This includes 183 yards a game through the air and 126 on the ground. For the season, The Citadel has recorded 25 sacks. The Bulldogs are also at +7 in turnovers on the year.
VMI is averaging 369 yards a game including 117 on the ground and 252 through the air. The big question this game is whether Cobb will be back. I suspect he will, although the VMI game notes list his back up Austin Coulling as the starter. Cobb has gone 178/297 for 2142 yards with 9 TDs and 5 interceptions so far. He did not start last week for the Keydets after getting knocked out the week prior against Furman. On the ground, Keydet Daz Palmer is now at 10th in the SOCON in rushing with 457 yards on the year for 51 yards a game on average.
On defense, VMI has been allowing 443 yards a game including 165 on the ground and 278 passing. The passing should not be too much of a problem although the Dogs could always toss a few to keep them honest. The Dogs are only averaging 60 yards a game but their yards per completion is just over 16 yards which is good for #5 in FCS. The VMI defense has only 13 sacks all year but again, probably not a factor this week. The Citadel only passes about 9 times a game and it has suffered no sacks this year. VMI has got to stop the Bulldogs running game. The Keydets average about 6 tackles for loss a game which is not bad. But against The Citadel, they are going to need more. The Citadel gets tackled for a loss just 3 times a game on average.
On special team, the Dogs have a bit of advantage. They have a higher punting average and punt return average. It is about even for kickoffs and returns. The real advantage is in place kicking. VMI lost last week due to having 4 kicks blocked (2 XP, and 2 FGs). On the year they are just 7/19 on field goals and 17/21 on XPs. Meanwhile, The Citadel is 11/13 on FGs with some clutch ones for wins.
One area that should not be an issue in this game is penalties. Both of these teams are disciplined and average very few. VMI is #3 in FCS for the fewest penalties with just 35 all year. The Citadel is tied for 8th with just 43.
As always when playing The Citadel, VMI must figure out a way to get more offensive plays. The Citadel holds the ball almost 35 minutes a game. VMI averages just under 29 minutes a game. The Keydets need to figure out how to sustain some drives and keep it out of The Citadel's hands. Samford's used their strengths in the hurry up offense to do this. They ran 67 offensive plays which is pretty good considering they only held the ball for just under 22 minutes. Not sure VMI has that game tempo down.
The Bulldogs are coming off yet another very emotional game. If VMI can stay in the game, it might be able to break The Citadel's spirit this week. But that probably isn't going to happen. The Institute will be heard from on Saturday to be sure, but the Dogs should take their military brethren by 2-3 scores.
---
#22 Wofford at #7 Chattanooga 1:30PM (SOCON Network) (Chattanooga game notes) (Wofford game notes)
Wofford is a team on a bubble, the playoff bubble. At 6-3 and with only 5 Div I wins, the Terriers need to win this game, and their next, in order to have a comfortable shot at the FCS playoffs. The Mocs of Chattanooga need to win as well in order to preserve their shot at a seed in the playoffs. Now at 8-1 with Alabama the following week, the Mocs can't afford to lose.
Chattanooga has been strong all year. They have been banged up a little, but it has not seemed to slow them down. They are averaging 37 points a game and gain an average of 445 yards each game. Their QB Alejandro Bennifield has gone 137/209 for 1890 yards with 19 TDs and only 5 interceptions. Derrick Craine, their start running back has been out a couple games but he should be healthy for this game. He averages over 100 yards a game. The Mocs offense is very balanced averaging 229 on the ground and 216 passing. They keep opposing defenses guessing.
On defense Chattanooga is extremely strong. They lead the SOCON and come in at #2 in FCS in scoring defense allowing only 14.8 points a game. They allow only 268 yards a game which also leads the SOCON and is #2 in FCS as well. Relevant to this game, they allow 124 a game rushing. They usually allow just double digits in rushing, but they did give up 342 against The Citadel and even WCU had a 300 yard day, although they had that game in hand. Against Wofford they will need to stop the clock chewing drives. The Mocs allow opponents to convert on third downs just 32% of the time and fourth downs 50% of the time. I include 4th downs because Wofford has gone for them 25 times so far in 9 games. And they are not bothered by doing it deep in their own territory as well. The Mocs also average 6.6 tackles for loss per game with just under three being sacks, but that should not be too much of an issue with Wofford passing just 9 times a game on average.
As good as the Mocs defense is, Wofford defense is right there with them. The Terriers allow just 273 yards a game which is good for #5 in FCS. Now, part of that is that they do not allow opposing teams to have the ball that much since they are #2 in FCS in average time of possession at over 34 minutes a game. But they are stingy in any event. They allow only 67 yards rushing each game which leads the SOCON and is good for #2 in FCS. A running team should be able to defend against it, and they can. One weakness on defense is that they do allow opposing teams to convert third downs 44% of the time. They bend a lot, but they don't usually break. They do allow 206 yards passing a game, but they also have 9 interceptions.
On offense, they obviously run, and run, and run. Their scheme is bit different than The Citadel's, but they get the job done. They average 298 yards a game rushing which is good for #5 in FCS. They average 74 yards passing. Their leading rusher is Lorenzo Long who currently leads the SOCON with 107 yards a game. He has 12 TD on the year as well. As I mentioned, one of their strengths is hogging the ball most of the game. That is, when they can hold onto it. They had done fairly well all year until they lost three fumbles against The Citadel which cost them the game, and three more against Furman which almost lost them the game. Overall they are still +6 in turnovers.
Both teams are fairly solid on special teams except in one area. Wofford's has a kicker, David Marvin, who makes 50+ yard field goals on a regular basis. So far this year, he has made a 50, a 57, a 54, another 57, and he even attempted a 62 yarder, but didn't make it. Overall he is 12/16. A kicker like that can come in handy.
It will be interesting to see how Chattanooga defends against the Terriers rushing attack. They were unable to stop The Citadel's running game and held the ball just 20 minutes as a result. If that happens again, they are in trouble. Wofford had a time with Furman last week and although this is a critical game for them, they might be out of gas. The Mocs have taken the last three and they have the home field advantage. With so much on the line for Chattanooga, they should find a way to slow the Terriers and win by at least 10.
---
Western Carolina at Furman 3PM (TV-WMYA-local) (WCU game notes) (Furman game notes)
Both of these teams have had disappointing seasons. The Catamounts are 2-7 and 1-6 in the SOCON. The Paladins are 2-7 and 2-4 in conference play. Furman started the season with a brutal schedule and then it suffered a bunch of injuries. Then it fell to Kennesaw St, a program in its second year, and their fall from greatness was complete. But they have now gotten healthy, settled down with their Sr QB, and have clawed back with a couple victories. They took Wofford to the wire last week as well.
Furman is not a bad team. They have talent, but they have been lacking the formula to register wins. Resse Hannon took over at QB in the UTC game. He has gone 159/240 for 1973 yards with 17 TDs and 7 interceptions. Furman has only allowed 11 sacks all year. They have dismal running though. They only average 112 yards each game on the ground. It might be interesting to see Hannon run a bit more.  They convert third downs only about 38% of the time. By far, their problem has been turnovers this year. They are dead last in the SOCON at -10 on the year. They have been picking up the pace though and their offense in general has been improving. They averaged only 16 points a game in their first four games, but have averaged 38 a game ever since.
Facing them will be a defense that is a work in progress. After letting their defensive coordinator go before the last game, the Catamounts are trying to find themselves. They didn't do real well against VMI this past week allowing 453 yards in the game. On the year they have giving up a conference worse 504 yards a game. So maybe it is an improvement.  Most of these yards have been on the ground and they limit passing to 216 yards a game. They only have 9 sacks on the year though. One area that has hurt them is that they allow opponents to convert on third downs 53% of the time. They are also last in the SOCON in time of possession at only 25 minutes a game.
One bright spot for WCU is their special teams. They blocked four kicks last week and forced a fumble and scored covering a kickoff return.
On offense the Cats are ok. They average 382 yards a game with 144 rushing and 239 passing. Their redshirt freshman QB Tyrie Adams is going to be a good one. On the year he is 191/297 for 2142 yards with 14 TDs and 9 interceptions. However, they have allowed a conference worse 25 sacks this year.  One of their best weapons on offense is running back Detrez Newsome. He also returns kickoffs and catches a few passes as well. Overall, he averages 192 all purpose yards a game. He is dangerous. One area that has hurt WCU is turnovers. They are -4 on the year.
The Paladin defense facing them is pretty good. They had a few failures this year when they were down due to injuries, but they are usually effective. On the year they allowed an average of 364 yards a game. This includes only 167 passing yards. They allow opponent to convert third downs 38% of the time. They only have 9 sacks on the year though.
If Furman can continue to generate some points and limit the turnovers, they shouldn't have a problem this week. WCU needs to also limit the turnovers, protect its QB a bit better, and have their defense step up. If they can, they can give Furman some fits. However, with all the turmoil that must be going on with their defense, stopping a revitalized Furman team will be a tall order. Oh, one more thing that should motivate Furman is that they have not won at home since the beginning of Oct…2015.   Look for Furman to win by at least two scores.
---
Cumberland College at ETSU 12:45PM (SOCON Network)
The ETSU Bucs gave Mercer everything they had last week, but came up just short. This week should be easier. ETSU will host the Cumberland College Phoenix for their homecoming.
ETSU is 2-7 overall and 1-6 in the SOCON. They did open the season well notching wins against Kennesaw St and WCU, but it has been tough ever since. Last week's performance against Mercer was by far one of their best this year.
ETSU scored 13 points last week. That was an improvement. Against SOCON opponents, they haven't scored more than 10 since week 2. On average they gain just 280 yards a game. They did gain 372 last week against Mercer so they are certainly capable of it. They are a fairly balanced offense with 154 yards a game passing and 126 yards rushing. Their QB, Austin Herink has gone132/224 for 1294 yards with 5 TDs and only 4 interceptions. ETSU has given up 25 sacks though. They do convert third downs almost 40% of the time, so they can sustain drives. They also have a 92% success rate n the red zone. They just haven't been there very much.
On defense, they have allowed 31 points a game. But they have only allowed 398 yards a game which is good enough for 5 in the SOCON. Those yards include 213 rushing and 185 passing. They have recorded only 13 sacks on the year. The Bucs have only 2 interceptions so far. They allow third down conversion about 41% of the time.
The Bucs have been doing better in penalties and they only average 60 yards a game now. They are about even in time of possession and are +6 in turnovers, so they are playing heads up ball.
On a note of interest, the coach for Cumberland, Donnie Stuber, will be able to have a little family reunion as his son is a red shirt freshman on the ETSU roster.
Cumberland is 5-5 on the year but shouldn't pose much of a problem for the Bucs. They should win by 4-5 scores.
---
Mercer at #14 Samford 3:30PM (ESPN3) (Samford game notes) (Mercer game notes)
At 6-3 the Samford Bulldogs can't drop either of its two remaining games if it wants to make the playoffs. With a probable win next week against ETSU, they have to take care of business against the Mercer Bears this week. After two weeks of pretty emotional games, Samford should be eager to get back on the field and score a victory.
Samford is an offensive machine. They average about 40 points a game. They gain 470 yards a week in one of the best defensive conferences in FCS. Their QB, Devlin Hodges has 3193 yards passing this year. That is good for #3 in FCS. He has gone 289/413 with 30 TDs and 8 interceptions. With Hodges only a sophomore this year, Samford will have some good seasons ahead. With Hodges at the helm Samford scores very quickly. They have 27 scoring drives under two minutes this year. Between Karel Hamilton, Kelvin McKnight, and Emmanuel Obajimi, they catch 22 passes a game on average.
Hodges also did something last game he hasn't done very much this year. He ran against The Citadel and he had 94 yards. Not sure why he hasn't done that sooner, but it worked. Samford is in last place in the SOCON in rushing at 103 yards a game. They have made a concerted effort to try and run more and they have the last three games.
On defense the Bulldogs have had a few issues. They have a few injuries as well. Samford has been allowing 427 yards a game including 211 rushing and 216 passing. That was skewed a bit by the huge passing numbers that Miss St and rushing that that The Citadel put up, but they have still allowed a lot this year. Their best way to negate this has been to score more. They do, however, allow third downs only about 37% of the time.
Mercer has been doing fairly well this year at 3-3 in conference play. They have a capable QB in Sr John Russ. He has gone 185/299 for 1971 yards with 17 TDs and 6 interceptions. He does have some legs on him as well and can run when need be. Hopefully for the Bears, they have a replacement all lined up for him. At running back, Mercer apparently has lots of injuries so it is anyone's guess as to who will start. They have been averaging 163 yards a game, but this might take a hit depending on who is healthy.
On defense Mercer is not bad. They have allowed 406 yards a game including 171 rushing and 235 passing. That is not good news with Hodges against them. The Bears do have 20 sacks and 6 interceptions, but Hodges gets rid of the ball so fast most of the time, there isn't a lot of opportunity to sack him. It's usually a coverage sack that gets him and I am not sure Mercer's secondary is up to defending against the Samford receivers.  Mercer has a negative time of possession at 28:29 and they allow opponents to convert third downs 42% of the time.
Both teams have done well in turnovers and are at +5 for Samford and +4 for Mercer. Mercer continues to have issues with penalties and averages over 77 yards a game. I can see them getting called a lot for interference this game.
Last year Samford traveled to Macon and put a hurt on the Bears 47-21 and ruined their chance at a winning season. With so much on the line for Samford this year, and being at home, expect the Bulldogs to dominate Mercer and win by at least three scores.