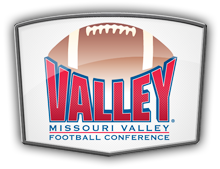 Bum…bum…bum…another one bites the dust. Another Saturday of MVFC football is in the books and another team is effectively eliminated from playoff contention.
Let's take a look at conference standings, where teams are in relation to being set up for a playoff spot or if they're already out of the picture.
| School | Overall | Conference | Remaining Games |
| --- | --- | --- | --- |
| North Dakota State | 8-1 | 5-1 | USD, @ILSU |
| South Dakota | 7-2 | 4-2 | @NDSU, SDSU |
| South Dakota State | 7-2 | 4-2 | ILSU, @USD |
| Illinois State | 6-3 | 4-2 | @SDSU, NDSU |
| Northern Iowa | 5-4 | 4-2 | @MSU, INSU |
| Western Illinois | 6-3 | 3-3 | @INSU, SIU |
| Southern Illinois | 4-5 | 2-4 | YSU, @WIU |
| Youngstown State | 4-5 | 2-4 | @SIU, MSU |
| Missouri State | 3-6 | 2-4 | UNI, @YSU |
| Indiana State | 0-9 | 0-6 | WIU, @UNI |
For reference, in recent history, I believe only one 8-DI-win MVFC team has been excluded from the playoffs (YSU in 2013, who went 8-4 in a 12-game season, but was tied with 3 other MVFC teams at 5-3 in the conference and was coming off of 3-straight losses). In general, 7 DI wins will get MVFC teams at-large spots in the playoffs, and 6 DI wins is possible if the situation is right and the team gets a bit of help from other "bubble teams". It's happened twice so far, WIU in '15, and ILSU in '16, but it's by no means a forgone conclusion.
NDSU, USD, and SDSU have all reached 7 wins (NDSU has 8), which means that barring some complete collapse to finish the season, all three teams are in the playoffs.
ILSU and WIU are sitting at 6-3 and need one more win to be likely in the playoffs. WIU is going to have a much easier job of getting there, with games at INSU and back home against SIU on the docket. ILSU on the other hand, heads to SDSU and back home against NDSU…so that's not an easy stretch.
UNI did what they needed to do to stay in the hunt with a win and are 5-4 now. Their remaining games should be significantly easier, but you never can tell in the MVFC.
SIU and YSU are now 4-5, so either could potentially reach 6-5, but at this point, it doesn't look like a 6-5 team will be making the playoffs, so they're likely out.
MSU is 3-6 and the best they can get to now is 5-6; INSU is 0-9 and can only get to 2-9. Both teams are out of playoff consideration, but could still play spoiler to a few teams that are still in the playoff hunt.
---
#16 Western Illinois at #13 Illinois State
Keepin' it 💯

No. 18 WIU rallies in the second half to defeat No. 13 Illinois State, 31-14, in the 100th meeting in the rivalry #FCS pic.twitter.com/XDGzTse9yZ

— FCS Football (@NCAA_FCS) November 4, 2017
| | | | | | |
| --- | --- | --- | --- | --- | --- |
| | 1st | 2nd | 3rd | 4th | Final |
| WIU | 0 | 0 | 17 | 14 | 31 |
| ILSU | 7 | 7 | 0 | 0 | 14 |
Quick Hits:
WIU – R-Fr. RB Clint Ratkovich ran for 11 yards and 1 TD, had 3 catches for 44 yards and a TD, and returned a kickoff 21 yards
WIU – RB Steve McShane ran for 67 yards and 1 TD and had 4 catches for 22 yards
WIU – LB Brett Taylor actually didn't lead the team in tackles (he had 7), but DBs Aaron Diggs, Mike Viti, and Justin Fitzpatrick all had 8 tackles each, with Diggs getting an INT in the end zone and returning it 33 yards.
ILSU – WR Christian Gibbs had 113 yards and 1 TD receiving
ILSU – LB Tyree Horton led the Redbirds with 9 tackles, 1 for loss, and had a QB hurry
ILSU – DB DraShane Glass had 2 tackles and his second INT of the season
This was a tale of two halves. The first half was all Illinois State, with the Redbirds grinding out a TD in each of the first two quarters to take a 14-0 lead into halftime. The Leathernecks, though, came roaring back with 17 points in the 3rd to take their first lead of the game. Then, early in the 4th, with WIU up by only 3 points, ILSU attempted a fake punt from within their own 30 that was sniffed out and forced a turnover on downs, giving the Leathernecks great field position and essentially ending their hopes of a comeback. They would score on the next play and continue with another TD later in the 4th, all while holding the Redbirds scoreless in the entire second half to come away with the 31-14 victory.
I wanted to make a point of thanking the very friendly Redbird fans whom I met at the game for a bit of pregame tailgate action and the one who gifted me two tickets so that I was able to attend the game with my Illinois State Alum mother (although she's a die-hard Western fan now…worked at WIU for years and had two kids go to Western). We had a great day.
Western Illinois moves to 6-3 overall, 3-3 in the MVFC and will travel to Terre Haute to take on the 0-9 Indiana State Sycamores next weekend.
Illinois State drops to 6-3 overall and 4-2 in conference and heads up to Brookings to take on 7-2 South Dakota State.
My Pick in Review:
I said: Leathernecks by 6
It was: Leathernecks by 17
I knew my Leathernecks had it in them to come back and make it a close game…I did not expect the utter second half domination. Still, got the pick right.
---
Youngstown State at Indiana State (0-8, 0-5 MVFC)
Nice road win today! Penguins finish with 638 yards of total offense. Defense shuts out Indiana State in second half. pic.twitter.com/6bfWEA0ITF

— YSU Football 🐧 (@YoungstownStFB) November 4, 2017
| | | | | | |
| --- | --- | --- | --- | --- | --- |
| | 1st | 2nd | 3rd | 4th | Final |
| YSU | 28 | 10 | 14 | 14 | 66 |
| INSU | 7 | 17 | 0 | 0 | 24 |
Quick Hits:
YSU – QB (technically listed as WR) Ricky Davis throws for 349 yards and 4 TDs while running for 98 yards and 2 more TDs and is awarded the MVFC Offensive Player of the Week award.
YSU – RB Joe Alessi ran for 86 yards and 2 TDs
YSU – WRs Damoun Patterson and Samuel St. Surin each caught for 125+ yards and St. Surin had 2 TDs
YSU – LBs Lee Wright and Armand Dellovade led the team with 8 tackles each
INSU – QB Cade Sparks threw for 224 yards and 1 TD with 2 INTS
INSU – RB LeMonte Booker ran for 167 yards and 1 TD
INSU – TE Jacquet McClendon caught 6 passes for 101 yards and 1 TD
INSU – S Brento Lockett led the team with 14 tackles
YSU blew open a 28 point lead before INSU was able to put their first points on the board at the end of the 1st quarter. The Sycamores actually outscored the Penguins in the 2nd quarter, putting up 17 points to YSU's 10 to head into halftime down 38-24. The second half, though, was all Youngstown, with Indiana State getting shut out and the Penguins tallying 14 points each quarter.

My Pick in Review:
I said: Penguins by 14
It was: Penguins by 42
Um…well…YSU winning wasn't really a surprise, but 66 points is the 3rd most points the Penguins have put up in a game in their history and the most they've ever scored in a MVFC game. With them having to play their #3 QB, I don't think anyone saw that coming.
---
Missouri State at Southern Illinois
BEARS WIN! MSU takes down Southern Illinois, 36-28, to improve to 3-6 on the season. The Bears return to Plaster Stadium next Saturday for Senior Day against UNI. pic.twitter.com/HAMMYGi1es

— MO STATE Football (@MOStateFootball) November 4, 2017
| | | | | | |
| --- | --- | --- | --- | --- | --- |
| | 1st | 2nd | 3rd | 4th | Final |
| MSU | 24 | 3 | 0 | 9 | 36 |
| SIU | 7 | 7 | 7 | 7 | 28 |
Quick Hits:
MSU – QB Peyton Huslig threw for 265 yards, 2 TDs and had 0 INTs, and he ran for 20 yards
MSU – TB Jason Randall ran for 139 yards and 1 TD
MSU – RS Matt Rush returned 4 kickoffs a total of 134 yards including a 72-yard return and earned the MVFC Special Teams Player of the Week award
MSU – CB Darius Joseph had 12 tackles, 1 interception and 2 pass breakups
SIU – QB Tanner Hearn had 180 passing yards, 3 TDs and 1 INT
SIU – WR DJ Davis caught for 130 yards and 1 TD and ran for another 40 yards. He also returned 4 kickoffs for a total of 55 yards (225 all-purpose yards)
SIU – LBs Cody Crider, Airan Reed, and Kyron Watson all had 9 tackles, with Watson picking up a sack and a QB hurry
Despite SIU scoring first, MSU exploded in the first quarter putting up 24 points and would take a 27-14 lead into halftime. The Salukis, playing without injured starting QB Sam Straub, would climb back into the game eventually taking a 1-point lead early in the 4th quarter. The Bears were able to get another TD (2-point conversion failed) and a FG to come away with the 8-point win, 36-28.
Missouri State picks up their third win of the season, moving to 3-6 overall, 2-4 in the MVFC and will bring in 5-4 Northern Iowa next Saturday.
Southern Illinois see their slim playoff hopes evaporate with the loss. They fall to 4-5 with a 2-4 conference record and welcome 4-5 Youngstown State to Carbondale in a week.
My Pick in Review:
I said: Bears by 10
It was: Bears by 8
Even though SIU was favored by a decent amount, I think anyone who took a solid look at SIU's strengths (and the fact that he is out for the season with an injury) and weaknesses (defense) and compared them to MSU's strengths (offense) and weaknesses (also defense) would realize that this could very easily be an upset that the Bears could fulfill…and they did. I got the pick right and was really close on the score. Actually, if they'd gotten that 2-point conversion, I would have been dead-on.
---
#5 South Dakota at #24 Northern Iowa
DOME-INATION!

UNI feeds off the home crowd and dominates the 2nd half against No. 6 S. Dakota to defeat its third top-10 foe this year #FCS pic.twitter.com/JEoOxrd1uR

— FCS Football (@NCAA_FCS) November 4, 2017
| | | | | | |
| --- | --- | --- | --- | --- | --- |
| | 1st | 2nd | 3rd | 4th | Final |
| USD | 7 | 9 | 7 | 6 | 29 |
| UNI | 3 | 10 | 7 | 14 | 34 |
Quick Hits:
UNI – DB Keelon Brookins had an INT returned 29 yards for a TD in addition to 6 tackles, 1/2 tackle for loss, and 2 pass breakups, and for his performance, was awarded both the MVFC Defensive Player and Newcomer of the Week awards
UNI – DB Xavior Williams also had an INT that he took back 23 yards in addition to 6 tackles, and 3 kickoff returns for 72 yards
UNI – Freshman WR Isaiah Weston had 3 catches for 62 yards with 2 TDs
UNI – Panther defense forced a total of 4 turnovers (2 INTs & 2 fumble recoveries) and held the USD offense under 100 rushing yards for the first time all season
USD – QB Chris Streveler passed for 401 yards and 2 TDs, but also had 2 INTs and ran for a net -1 yard (his lowest of the season)
USD – PK Ryan Weese had 3 FGs from 32, 24, and 33 yards out
USD – Freshman DL Nathan Schultz picked up 3 tackles for loss including 2 sacks (out of 6 total tackles) and a QB hurry
USD – WR Josh Hale caught 6 passes for 151 yards and 1 TD
South Dakota took the early lead and outside of allowing the Panthers to tie the game at one point in the 2nd quarter, held on to the lead all the way until the last few minutes of the game, when UNI would completely turn things around, forcing a fumble at the USD 32 that was taken down to the 11…two plays later…UNI TD to grab their first lead of the game. 3 plays into the next drive, USD QB Chris Streveler would throw a pick-6 to put UNI ahead by 11. They would end up getting a TD and going for two (unsuccessful), but would fail on the on-side kick attempt after which UNI was able to down it to run out the clock for the win.
South Dakota suffers their 2nd loss of the season, dropping to 7-2, 4-2 in the MVFC, and will have a very tough matchup with an angry 8-1 NDSU Bison team next weekend at the Fargodome.
Northern Iowa keeps their playoff hopes alive by winning what will likely be the toughest game of their last few and move to 5-4 overall, 4-2 in-conference, and will head down to Springfield, MO to battle the 3-6 Missouri State Bears.
My Pick in Review:
I said: Panthers by 3
It was: Panthers by 5
Again, but for a couple of points, I would have nailed this one. UNI is just playing inspired football right now and the one-man offensive machine of Chris Streveler has been showing signs of weakness (or more specifically, the grind of conference play finally wearing on him, because you can't deny that he is a really tough SOB).
---
#2 North Dakota State at #9 South Dakota State
SOUTH DAKOTA STATEMENT ??

The No. 8 Jacks derail No. 2 NDSU's perfect season, keeping the Dakota Marker south of the border! #FCS pic.twitter.com/pyeBgQcIbb

— FCS Football (@NCAA_FCS) November 4, 2017
| | | | | | |
| --- | --- | --- | --- | --- | --- |
| | 1st | 2nd | 3rd | 4th | Final |
| NDSU | 7 | 0 | 7 | 7 | 21 |
| SDSU | 7 | 10 | 10 | 6 | 33 |
Quick Hits:
NDSU – QB Easton Stick threw for 229 yards and 2 TDs and 3 INTs, and ran 28 yards for another TD
NDSU – S Trey Dempsey led the Bison with 8 tackles
NDSU – PK Cam Pederson had 4 kickoffs for an average of 62 yards each with 2 touchbacks
SDSU – QB Taryn Christion had 329 yards and 2 TDs through the air as well as 25 yards and 1 TD on the ground
SDSU – TE Dallas Goedert caught 7 passes for 116 yards and 1 TD
SDSU – PK Chase Vinatieri was 2/2 for FGs from 21 and 41 yards out and was 3/3 on XP attempts
The conference game of the week really lived up to the hype, with the Jackrabbits grabbing the early lead. The Bison would tie it up near the end of the first quarter, but SDSU would get a TD and FG in the 2nd to take a 17-7 lead into halftime. The 3rd quarter, each team would pick up a TD, but then early in the 4th, NDSU would pull within 6 on a Easton Stick run. SDSU answered back with an 86-yard drive for a TD themselves. The next two drives for the Bison, however, would end with turnovers (a fumble and an INT) and would end NDSU's hopes of a perfect season.
North Dakota State falls to 8-1 overall, 5-1 in the conference, and will angrily welcome a 7-2 South Dakota team to the Fargodome next weekend.
South Dakota State essentially solidifies their playoff chances, moving to 7-2 with a 4-2 conference record. They'll hope to avoid a "letdown" against a 6-3 Illinois State Redbird team that very nearly has their backs against the wall with regards to a shot at the playoffs.
My Pick in Review:
I said: Bison by 7
It was: Jackrabbits by 12
Like I said…throw predictions out the window (including mine) in huge rivalry games like this. I was pretty well on with my thought that SDSU would get decent yardage through the air, but would have trouble moving the ball on the ground. I was also pretty solid with my prediction that NDSU would have some trouble throwing the ball, but completely missed on the ability of SDSU's defense to shut down NDSU's run game. Didn't get this pick, but it doesn't really surprise me. It was going to be a battle…and a battle it was.
I also wanted to mention, for anyone thinking that this is a sign that NDSU is "down"…out of their 5 championship seasons, the Bison went undefeated once…the other four years they had one loss during the regular season to a MVFC opponent. If history is any guide, NDSU is not out of the picture for being the top team in the FCS…not by a long shot.
---
I was 41-14 in my picks this season going into this week. This week I went 4-1 in my picks which puts me at 44-15 for the season so far.
Two weeks…I repeat…two weeks of regular season football remain. 3 MVFC teams are likely in the playoffs…4 teams are likely out…and the remaining 3 teams are needing to finish strong to impress the playoff selection committee. We'll take a look at the penultimate week of MVFC football in a few days.