2015 Record: 1-10 (0-8)
Key Returnees: RB Calan Crowder, RB Jason Randall, WR Malik Earl, LB Dylan Cole
Key Losses: WR Eric Christophel, LB Christian Hoffmann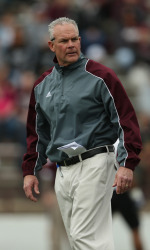 By the end of the 2015 season I actually started to feel a tad bit bad for the Bears. In Dave Steckel's first season the Bears broke just about every MVFC record…that you wouldn't want to break. Steckel came to Springfield known for his defensive genius. His Missouri Tigers consistently had a top 10 ranked FBS defense playing in the SEC. That success didn't make the three hour trip from Columbia. The Bears defense gave up 48.6 points per game, 548.9 yards per game, 6.2 yards per carry, and allowed a 53% conversion rate on 3rd down. The Bears offense? It wasn't any better. Over the final 6 weeks of the season the Bears offense scored just 19 total points and was shut out 3 times, but scored just 7 of those 19 points with the rest coming by way of special teams and a safety. The lone bright spot for the Bears was Deion Holliman who shattered every return record at MSU, thanks in large part to how often he was on the field returning kick offs.
This isn't a "let's break down all of the issues that plagued MSU" last year post though. This is a "Does it get better this year?" post. Well, it depends on how you view it. The reality is, it can't get much worse than last year, if at all, and the good news is nearly everyone from last year returns with a year of experience on the field and in Steckel's system. The bad news? This year's Bears team is, essentially, the same team that took the field last season.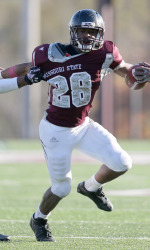 Offensively they have two running backs that have shown the ability to move the ball. Calan Crowder is the name most outside of Springfield will know. As a freshman he finished 9th in the conference in rushing with 766 yards after really only seeing time the final 6 games of the season. Last year, for a variety of reasons, he saw his carries drop to just 80 and his average per carry dipped to 3.2 yards. Crowder is paired with Jason Randal (90 carries 379 yards) in the back field. The quarterback position is a tad unsettled. Both Brodie Lambert (103 completions 776 yards 3 TD) and Breck Ruddick (52 completions 382 yards 2 TD) return. Ruddick started the season, but lost the position to Lambert as the season wore on. I would expect Lambert to start the year, but I don't expect much from either QB. The receiving corps, like the rest of the offense, leaves much to be desired. Malik Earl (31 catches 352 yards 2 TD) is the leader of that group. He was the only receiver with more than 17 catches last year that's returning.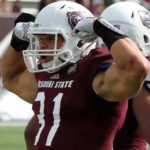 The defense is lead by Dylan Cole. Last season he recorded 152 total tackles, which led the MVFC, on his way to earning First Team All MVFC.  In conference play he averaged 15.4 tackles per game and logged 9 double digit tackle games, including the final seven games. After Cole the defense will be anchored by safety, Jared Beshore. As a freshman Beshore totaled 70 tackles, which was third most last season, including 43 solo stops. I don't want to spin Beshore's stellar performance into a negative, but when your free safety is totaling 70 tackles while not grabbing an interception things aren't going well. The Bears do return leading sacker, Colby Isbell, though he had just 4.5 of them. The rest of the defense that returns will need to take significant steps if they don't want to repeat the numbers from last year. Guys like Tre Betts, Anthony Upchurch, Alexz Jones and Kurran Blamey need to provide Cole and Beshore with some help. If they don't, it's going to be another long season.
Here's how I see the schedule breaking down for MSU:
9/1 Southwestern College (Kan) (non D-1) W 1-0 (0-0)
9/10 @ Murray State – L 1-1 (0-1)
9/24 @ Kansas State – L 1-2 (0-0)
10/1 @ Indiana State – L 1-3 (0-1)
10/8 North Dakota State – L 1-4 (0-2)
10/15 Western Illinois – L 1-5 (0-3)
10/22 @ Northern Iowa – L 1-6 (0-4)
10/29 Southern Illinois – L 1-7 (0-5)
11/5 @ South Dakota State – L 1-8 (0-6)
11/12 @ Illinois State – L 1-9 (0-7)
11/19 Youngstown State – L 1-10 (0-8)
I'm not sold on the Bears beating Southwestern College. Their D2 game against Chadron State last season was a 21-13 win that was less than impressive. They may pull off a game they shouldn't this year, but I'm not sure where the win comes from. My best guess is Murray State, but outside of that I can't imagine a D1 win this year either. I'd love to say it can't get any worse than last year, but I didn't think any MVFC could be as bad as the Bears were last year at that time.