The Jackrabbits may have been the unluckiest team the last few years, not because of bad breaks costing them games but because of the nature of how the FCS playoffs are structured. The Rabbits have had teams that, if they were out east, very well could have made a push to the semifinals or title game. However, thanks to regionalization and being one of just a handful of FCS teams west of the Mississippi River they have been fed straight into North Dakota State and Montana in three of their last four playoff trips. In order to avoid a rematch with their rivals to the north the belief is SDSU has to win enough to get seeded on the other side. I could argue that a win in the final week against Western Illinois last season may have accomplished that. Is this the year we see John Stiegelmeier get his Rabbits over that hump? There will certainly be the offensive firepower to get there.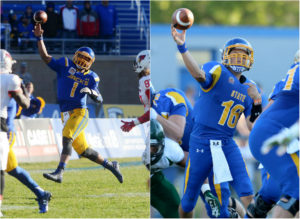 The biggest question I have for SDSU's offense is: who is your quarterback? Thankfully, it's a situation where they a proven quarterback, well two, and not like other MVFC teams are facing where there is no quarterback returning. From the outside it would seem that Zach Lujan *should* get have the edge.  Over his two years on campus Lujan has completed 60% of his passes, thrown for nearly 4,000 yards and 27 touchdowns. The hang up from the fact that, filling in for an injured Lujan, last season Taryn Christion threw for 1,286 yards and 7 touchdowns while adding an extra dimension of running as he added 347 yards and 5 scores on the ground. Adding to the difficulty of figuring out which one to start is that Christion did what he did as a true freshman, which means Stiegelmeier burned Christion's redshirt halfway through the season. Lujan also missed spring ball with another, yet another, injury. Whoever Stiegelmeier decides to go with he needs to make the choice and not waiver off of it. As a UNI fan I can attest, firsthand, to the old saying of "If you have two quarterbacks you have none".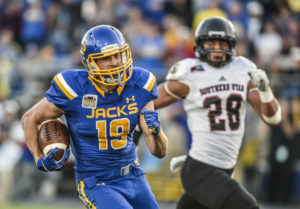 Whoever is taking the snaps will have one of the two best pass catchers in the nation, Jake Wieneke. Last season Winieke hauled in 72 receptions for 1,472 yards and 11 scores last year. We all know about Jake. We all know the complete mismatch he is for every defensive back in the league. What we don't know is what other receiver on the roster can make a play. There's much speculation about a few freshmen that used their red-shirt last season, but there isn't much in terms of returning numbers. All Conference tight end is second in returning receiving stats with his 26 catches, 494 yards and 3 touchdowns. That's a massive difference between the top two targets. Yes, Jake is going to get his numbers but is there anyone to take pressure off of him? Is there anyone to keep teams from rolling a safety over the top on every play? I'm not sure there is.
One thing that may keep opposing defenses from rolling extra help towards Wieneke is the run game. While not quite what Rabbit fans are used to with  go to backs like Zach Zenner, Kyle Minette and Josh Ranek the trip of Brady Mengarelli (128-742-6), Kyle Paris (130-428-6) and Isaac Wallace (61-198-3) to go along with what Taryn Christion could bring to the ground and we still see a ground game formidable enough to keep most defenses honest. I know the stats that Lujan and Christion put up make it easy to call the passing game the strength of the offense going into the season, but with the depth that the running back group has I'd make the case that this is the strongest position group on the team.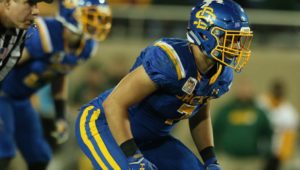 The best kept secret in Brookings last year was the defense. It was completely overshadowed by Wineke and the quarterback situation. Statistically SDSU's defense ranked ahead of UNI and NDSU in a number of categories, which is saying something as they were considered the two best defenses in the nation. When push came to shove the other two were better, but the fact the Jacks defense was ranked with them is worth noting and I think they have a chance to repeat that kind of performance. Gone is all conference linebacker T.J. Lally, who was the team's leading tackler with 102. Back, however, are 6 of the top 8 tacklers from last season and leading the charge is all conference linebacker Jesse Bobbit (97 tackles, 6 TFL, sack, INT, 7 pass deflections). The core of the defense is back, which is a great sign for the Jacks. It shows the depth that has been built, and allows the youngers guys one more year to get to college game speed. I still think this defense is behind UNI and NDSU, but is clearly the third best defense in the conference, and one of the best in the nation.
Prediction:
9/3 @ Texas Christian – L 0-1 (0-0)
9/10 Drake – W – 1-1 (0-0)
9/17 Cal Poly – W 2-1 (0-0)
10/1 Western Illinois – W 3-1 (1-0)
10/8 @ Southern Illinois – W 4-1 (2-0)
10/15 @ North Dakota State – L 4-2 (2-1)
10/22 Youngstown State – W 5-2 (3-1)
10/29 @ Illinois State – W 6-2 (4-1)
11/5 Missouri State – W 7-2 (5-1)
11/12 South Dakota – W 8-2 (6-1)
11/19 @ Northern Iowa – L 8-3 (6-2)
In most of these predictions I seem to list 4 or 5 games that I think are pure toss ups. With SDSU I feel pretty confident about the win loss record. I may have a game or two flopped, but record I'm pretty set on. I think 8-3 and fighting for a 7 or 8 seed feels right. I'm willing to listen to the idea that SDSU knocks off one of NDSU or UNI and drops a game to Illinois State or Youngstown State. I think 7-4 is a disappointment and anything worse puts Stig in a bad spot. Getting both NDSU and UNI on the road in the same year is a major hit to challenging for a conference title.
This feels like the year for SDSU to make their move to avoid NDSU in the playoffs. The playoff committee has "gotten rid of" the regionalization rule to some extent. The Jacks are going to be a top 10 program nearly all season. There will be as strong a case as ever for SDSU get get a more favorable path in the playoffs. Can the Jacks break in their gorgeous new home properly? It would be a damn shame if this stadium didn't get a playoff game this year…