Georgetown Hoyas
2017 Record: 1-10 (0-6)
Head Coach: Rob Sgarlata, 5th season, 11-33 (3-21)
Last Patriot League Title: Never
Last FCS Playoff Appearance: Never
2018 Schedule
9/1 @ Marist
9/8 Campbell
9/15 @ Dartmouth
9/22 Columbia
9/29 @ Brown
10/6 @ Fordham
10/13 @ Lafayette
10/20 Lehigh
10/27 @ Colgate
11/10 Bucknell
11/17 Holy Cross
Overview
Georgetown enters the 2018 season riding a dubious 15 game conference losing streaking. The last time the Hoyas notched a win in Patriot League action was October 24th 2015. On that fateful autumn day Georgetown outlasted Bucknell 17-9 in Lewisburg. What's especially troublesome if you're a Georgetown fan is the fact the Patriot League itself has struggled over that same time period.
Georgetown's decision to stick with the need-base system while the rest of the Patriot League went to the full-scholarship model 7 years ago was suppose create a major competitive disadvantage. While the Hoyas have clearly fallen further behind it's not because the other six programs have ascended to the top of FCS. The alarming reality is Georgetown is losing to mostly average to below average teams.
If Coach Sgarlata's team is going to find success in the Patriot League, even modest success, they must find a way to generate points (12.5 ppg, 120th in FCS). During the offseason, Sgarlata hired Rob Spence to take over the offensive coordinator position. Spence held the same position at Clemson during Tommy Bowden's tenure in Death Valley.
Offense
Best Returning Player: WR Michael Dereus
Freshman to Watch: OL Mac Hollensteiner  
Pence's first order of business will be deciding if Gunther Johnson (1026 yards, 4 TDs 6 INTs) will remain the starting quarterback. Clay Norris opted to leave the team during the offseason which has caused serious depth issues at QB. Sophomore Joseph Brunell (son of Mark Brunell) will likely get a lengthy look in camp. Freshmans Lorenzo Linsey and Jack Elliott come to D.C. with impressive resumes. Odds say Johnson starts the year and his performance will dictate what happens after the first few games.
The running back position is another area of concern. Georgetown's rushing attack was anemic last year (59.8 ypg) despite having two senior backs in Alex Valles and Isaac Ellsworth. Now it's Juniors Jay Tolliver and Jackson Saffold turn to see significant time in the backfield. Freshman Herman Moultrie has a chance to be the third RB that gets important carries throughout the season. Given the Hoyas recent struggles running the ball, the lack of depth and experience at RB is a major concern.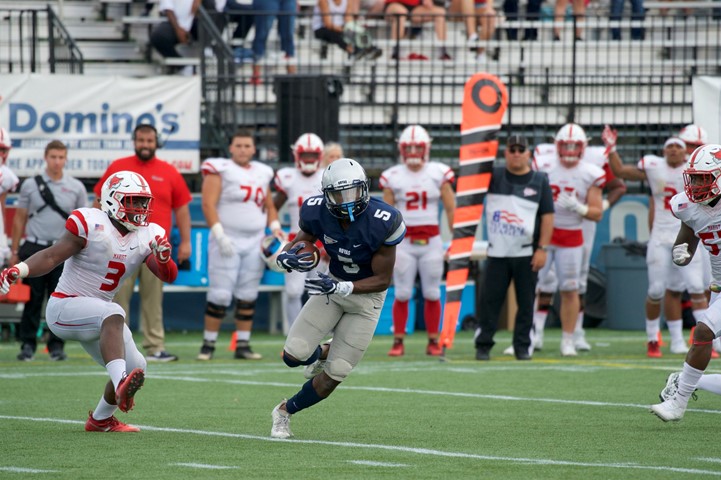 If Spence can point to a clear strength on offense it's the pass catchers. Junior Michael Dereus (46 rec 696 yards 5 TDs) is a bonafide stud at WR. Dereus could be a household name in FCS with improved QB play. Senior Brandon Williams (24 rec 346 yards in 8 games) gives the Hoyas a very solid second option. Junior Max Edwards figures to see significant time as the third WR. Another WR to pay attention to is Skyler Springs (son of former NFL CB Shawn Springs). Freshman Cameron Clayton has a chance to work his way into the rotation. The TE spot seems wide open at this point. Junior Isaac Schley seems to have the inside track to the starting position. 6'6 freshman Liam McHale has a chance to be a serious red zone weapon if he can get comfortable in the offense.
The offensive line has the potential to be pretty solid. Due to numerous injuries last year there's a lot of returning experience in the trenches. The unit will led by 5th year senior Dominic Scarangella at center. There's a good chance the tackle positions are manned by two brothers, sophomore Daniel Horne and senior Jared Horne. Highly touted freshman Mac Hollensteiner will also make a push for playing time at tackle. The guard spots appear to be pretty wide open at this point. Seniors Tower Menning and Randy Crystian could be the week one starters. Junior Justin Wood will also be in the mix.
Defense
Best Returning Player: DT Kristian Tate
Freshman to Watch: LB Justin Fonteneaux
The Hoya defense took a step back last season (27.2 ppg allowed, 5th in PL) after developing into one of the best units in the Patriot League in recent years. The downfall of the "D" combined with a putrid offense resulted in Georgetown's fewest wins since 2009. If the Hoya defense is going to turn things around Preseason All-PL DT Kristian Tate will be the one leading the way.  Tate continues a Hoya tradition of extremely talented and disruptive front 7 players. Seniors Brennen Sawicki and Mike Taylor along with sophomore Duval Paul will likely join Tate along the defensive line. Sophomore Owen Kessler and freshman Isaiah Byrd are two more names that could find themselves with an increased role as the season progresses.
The linebacker unit will be bolstered by the return (missed 7 games in '17) of senior J'Von Butler. Butler is one of the more talented linebackers in the Patriot League when healthy. He and Tate give the Hoyas two big time players within the front 7. The sophomore duo of Wesley Bowers and Ahmad Wilson should once again get the starting nod. There's very little depth at LB so odds are at least one of the five freshmen sees significant time. Texan Justin Fonteneaux comes to Hoyaland off an exceptional high school career.
With plenty of experience and depth returning, the secondary should be the strength of defense. Senior Ramon Lyons, sophomore Cameron Deen and senior Jalen Goldwire will see plenty of time at cornerback. Despite his diminutive size, 5'9 170, Lyons has proven he can make disruptive plays all over the field. Blaise Brown, Jethro Francois and Leon Agee will fight it out for playing time at the two safety positions.
Special Teams
Junior Brad Hurst is expected to handle all facets of the kicking game. Hurst has proven to be a very reliable punter (40.7 avg.) but shaky at best when it comes to field goals (5-9).  Given the Hoya's struggles on offense, a strong kicking game is essential. Blaise Brown and Michael Dereus both have experience returning kicks.
Outlook
Georgetown has some very good pieces sprinkled about their roster. The defense should regain its form as one of the top 2 or 3 units in the Patriot League. However, there remain numerous question marks on offense. The combination of defections and graduation has left the cupboard extremely bare at key positions. Needless to say, Spence has his work cut out for himself.
The non-league portion of Georgetown's schedule is once again quite negotiable. That doesn't mean the Hoyas will find victories but at the very least there's chances for one or more. At Marist, home against Campbell and at Brown appear to be best chances for "Ws".
It's hard to see Georgetown finishing higher than 6th in the final Patriot League standings. Their November 10th battle with Bucknell in D.C. might be the Hoyas only realistic chance to end the conference losing streak. Overall, anything more than a 2 or 3 wins will be a surprise given the state of the offense heading into the 2018 campaign.
Prediction: 2-9 (1-5)