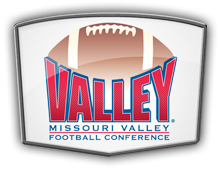 Apologies in advance, but this review is going to be a bit shorter than my usual ones. Apparently sitting outside at Hanson Field watching football for 3 hours in 45-degree weather is not conducive to great health, so I'll just do a quick hit of the highlights.
The Scores
Missouri State – 29
Indiana State – 26
Southern Illinois – 3
Illinois State – 51
Youngstown State – 7
South Dakota State – 36
North Dakota State – 34
Western Illinois – 7
Northern Iowa – 42
South Dakota – 28
Missouri State at Indiana State
Missouri State pulled ahead early in this game with 3 TDs in the first half, two on runs by MSU RB Donovan Daniels. INSU RB Ja'Quan Keys helped keep the Sycamores in this game though, with a couple of rushing TDs in the second half (to go along with 1 in the first). A FG by INSU PK Jerry Nunez gave Indiana State a 5 point lead, but on essentially the final drive of the game, MSU took advantage of an ISU holding penalty to convert on 4th and 5 and extend the drive. Then, with 16 seconds left in the game, on 4th and goal, MSU QB Peyton Huslig hit WR Lorenzo Thomas on a 4-yard TD pass. The Bears would go for 2, fail on a pass attempt, but were given a second chance to try after a pass interference penalty on the Sycamores. They'd get the extra 2 on a run by RB Jeremiah Wilson to give Missouri State the 3-point win.
MSU QB Peyton Huslig had 169 yards and 1 TD passing and 34 yards rushing. RB Donovan Daniels had 62 rushing yards including 2 TDs. LB Angelo Garbutt and S Titus Wall each had 11 tackles in the game, with Garbutt also getting 1 sack. INSU RB Ja'Quan Keys had a great performance, running for 141 yards and 3 TDs. LB Jonas Griffith finished the game with 17 tackles (6 solo) and Punter Travis Reiner averaged 50 yards per punt on 3 punts.
Missouri State is now 4-2 overall…the first time the Bears have had a 4-2 record since October 2007 and are 2-1 in the MVFC. They welcome Western Illinois to Springfield, MO next weekend. Indiana State is 2-4 with an 0-3 MVFC record. They'll head over to Carbondale, IL to play Southern Illinois.
Southern Illinois at Illinois State
I knew Illinois State's defense was good, but this was even more of an impressive performance than I expected. SIU was held scoreless in the first half, while ISU put up 4 TDs and a FG (mostly in the 2nd quarter) to take a 31-0 halftime lead. Outside of a 26-yard SIU FG, it was more of the same in the second half, with the Redbirds continuing to pull ahead en route to a 51-3 victory.
The points were pretty well spread around the offense for ILSU, with QB Brady Davis throwing 4 TD passes to 4 different receivers: WRs Andrew Edgar, Spencer Schnell, and Braxton Haley, and TE Robert Gillum. Davis was awarded the MVFC Newcomer of the Week award for his 4-TD performance. The other 3 TDs were by 3 different runners: RB James Robinson with 202 yards and 1 TD rushing, RB Markel Smith with 143 yards and 1 TD, and backup QB Jake Kolbe with 1 attempt…1 yard for 1 TD. LB Zackary Mathews led the team with 8 tackles (3 solo). SIU's best performance came from WR Raphael Leonard with 81 receiving yards on 7 catches and LB Bryce Notree led the Salukis with 10 tackles (3 solo).
Southern Illinois drops to 1-5 overall and 0-3 in the conference. They welcome the Indiana State Sycamores to town next weekend. Illinois State is now 5-1 with a 2-1 conference record, but will have a tough run the next few weeks, heading up to Fargo to take on North Dakota State next weekend before playing South Dakota State and UNI in back-to-back weekends. With the current state of things, it looks like ISU at NDSU and then SDSU at ISU the next weekend will likely decide who's going to be the conference champion this year.
Youngstown State at South Dakota State
The Penguins kept things close for a while, putting up a TD in the first quarter against the Jackrabbits TD (XP missed) and FG, only down by 2. Unfortunately for YSU, it would be their only points of the game. Meanwhile SDSU picked up a few more to take a 16-7 lead into halftime, and then pull ahead for good on 3 TD runs including a long 49-yarder by QB Taryn Christion and finish with 36-7 win.
YSU QB Montgomery VanGorder threw for 202 yards and 1 TD, but also had 2 INTs. The lone TD to TB Christian Turner. RB Tevin McCaster was held to 60 yards on 22 attempts and LB Armand Dellovade led the Penguins with 7 tackles. SDSU QB Taryn Christion only threw for 78 yards and 1 TD, but also ran for 89 yards and 2 TDs. RB C.J. Wilson ran for 119 yards and 1 TD after RB Isaac Wallace went out with an injury. I have not heard for sure, but unfortunately for the Senior RB, it looks like he might be done for the season, and barring a possible medical redshirt, possibly even his football career. WR Cade Johnson picked up a receiving TD on his only catch of the game (for 23 yards). LB Christian Rozeboom and CB Zy Mosley each had INTs while DE Ryan Earith and LB Seven Wilson led the team with 7 tackles each (4 solo for both) and Earith had a sack. SDSU Punter Brady Hale won the MVFC Special Teams Player of the Week award after kicking 7 punts averaging 42.6 yards per, including a 57-yarder and dropping 2 within the 20 yard line.
Youngstown State drops to 2-4 with a 1-2 MVFC record and heads back home to play the other DI South Dakota team…the Coyotes. SDSU is sitting at 4-1 overall with a 2-1 conference record and heads down to Cedar Falls to take on Northern Iowa.
North Dakota State at Western Illinois
(AKA the reason I now have a cold)
Outside of a couple of drives, this game was pretty much all about the Bison defense. Early in the 2nd quarter, WIU had their only lead of the game after a 5 yard TD pass to WR Isaiah Lesure gave the Leathernecks a 7-3 advantage. From then on though, NDSU was able to surge ahead, putting together a drive with a few long runs by RBs Bruce Anderson and Lance Dunn and QB Easton Stick and then later in the quarter, a fumble by WIU was picked up by LB Dan Marlette and returned 38 yards to the end zone. In the second half, NDSU held WIU scoreless and put up 3 more TDs of their own to win by a final of 34-7.
NDSU QB Easton Stick threw for 123 yards and 1 TD and ran for a net of 2 (after getting sacked 4 times by the WIU defense). RBs Lance Dunn and Ty Brooks each ran for 1 TD, with Dunn leading the team with 64 rushing yards. WR Darrius Shepherd had 5 catches for 67 yards and 1 TD. CB Marquise Bridges forced the fumble that was returned for TD by the previously-mentioned LB Marlette. LB Jabril Cox and S Michael Tutsie each had INTs, while FS James Hendricks had 2 INTs and 3 tackles to earn the MVFC Defensive Player of the Week award. WIU QB Sean McGuire threw for 209 yards and 1 TD, but also had 3 INTs (the 4th INT coming off of backup QB Connor Sampson). WR Isaiah Lesure had a career day catching 12 passes for 170 yards and the lone TD. The WIU ground game woes continued, as the Leathernecks only totaled 9 yards rushing in the game. LB Quentin Moon and D-lineman Khalen Saunders led WIU with 11 tackles each. Saunders also had 2 sacks and a forced fumble (recovered by NDSU).
As a Leatherneck fan, I feel like I do need to point out that all 4 of the interceptions came on the last 4 WIU drives late in the 3rd and in the 4th quarters once NDSU was up by a few and they were trying to force some big plays to get WIU back into the game. The Leatherneck defense performed very well for the most part, although there's only so much you can do when you give the defending national champions 5 turnovers and usually pretty good field position.
Anyway, NDSU is now a perfect 6-0 and 3-0 in the conference and welcome Illinois State to the Fargodome next weekend. WIU falls to 2-4 overall and 1-2 in the MVFC, although thankfully (for me), the last 5 games are potentially winnable if we're able to get our offense moving a bit better. They head down to Missouri State next weekend.
Northern Iowa at South Dakota
The first half was a very back-and-forth game, with 4 lead changes and going into halftime with the Panthers up 21-13. Late in the 3rd, a long drive for the Coyotes would tie things up at 21, but UNI would respond with a quick 5-play drive to retake the lead on a 21-yard TD pass. They'd then pull further ahead after an INT gave UNI good field position, on one 25-yard TD pass. On the next play from scrimmage for USD, a fumble recovered in the end zone by UNI put them ahead by 21. The Panther defense gave up one more TD, but held South Dakota the rest of the game to win 42-28.
UNI QB Eli Dunne threw for 257 yards with 4 TDs, ran for 7 yards and 1 TD, and won the MVFC Offensive Player of the Week award. The yards and TDs were fairly evenly spread out, with 7 receivers catching at least 3 passes for 20+ yards but nobody having more than 41 yards. TD catches were by WRs Nick Fossey and Jaylin James, RB Marcus Weymiller, and TE Briley Moore. LB Chris Kolarevic continued his excellent first season on the field with 11 tackles (8 solo), DB Xavior Williams had the INT and DB Zac Kibby, DL Elerson Smith, and LB Rickey Neal each forced fumbles, 2 of which were recovered by UNI. USD QB Austin Simmons threw for 325 yards and 2 TDs, but also had 1 INT and a fumble that turned the ball over. RB Brandon Thull ran for 37 yards and 1 TD. WR Dakarai Allen had 6 catches for 98 yards and 1 TD, and RB Kai Henry had the other TD catch. DB Andrew Gray led the Coyotes with 13 tackles (9 solo) and DL Kameron Cline had 4 tackles, 4 for loss (1 sack) and a forced fumble. Punter Brady Schutt had 3 kicks for 50.7 yards per punt average.
UNI finds themselves at 3-3 with a 2-1 conference record and welcomes South Dakota State to the UNIDome next weekend. South Dakota is also 3-3 with a 2-1 MVFC record and heads over to Ohio to take on Youngstown State.
MVFC Standings
Team, Overall (MVFC)
North Dakota State, 6-0 (3-0)
Northern Iowa, 3-3 (2-1)
South Dakota, 3-3 (2-1)
Missouri State, 4-2 (2-1)
Illinois State, 5-1 (2-1)
South Dakota State, 4-1 (2-1)
Western Illinois, 2-4 (1-2)
Youngstown State, 2-4 (1-2)
Indiana State, 2-4 (0-3)
Southern Illinois, 1-5 (0-3)
How'd I Do?
MSU @ INSU – I thought Bears 38-32. It was Bears 29-26. I overestimated the offenses a bit, but fairly close in terms of the spread.
SIU @ ILSU – I thought Redbirds 37-14. It was Redbirds 51-3. Overestimating SIU's offense in this case. I knew ISU's defense was good having seen them live the weekend before. I figured it'd be a pretty solid win though.
YSU @ SDSU – I thought Jackrabbits 47-18. It was Jackrabbits 36-7. Again with the overestimating offenses apparently. Dead-on with the spread though (29 points). Big time rebound for the Bunnies.
NDSU @ WIU – I thought Bison 28-16. It was Bison 34-7. Turnovers…sure…5 turnovers…that I didn't really expect. I figured WIU's defense would do ok, and they did, but was hoping our offense would be able to do a little more. It wasn't a complete blowout, so I'll call it a "win" in terms of my prediction.
UNI @ USD – I thought Coyotes in a close one, 31-30. It was Panthers in a less-than-close one, 42-28. It was pretty close for a good part of the game, until a couple of turnovers really pushed this one UNI's way. Congrats to the Panther defense for proving me wrong.
Previously I was 7-3 in my picks. Add in 4-1 this week and I'm at 11-4 overall.
Up next week is the "who wants it least" game with Indiana State at Southern Illinois, Western Illinois hoping to rebound at Missouri State, "Top o' the conference to ya" matchup with Illinois State at North Dakota State, South Dakota State and Northern Iowa coming off of big wins going head-to-head at the UNIDome, and South Dakota taking the long flight out to nearly Pennsylvania to take on Youngstown State.