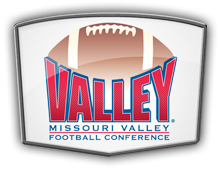 It's all downhill from here…at least for some teams. The MVFC has 6 teams listed in the top 10 of this week's AGS poll and fully half of the conference is undefeated, but we're now "all in" on conference "season". This week, we have 5 games between the 10 MVFC teams including two games involving two top-10 teams. Somebody has to lose, which means that somebody is going to drop out of the top 10. How far depends on how badly they get beat. Outside of one oddly-scheduled Illinois State at Northern Arizona game, all the games for the rest of the regular season are conference games.
Disclaimer: For those of you who don't know me very well, I've been a Western Illinois fan for over 20 years. I will do my best to be relatively unbiased, but I know that it's impossible for me to be completely so. You'll also notice that I generally will write a little more about my Leathernecks due to my familiarity with the team.
For reference, in the past I'd been using the STATS poll for the ranking numbers, but I'll be using the AGS poll from now on instead.
So, here are the games this week
1:00 PM – Missouri State (1-3) at #2 North Dakota State (3-0)
3:00 PM – #7 South Dakota (3-0) at #9 Western Illinois (3-0)
6:00 PM – #3 South Dakota State (3-0) at #6 Youngstown State (2-1)
6:00 PM – Northern Iowa (1-2) at #25 Southern Illinois (2-1)
6:30 PM – Indiana State (0-3) at #10 Illinois State (3-0)
All games listed in Central time and are available streaming on ESPN3/WatchESPN.com
Every game next Saturday involves a ranked MVFC team, and two games feature two ranked MVFC teams. https://t.co/moircd7sHV pic.twitter.com/k9n5cRGJhj

— Valley Football (@ValleyFootball) September 25, 2017
---
Missouri State at #2 North Dakota State (Homecoming)
Last Week:
Missouri State lost to Illinois State, 34-9
North Dakota State beat Robert Morris, 55-0
History: The Bison and Bears have played each other 9 times going back to 2008. NDSU holds the series lead 7-2, with a 3-1 record at home. MSU won the 2nd and 3rd meetings in '09 and '10, but '08 and then all 6 meetings since '11 have gone to the Bison.
Which Missouri State team will we see this week? Do we see the MSU offense that put 43 points up against Mizzou? Or maybe the MSU defense that held Illinois State to 6 first half points in a game that was tied at halftime? On the other hand…there's the MSU offense who was held scoreless by a North Dakota team that hasn't looked very good their last couple of games, or the MSU defense who came out of the halftime tie with Illinois State to give up 28 points in the third quarter. In case you hadn't noticed, the Bears have been real "Jekyl and Hyde" so far this season, although with a 1-3 record, it's been a bit more on the "Hyde" side. MSU is a little stronger in their passing game than in the run game, with QB Payton Huslig averaging 209.5 ypg with 4 TDs and 4 INTs. WR Malik Earl is the primary receiver, with 79 ypg and 2 TDs, and the ground game is handled mostly by RB Calan Crowder, scampering for 76.8 ypg and 3 TDs. You also can't overlook the impact that preseason All-MVFC kick returner (technically WR) Deion Holliman can have on the game, currently leading the conference in punt return yardage and combined kick returns. The Bears defense has a quality LB in McNeese Egbim, who has 25 tackles, 2.5 for loss so far this season…however, they don't have too much else. They're giving up nearly 520 ypg and an average of 40.2 ppg so far this season.
North Dakota State, meanwhile, has rolled through their non-conference schedule with the closest thing to a "challenge" being a 27-point win at Eastern Washington. In their two games at home, they've outscored their opponents 128-7…now, to be fair, the competition has not been as high of quality as they've generally seen the past few years (FBS teams are now VERY hesitant to invite the Bison to town), but it does show that the Bison can really move the ball when they want to. The interesting thing is that for most teams, you see 40, 56, 72 points, and you think of a team that has a strong passing offense. That's not really the case with this year's Bison team, with their offense putting up more than twice as many yards (and more than 3 times as many TDs) on the ground as through the air. RB Lance Dunn is averaging 133.7 ypg and has 8 TDs, and they have 2 other players averaging 80+ ypg. QB Easton Stick can even move when the ball when he needs to (which hasn't been very often yet) picking up 18 ypg and 2 TDs on the ground. Stick doesn't throw too much, but he's pretty accurate when he does (72.5%). The Bison defense is a veritable "Murderer's Row" of likely all-conference first and second team guys, so I won't get into listing all the good ones, but keep an eye out for Nate Tanguay And Aaron Steidl on the line, Levi Jordheim and Dan Marlette (2 forced fumbles) at the LB spots, and Robbie Grimsley and Tre Dempsey roaming the backfield (3 INTs between the two of them).
NDSU is the closest thing to a "complete team" that there is in the conference (if not the entire FCS)…dominant on both sides of the ball (although their kicking game does struggle at times), and can give 100% effort for 60 minutes. MSU on the other hand, has some areas of serious concern, especially on defense, and have really struggled to push through all 4 quarters. In the MVFC, you hesitate to use the word "blowout" in reference to games because just about any team has the potential of knocking off just about any other team. This year though, I think NDSU's Homecoming game is going to be something resembling just that. I think it'll be the Bison by 35.
---
#7 South Dakota at #9 Western Illinois (Homecoming)
Last Week:
South Dakota had their bye week
Western Illinois won at FBS Coastal Carolina, 52-10
History: The Leathernecks and Coyotes have played each other 7 times, with Western holding the 5-2 series lead. The two losses both came back in the '70s however, so in the DI era, USD has not defeated WIU in 5 tries.
Coach Nielson has the Coyotes exceeding most people's preseason expectations, winning dominantly at Drake and against non-conference rival North Dakota. The "meat" in this 3-0 sandwich, however, is a 35-27 win at FBS Bowling Green. Now, it's hard to say how impressive that is, since BGSU is not a good FBS team (0-4), but it's still an FBS team, still has more scholarships, and still spends more on football than anyone in the MVFC. USD's gameplan is generally a balanced attack using the multiple-threat capability of their QB, Chris Streveler, who leads the team in passing yards and TDs as well as in rushing yards and TDs. The other top RBs, Michael Fredrick and Kai Henry, both are averaging ~57 ypg and have 5 TDs between them. When Streveler throws the ball, it's fairly well spread out amongst receivers, with Alonge Brooks, Shamar Jackson, and Kody Case all having 2 TDs and both Jackson and Case averaging over 50 ypg. Defensively, they are only giving up 13.7 ppg, with DB Danny Rambo leading the team in tackles with 17, DB Phillip Powell having 2 INTs with one returned for a TD, and DL Darin Greenfield getting pressure on the QB with 8.5 tackles for loss (3 sacks).
Western Illinois is roughly in the same boat as USD, having started the season 3-0 and dominating their FCS opponents by 27 (Tennessee Tech) and 18 (Northern Arizona) points. Like USD, WIU has a solid FBS win, completely steamrolling newly-FBS/Sun Belt Coastal Carolina by 42 points. Like BGSU, it's hard to say if CCU is any good…although they did at least win their opener against UMass…but they struggled in their other games. Still…42 point differential against a FBS team…any FBS team…is practically unheard of (it's not the record, I believe that honor goes to Portland State over North Texas, but it's probably up near the top of the list). The Leathernecks have done well by having a balanced offense that averages just under 460 ypg and having a ton of experience on the front lines on both sides of the ball. QB Sean McGuire is averaging 207 ypg with 5 TDs and 2 INTs as well as 15 ypg and 1 TD on the ground, and a TD reception against Coastal Carolina. Star RB Steve McShane returned in the last game following a first-game ankle injury and picked up 26 yards and a TD, but RB Max Norris was able to carry the workload in his stead, averaging 105.33 ypg w/ 2 TDs. The primary receiving target is WR Jaelon Acklin, who has just over 80 ypg and 2 TDs receiving, but is also a running threat, picking up 35 ypg and 2 TDs on the ground. The defense has been putting a lot of pressure on QBs and the DBs seem to be doing much better this year as opposed to last year with preventing long passes. One of the best LBs in the FCS this season is Macomb-native Brett Taylor, who is averaging 10 tackles a game, and he's helped out by another solid LB in Quentin Moon. D-Lineman and occasional FB Khalen Saunders has 3.5 sacks so far and gets a lot of QB pressure. DB Justin Fitzpatrick leads the conference (2nd in the entire FCS) in INTs with a 1 per game average. Even the kicking game has improved over last season with transfer PK Sam Crosa going 4-4 on FGs (long of 41) and 17-17 on XPs.
South Dakota is treating this as something of a "revenge game" after letting Western come from behind to win in the last few minutes last year in Vermillion. Western has a personal stake in this game as well because USD's coaching staff is mostly comprised of guys who were on WIU's coaching staff two years ago (8 guys) and has another guy who played at Western in the '80s and coached for Western in the early '90s. Plus it's Western's Homecoming (literally in this case, since it's their first home game of the season)…so there's that. One other thing to look for is that Western has scored 45% of their points in the 3rd quarter this season (someone must be good at halftime pep talks), so if the game is close at halftime…it may not be by the start of the 4th quarter. Emotions will run high in this game, but I think that the experience of Western's defense will figure out how to stop Streveler after a drive or two, and the versatility of the offense will be able to put together enough points to come away with the win. I'm guessing the Leathernecks by a TD.
---
#3 South Dakota State at #6 Youngstown State
Last Week:
Both teams spent last weekend on bye.
History: The Jackrabbits and Penguins have played each other 18 times with SDSU having the 12-6 advantage and winning the last two. Last year's contest in Brookings was a 24-10 SDSU victory.
South Dakota State has gotten off to a hot start, going 3-0 so far and putting up 51 points on Duquesne and Drake (each game) although they did have an unexpectedly close win over Montana State, 31-27, two weeks ago. The offense gets the majority of their yards through the air, but not a huge majority (~59%). QB Taryn Christion is throwing for 230.7 ypg, has 7 TDs through the air and leads the team in rushing with 54.3 ypg. This does, however, feel like a bit of a slump compared to last year's gaudy numbers though, with TE Dallas Goedert still catching a respectable 70 ypg and has 1 TD, but last year, if the ball was anywhere within the same time zone as hime, Goedert would get it. WR Jake Wieneke is only averaging 57.7 ypg, down significantly from his career average of over 100 ypg, although he does lead the conference with 5 receiving TDs so far. LB Christian Rozeboom is the big man on defense with 17 tackles and R-FR LB Logan Backhaus has 2 interceptions so far.
Youngstown State is 2-1 on the season, with a couple of expected big wins over Robert Morris and Central Connecticut State. They started the season with a close game with FBS Pitt, losing by 7 in OT. YSU isn't generally a "big offense" kind of team. They've put up 492.3 ypg so far this season, although two of those were against NEC teams. It's hard to see what we'll see in terms of QB, with starter Hunter Wells being more productive (175.5 ypg, 2 TDs, 1 INT), but also being somewhat banged up. QB Nathan Mays is only at 86.7 ypg, but he can also run the ball fairly well, averaging just over 53 ypg and has 3 rushing TDs. Beyond that, RB Tevin McCaster is the lead rusher with 87.7 ypg and 3 TDs, and FR RB Christian Turner has 58 receiving ypg w/ 2 TDs. The defense is what really shines for the Penguins, with LB Lee Wright, S Kyle Hegedus, and FS Jalyn Powell all having over 20 tackles. DE Justus Reed has 4 sacks for 23 yards so far this season. They only have allowed 253 ypg and 12.3 ppg this season.
This one is kinda tricky, I think. At this point, it doesn't really feel like either team has really proved anything yet. It's possible they're both phenomenally good teams, but it's also possible they could both take a step back from last year's successes. They've each had a couple of dominating wins over questionable competition…YSU had a strong performance against an FBS team, and SDSU had a lackluster performance against a Big Sky team. I've been going back and forth myself on this one and despite SDSU's offensive firepower, I think it'll be a somewhat low scoring affair. At this point, I'm leaning towards SDSU because I know the potential that they have with Goedert and Wieneke, even if they haven't really lived up to expectations so far. YSU still has a pretty solid defense, but it's down some after losing a couple of the best defensive players in the FCS after last season. I think I'll go with SDSU by ~3 points in this one. I don't see either team hitting 30 points though.
---
Northern Iowa at #25 Southern Illinois (Family Weekend)
Last Week:
Northern Iowa had their bye week
Southern Illinois lost at FBS Memphis, 44-31
History: The Panthers and Salukis have played each other 35 times going back to 1965. UNI holds the series lead 19-16, but SIU holds the lead for games in Carbondale, 12-5. The last 3 meetings have been won by UNI, so the last matchup SIU won was in 2013 in OT.
Northern Iowa just has not felt like their usual selves this season. They're 1-2, with the only win being a home OT win against Cal Poly. The typically stout Panther defense is giving up 34.67 ppg and 448.3 offensive ypg. For comparison, over the previous 7 years (2010-2016), the Panther defense has averaged right around 20.25 ppg, with no season going over 22 ppg. LB Jared Farley is currently #2 in the FCS in total tackles with 12.3 per game, and they've got LB Duncan Ferch and LB Adam Reth who are also both in the top 5 in the conference in tackles. What that tells me, though, is that the offenses that they're playing against are getting a lot of plays and that's not generally a good thing. Farley and Ferch do have 1 interception each, as does DB Malcom Washington. On the offensive side of the ball, the Panthers just can't seem to get anything going with their ground game, averaging 65 ypg on the turf. They are getting just over 290 ypg through the air though, so that helps. On the scoring front, they're getting 30 ppg, which normally would be ok…but as I said…not the typical stout UNI defense. QB Eli Dunne is the one passing for those yards and he has 8 TDs but also 6 INTs. WR Daurice Fountain is pulling in 81 ypg and has 3 TDs.
Southern Illinois has been doing somewhat surprisingly well. They're 2-1, had a solid win over longtime OOC rival SEMO, and actually played very well against FBS Memphis, being down by only 6 points until less than 2 minutes let in the game. They have a strong offense, putting up over 40 ppg and 406 ypg, with the majority of that in the passing game. QB Sam Straub is having a decent season with 229 ypg and 10 TDs while only throwing 2 INTs. WR Connor Iwema gets most of the catches, pulling in 70.33 ypg and 2 TDs, but WR Darell James has gotten the most TDs, with 4 through the air. They might prefer the passing game, but the running game is fairly solid too, led by RBs Daquan Isom (the small quick one) and Jonathan Mixon (the big strong one). They are also helped by having a pretty decent O-line, with Austin Olsen earning last week's MVFC O-Lineman of the Week. As a unit, they've only allowed 1 sack all season. The Saluki defense, which was a serious issue last year, seems to have improved a bit, having given up only 21.33 ppg so far this season. Last week against Memphis, a team that put up 560 yards, 6 TDs, and 48 points against then AP #25 ranked UCLA, the Salukis held the Tigers to 96 fewer yards, 2 fewer TDs, and 4 fewer total points. S Ryan Neal leads the team in tackles with 22 and has 1 INT, and S Jeremy Chinn has 2 interceptions and 2 pass breakups to go along with 13 tackles.
So we've got a UNI team that isn't playing as well as they have in the past against a SIU team that seems to be playing better than expected. I think that UNI's defense will have trouble with the SIU passing game, but with SIU's defensive strength located in their backfield, they'll handle UNI's receivers fairly well. The game is in Carbondale, it's Family Weekend, and I think the Salukis will come away with a close win in this one. SIU by 6 points.
---
Indiana State at #10 Illinois State (CommUniversity)
Last Week:
Indiana State had their bye week.
Illinois State won at Missouri State, 34-9
History: The Redbirds have played the Sycamores 68 times going back to 1936. ILSU has the series lead, 36-30-2. Last season, INSU won a close game by 3, although the Redbirds have won the 5 before that. In the previous 10 seasons, ILSU has an 8-2 record against INSU.
Illinois State is another of the MVFC teams that are off to a hot start, sitting on a 3-0 record with wins over Butler, Eastern Illinois, and last week against Missouri State. The Redbirds are putting up 478 ypg with a fairly balanced gameplan. QB Jake Kolbe has been throwing for 241.3 ypg and 4 TDs with 1 INT. Most of the scoring is done with the ground game, with RB James Robinson picking up just under 70 ypg and 4 TDs and RB Markel Smith getting just over 71 ypg and 3 TDs. WR Spencer Schnell is the primary receiver with 73.3 ypg, although WR Christian Gibbs has gotten 2 TD receptions to go along with 51.7 ypg. On the defensive side of the ball, ILSU is holding teams to only 156.3 offensive ypg, with about 2/3 of that coming from passes. LB Tyree Horton leads the team with 21 tackles including 5 for loss (2 sacks) and a forced fumble. DE Adam Conley is also getting quite a bit of pressure behind the line, with 4 tackles for loss including 2 sacks and a blocked kick. S Mitchell Brees is the one to watch out for when throwing the ball, with 2 INTs returned for 35 yards.
Indiana State is in pretty much the complete opposite boat, although I will say they have played a much tougher schedule for the most part, than the Redbirds. They had a close last-minute loss to Eastern Illinois, got run over by a top-25-ranked FBS Tennessee team, and then very narrowly lost a close one (that they should have won) against a highly ranked Liberty team that has begun process of moving to the FBS. So, they haven't played too poorly in some of their games, but they're still 0-3 on the season. The Sycamores feature a heavily pass-based offense, with just under 2/3 of their yardage coming through the air. QB Cade Sparks is averaging 190 ypg and has 3 TDs and 1 INT so far this season. Two receivers, WR Bob Pugh and TE Jacquet McClendon, are the primary targets with 102 and 70 ypg respectively and each with 2 TDs. RB LeMonte Booker handles most of the ground game, with 108.33 ypg (including a 154 yard performance against Eastern Illinois) and 2 TDs. The biggest issue for INSU is that the defense has been giving up just over 35 ppg so far and are pretty weak against the pass. LB Jonas Griffith has 31 total tackles this season, with 2 for loss, and DT Rex Mosley gets pressure with 2 sacks, 1 forced fumble and recovery, and 2 pass breakups. PK Jerry Nunez, who was particularly impressive last season as a true freshman, appears to have (so far, at least) taken a step back from his 7-7 start last year and has only made 4 of his first 7 this year, although 2 of those 4 were 43-yard FGs.
We've got a 3-0 team going against an 0-3 team. Sounds like it should be a blowout, but I think that the Redbirds maybe aren't quite as good as their record suggests, while the Sycamores are a bit better than their record suggests. Now, I don't think that means that INSU is going to win this one, I'm just saying I think it'll be a little closer than many would initially think. ILSU still has a lot more talent than INSU and I think they'll probably come away with about a 10 point victory.