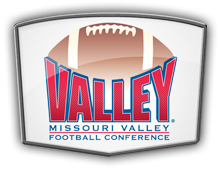 Week 2 of playoff football…time for the "big boys" to see what they can bring. Frequent championship contenders like North Dakota State, James Madison, Jacksonville State, and Sam Houston State get to test themselves against the unseeded teams who survived (or in some cases, dominated) the first round. Since I handle pretty much just the MVFC games, I'll hit up the three games involving 4 MVFC teams that are being played on Saturday. Here's the full playoff bracket if you'd like to see what everyone is up to.
So, here are the MVFC games this week (numbers listed before team names are seeding numbers):
2:00 PM – Northern Iowa (8-4) at #5 South Dakota State (9-2)
2:00 PM – South Dakota (8-4) at #6 Sam Houston State (10-1)
2:30 PM – San Diego (10-2) at #2 North Dakota State (10-1)
All games listed in Central time and all games on ESPN3.
Like last week, lots of games on at the same time, which is annoying. There is one playoff game on in the evening (WSU@SUU), but the remaining 7 games all kickoff between 1:00 and 2:30 (Central). Of course they couldn't stagger them…that'd be too easy…
4 Valley Football teams prepare for NCAA FCS Playoff 2nd Round…. https://t.co/WQr7l9TSZg

— Valley Football (@ValleyFootball) November 28, 2017
---
Northern Iowa (8-4) at #5 South Dakota State (9-2)
This Season/Last Week:
Northern Iowa hosted and decimated 9-3 Monmouth by 39 points in the first round of the playoffs. They are now 8-4 on the season.
South Dakota State had last weekend off (as did all seeded teams). They went 9-2 overall this season with wins over other playoff teams WIU, USD, and most impressively, NDSU, although one of their two losses was to UNI, 38-18 in mid-October.
History:
Unlike a lot of playoff games, there is actually quite a bit of history between these two teams. As previously mentioned, they did already meet once before this season, with the Panthers handing the Jackrabbits one of their two losses. The two teams have met 52 times overall, with UNI holding a 30-20-2 series record. Prior to the recent string of matchups due to both being in the MVFC together, the two teams (along with the other Dakota schools) shared a conference for quite a while back when both were DII schools, so a lot of it comes from that. If you're interested in reading more about that, it was the North Central Conference, which was a small college/DII conference founded in 1922 that went until 2008 and included teams such as NDSU, USD, SDSU, UNI, UND, and Northern Colorado (as well as current non-football schools Creighton and U of Nebraska-Omaha).
Northern Iowa started the season a bit rough, but have really gotten their swagger back since the return of RB Marcus Weymiller mid-season. QB Eli Dunne came back last week after being out for most of the last couple of games…not that they really needed him, beating Missouri State and Indiana State both fairly easily. I won't get into too much detail about the last time these two teams met up, since I did a recap for it back then (read all about that here), but essentially, Weymiller had a great day, running the ball all over SDSU's questionable run defense. The Panther's overall run game has significantly stepped up in the latter half of the season, averaging 72.6 ypg in their first 5 games, but 140.8 ypg in their last 5 games…and that includes under 60 in games against NDSU and USD. Last weekend against Monmouth, UNI put up 246 total yards on the ground, their best performance this season. The defense has been stepping up their game as well, giving up 159 points in the first 5 games, but only 111 points in the 7 games following that. Overall, it feels like UNI is just really playing their best football right now. To be fair, their last three games were against two of the worst MVFC teams and a playoff team that many regarded as one of the weaker of the squads playing the postseason.
South Dakota State also happens to be on a solid streak, winning the last 5 games of their regular season, including taking down WIU by 28, NDSU by 12, and USD by 3. They have one of the higher scoring offenses in the conference, putting up 37.5 ppg overall (41 ppg in their last 5 games) and boast a couple of receivers who will likely be on NFL rosters at some point next year (TE Dallas Goedert and WR Jake Wieneke). Overall offensive production does appear to be down a bit though ("down" being a relative term here, they're still light years ahead of many FCS teams), with total offensive production being held below 400 yards each of the last two games (they were averaging 547.6 ypg in the 3 games before that, which included NDSU and WIU). On the defensive side of the ball, they have struggled with stopping the run (as previously mentioned), but have been relatively stingy against passing games.
So, both teams are playing pretty well right now, although UNI just seems to be doing it a bit better. Last time they met, UNI ran all over SDSU, although as the saying goes, "it's harder to beat a team the second time". SDSU will have a much better read on what they need to do to stop UNI…but I'm not sure if it'll be enough. I think the Jackrabbits will slow down the Panthers better than they did in October, but I don't think it'll quite be enough. My guess is UNI by 4.
---
South Dakota (8-4) at #6 Sam Houston State (10-1)
This Season/Last Week:
South Dakota traveled down to the bayou and came away with a VERY close 38-31 victory over Nicholls State (NSU had 1st and goal at the 1 yard line heading for a tie and likely OT game, but fumbled the ball in the end zone and time ran out for them). They are 8-4 on the season now.
Sam Houston State was off last weekend, but is 10-1 so far this season. They beat fellow playoff team Nicholls State (that they would have had a rematch with if NSU had won) early in the season by 49 points. Their only loss was to the #4 seeded team in the playoffs, Central Arkansas, by 11 points at the end of September.
History:
The Coyotes and Bearcats have never met before on the football field. This is South Dakota's first appearance in the FCS playoffs, while SHSU has made the I-AA/FCS postseason 10 times, including each of the last 7 years, making it to the championship game in both 2011 and 2012 (the first two years of NDSU's 5-year championship run).
South Dakota has had an "up and down" season…or more specifically…up…then down. 6 straight wins including beating FBS Bowling Green and playoff team Western Illinois, but then the "down"…a loss to Illinois State kicked off a 5-game run where they only won one game (to be fair, 3 of the 4 teams they lost to are the other three MVFC teams that are playing this weekend in the playoffs). For much of the year, they had one of the most dangerous offensive threats in the FCS, with QB Chris Streveler able to both throw the ball incredibly effectively and tuck the ball and turn himself into the Coyote's best RB. He's run for 10 TDs and out of the 10 best total offensive yardage performances in the MVFC this season…he has 6 of them. The problem with playing a very tough late-season schedule, is that a QB like Streveler, who runs a lot…and hence, gets hit…a lot…is that they get pretty banged up after a while. This has contributed to some of their struggles later in the season. Also not helping both on the defensive side of the field and likely for a short bit in the locker run, was the legal troubles of a few of their former defensive players (including probably their top DB). To USD's credit, the players are no longer on the team, but the fact is, they're down a starter and a couple of backups from where they were earlier in the season. They do still have a few threats on that side of the ball, specifically DB Phillip Powell who has 3 INTs and forced the fumble that essentially won the game against Nicholls State and DL Darin Greenfield who leads the MVFC in tackles for loss with 1.5 per game. Still, the Coyote defense that was averaging giving up 18 points per game in the first 6 games of the season is now averaging allowing 30.3 points per game in the last 5 games of the regular season and their first in the playoffs (and that includes a shutout against SIU).
Sam Houston State also has one of the top offensive threats in the FCS, with last year's Walter Payton Award winner, QB Jeremiah Briscoe. Briscoe's average of nearly 354 passing yards per game and 37 passing TDs are both #1 in the entire FCS, which is why SHSU is overall #1 in the FCS in passing offense, scoring offense, and total (yardage) offense. His top targets are WR Nathan Stewart (118.6 ypg, 11 TDs), WR Davion Davis (90 ypg, 14 TDs), and WR Yedidiah Louis (88.8 ypg, 5 TDs). Davis is also a threat on punt returns, leading the team with a 22.7 yard per punt return average with 2 TDs. The "weakness" in the Bearcat offense is the run game, which puts up just under 184 ypg (32nd in the FCS). On the other side of the ball, LB Justin Johnson leads the team with 77 tackles including 7.5 for loss (4 sacks), 1 INT and a forced fumble. Getting pressure on the backfield are DLs Chris Stewart (46 tackles, 16 for loss, 11 sacks, 10 QB hurries, 1 forced fumble, and 2 blocked kicks) and PJ Hall (40 tackles, 15 for loss, 6 sacks, 3 QB hurries, 1 forced fumble and 4 blocked kicks…and he missed the first two games of the season). They do, however, seem to give up quite a few yards both on the ground (170.4 ypg, 85th in FCS) and through the air (247.4 ypg, 99th in FCS)…which kinda seems odd to me given how good those two D-Linemen are.
You've got two of the top offenses in the FCS, led by two QBs who are probably in most people's lists of players in contention for this year's Walter Payton Award. Part of me thinks this is one of those "whomever makes it to 60 points first wins" games…honestly. I mean, USD put up 77 points in their opener, SHSU reached 60+ points twice…against defenses that are ranked somewhere in the middle of the FCS in points allowed. USD has a great QB who is pretty banged up…probably not playing close to even 80%…but have probably the second-best defense that SHSU has faced this year (behind Central Arkansas…the only team to beat the Bearcats). SHSU has a great QB…period…but have one of the worst defenses that USD has faced this year. This one is a really tough call for me. If Streveler was at 100%…Coyotes win by probably 10…but he's not, so I think it'll be a very close, very high scoring game, and the Bearcats come away with the victory. A score of something in the range of a 60-54 SHSU win (which of course means that USD will probably win 2-0 on a last second safety).
---
San Diego (10-2) at #2 North Dakota State (10-1)
This Season/Last Week:
San Diego went 9-2 in the regular season this year and spent last week completely embarrassing Northern Arizona in the first round of the playoffs to the tune of 41-10.
North Dakota State hung out back in Fargo, watched some games, drank some beer, polished their pile of championship trophies…probably something like that. The Bison went 10-1 this season, beating fellow playoff teams WIU (24-12), UNI (30-14) and USD (49-14). Their only loss of the season was to conference rival and current playoff #5 seed SDSU 33-21
History: Congratulations San Diego…you notched your 2nd ever playoff win (and the 2nd ever for the Pioneer League)…and what do you get as a reward? Only a return trip to the Fargodome. The Bison and Toreros have played each other only once…in the second round of last year's playoffs…when NDSU won 45-7. Normally I'd also mention NDSU's playoff history, but I don't have that kind of time (you can read all about it here if you're interested)
San Diego earned the big upset last weekend (NAU was favored by ~12 points, if I remember correctly) with a pretty strong defensive performance. The Toreros limited the Lumberjacks to their second-lowest passing performance of the year (178 yards) and their third lowest rushing performance of the year (60 yards). SD (I'm going to abbreviate them as SD because USD is the Coyotes in MVFC-land) also forced two fumbles and 1 INT to completely dominate the turnover battle (NAU had no gained turnovers). SD also has one of the better scoring offenses in the FCS, putting up 39.2 ppg this season. To be fair, they do play in the Pioneer League, so the level of competition is, on average, not quite what you see in a conference like the CAA, Southern, or MVFC. QB Anthony Lawrence is #2 in the FCS in passing TDs with 33…but the big thing…#1 in the FCS in interceptions thrown. 349 attempts…66.5 completion %…over 3k yards…33 TDs…and only 2 INTs. They've also only lost 5 total fumbles this entire season, which makes them #1 in the FCS in turnovers lost. Their O-line is also solid, allowing the fewest tackles for loss and sacks of all FCS teams. Defensively, they only allow 76.6 ypg on the ground (5th in the FCS) but have been extremely vulnerable to the pass (268.9 ypg, 116th in FCS). They do have the second best red zone defense and 9th best scoring defense in the FCS, so even while giving up so many yards through the air, they are effective at limiting teams abilities to get into the end zone. They also limit opponent's scoring chances, being the #2 team in time of possession, holding onto the ball for an average of 34:16.
North Dakota State's credentials have been fairly well documented in my articles throughout this season. They currently have the #2 scoring defense and #3 scoring offense in the FCS. NDSU mostly gets it done offensively with their ground game, running for an average of 265.1 ypg (5th in FCS). Some of that is skewed by some huge performances by RB Lance Dunn in the first half of the season. Dunn has been out with an injury for the last 5 games of the season (he was averaging right about 100 ypg in the 6 games he fully played in) and had 12 TDs. It is unclear if Dunn could be back for this game, although I highly doubt they would start him unless he's back up to full power, and if he does get on the field, it likely wouldn't be until later into the 2nd half if the game is still close. QB Easton Stick doesn't pass a ton (64th in passing yards) but is very good at it when he does (6th in passing efficiency and passing yards per completion). The Bison defense is excellent in pretty much all aspects. Despite losing DE Greg Menard for the season with an injury during fall camp, everyone else has picked up the slack well enough for them to still have the 8th best run defense and 4th best pass defense in the FCS. Whereas most good defensive teams have a couple of big standouts and some solid performance from most other starters, NDSU has a full lineup of starters that could go to just about any other FCS team and be the "big standout" guy there. LBs Jabril Cox, Nick DeLuca, Levi Jordheim, DBs like Robbie Grimsley and Jalen Allison, and D-Linemen like Aaron Steidl and Nate Tanguay are all better at their positions than probably 95% of the starters in the FCS. They have a strong front line, bring a lot of pressure on QBs and RBs behind the line of scrimmage, and defend receivers very well, although I think a large portion of the success against the pass is due to guys making the opposing QB have a rough day.
San Diego heading back to Fargo…not sure you could find two more different climates to play football in…thankfully for all involved, it doesn't really matter what the weather's doing, since it's in the Fargodome. Last year, the 45-7 NDSU victory was actually closer than the score would indicate, with the game being within 14 until NDSU blew open a few big TD plays late in the 3rd quarter and in the 4th. San Diego actually won the possession time battle in that game, holding onto the ball for 35:36 and was nearly equal with NDSU for passing yardage (and they have a better passing offense this year than last year). San Diego also has a bit of experience playing in the playoffs now, and specifically in second-round games at the Fargodome…which will help because playing your first Fargodome game can be a rough time for most visiting teams trying to deal with the noise level. I think this one will probably play a bit closer than last year's game…San Diego is well coached, and due to their location advantage, are able to get recruits who are generally a step above what you usually see in the scholarship-less Pioneer League. None of this, however, is likely going to be enough to enough to counter the advantage of size and strength that NDSU has over…well…most teams. Last year…it was a 38-point NDSU win…this year…I think something more like a 28-point margin is more likely, but don't be surprised if a lucky bounce here or there makes it a more "exciting" (closer) game than most people are thinking at first glance.
---
On a more semi-personal note, I wanted to point out this week's MVFC First and Goal Podcast episode with former WIU Head Coach Don Patterson: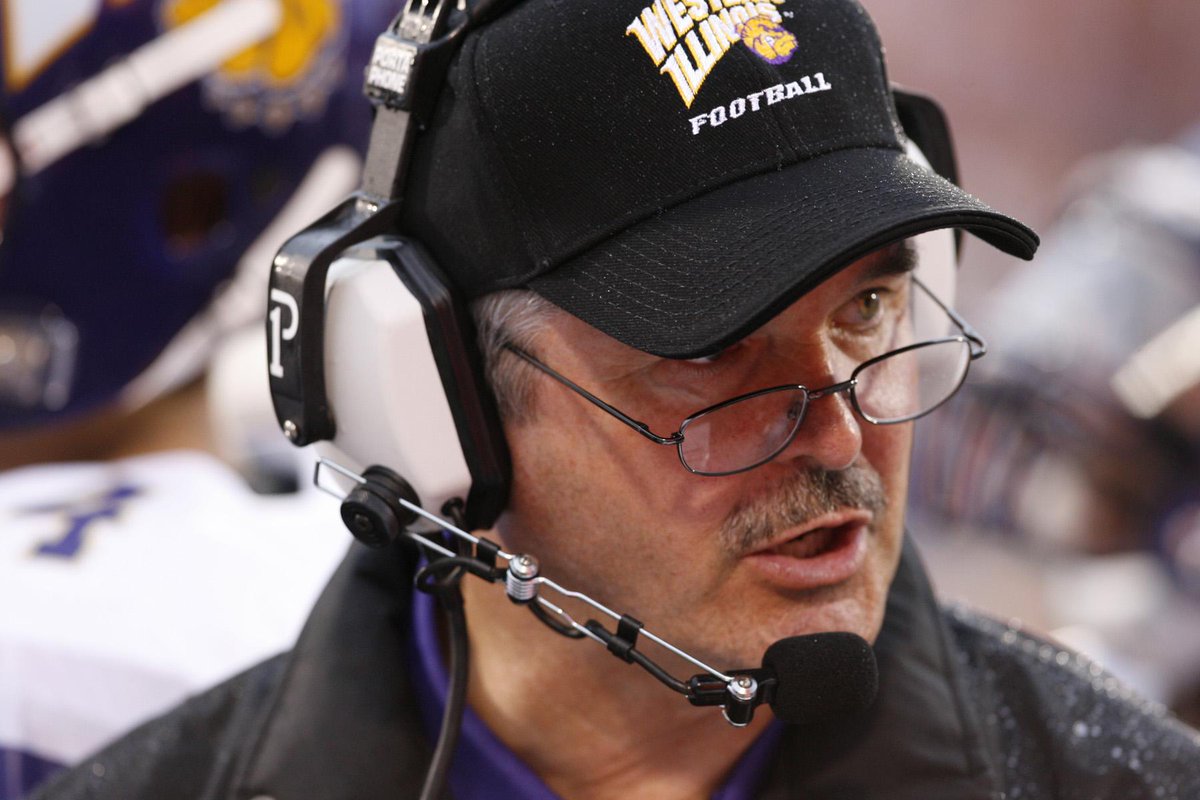 Coach P is a HUGE part of why I am such a big Leatherneck (and subsequently FCS) football fan. He took over a highly successful Leatherneck squad in 1999, my 3rd year as a Marching Leatherneck, after Coach Randy Ball left for Missouri State. With Coach P in charge, WIU had two more winning seasons including winning the conference (at that point the Gateway Conference) and making the playoffs in 2000 (a 16-team playoff).
A "down" season in 2001 was followed by a couple more highly successful years, going 11-2 in 2002, making it to the playoffs and destroying the Tony Romo-led EIU Panthers 48-9 before losing by 3 to eventual national champion Western Kentucky (the infamous "sledgehammer game"). In 2003, WIU went 9-4 while playing two FBS teams back-to-back (beating Eastern Michigan by 22 and then losing to that year's FBS champion…Nick Saban-coached LSU…and only being down by 1 possession late into the 3rd quarter). That year in the playoffs, WIU had an incredibly exciting OT win at Montana (43-40 in OT) followed by a 1-point loss at Colgate in a snowstorm.
There was a bit of a rough situation a few years later when he was diagnosed with cancer and was essentially "forced out" in 2009 by our athletics administration at the time, which really left a bad taste in the mouths of many of our football alumni who played under Coach P. It wasn't until seven years later, when newly-hired HC Charlie Fisher reached out to Coach P and many of the football alumni to repair those wounds and help bring them back into the Leatherneck family.
Because I was lucky enough to be in the Marching Leathernecks at that time, I had essentially a front-row-seat (well…50 yard line, about halfway up the stands) for the best 5 year span of Leatherneck football in our DI era. In that time, I attended every home game (and 5 away games including 2 FBS games) and witnessed a grand total of 5 losses. Coach P was a big part of our team's success in the latter portion of that timeframe and heading into the next millenium. He is the second-winningest HC in WIU history behind Randy Ball (by only 1 game) and had the second-longest term as HC behind only Ray "Rock" Hanson (for whom Hanson Field is named).