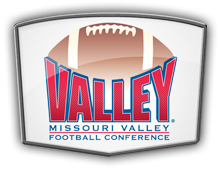 Sorry about the lateness of this review article…holiday travel and illness conspired against me this week.
The one good thing about this going out a bit later though is that I am able to post info about the All-Conference teams that was released on Monday. The full MVFC All-Conference team is available here, with USD QB Chris Streveler winning the Offensive POY award, WIU LB Brett Taylor winning the Defensive POY award, and NDSU LB Jabril Cox receiving both the Newcomer of the Year and Freshman of the Year awards. NDSU HC Chris Klieman won the 'Bruce Craddock' Coach of the Year award. Overall, NDSU led the selections with 15 total players receiving season accolades. SDSU came in second with 12 players, then WIU with 11, UNI and YSU with 10 each, ILSU with 9, SIU and USD with 8 each, MSU with 7, and INSU with 5.
Also, the MVFC All-Newcomer team was announced Tuesday morning (Full list here). As previously mentioned, NDSU LB Jabril Cox won the Newcomer of the Year award. Teams with players on the All-Newcomer team include 5 for South Dakota, 3 each for Illinois State and Youngstown State, 2 each for Missouri State, South Dakota State, Southern Illinois, Western Illinois, and Northern Iowa, and 1 for North Dakota State.
The first round of the 2017 FCS Playoffs is in the books, with the MVFC going 2-1 in their three games.
---
Western Illinois (8-3) at Weber State (9-2)
Home cookinҼbr>
Weber State defeats Western Illinois, 21-19, to win its first #FCSPlayoffs game at home and sets up a matchup with in-state foe No. 8 Southern Utah pic.twitter.com/LTa1iqJtVw

— FCS Football (@NCAA_FCS) November 26, 2017
| | | | | | |
| --- | --- | --- | --- | --- | --- |
| | 1st | 2nd | 3rd | 4th | Final |
| WIU | 3 | 3 | 6 | 7 | 19 |
| WSU | 0 | 14 | 0 | 7 | 21 |
Quick Hits:
WIU – WR Jaelon Acklin had 116 yards receiving and 27 yards rushing. His final game as a Leatherneck was his 5th 100+ yard receiving game of the season.
WIU – LB Brett Taylor led the team with 12 total tackles
WIU – LB Pete Swenson had a big day with 10 tackles, 3 for loss including 1 sack
WIU – PK Sam Crosa hit both FG attempts, from 44 and 45 yards out
WSU – QB Stefan Cantwell threw for 186 yards and 3 TDs and led the team in rushing with 43 yards
WSU – TE Andrew Vollert caught 8 passes for 112 yards and 1 TD
WSU – DB Jordan Preator led the Wildcats with 11 tackles, 1 for loss
WSU – P Jacob Demaio kicked 5 punts for an average of 48.4 yards per including a long of 58 and 2 within the 20 yard line
Western Illinois spent the first half putting up FGs which were answered by Weber State TDs. The WIU offense had a hard time getting out of their own way in the first bit of the game, with three false start penalties and an unsportsmanlike conduct penalty all in the first quarter. By halftime, the Leathernecks were down by a score of 14-6 against the top defense in the Big Sky. Late in the 3rd quarter, WIU finally got into the end zone with a TD run (2-pt attempt failed) to bring the score within 2. Early in the 4th, a very questionable roughing the passer penalty immediately followed by an unsportsmanlike conduct penalty (both against WIU) moved WSU all the way from their own 49-yard line down to the WIU 21. On the very next play, WSU got their third TD of the day to go up 21-12. A few drives later, WIU was able to move down and get into the end zone again to pull back within 2 points, but with less than 5 minutes to go in the game, WSU was able to do what they've done quite a bit this year and run the ball just enough to keep picking up first downs and eat up the entire rest of the game clock to seal the playoff win in Weber State's first home playoff game.
This was a matchup of two very tough and very similar teams. Most polls had these two teams in roughly the #9-#11 range, so they (along with maybe Stony Brook) were the toughest of the non-seeded teams. Weber State plays football like a MVFC team…honestly, from my perspective, they really looked like a slightly less disciplined or slightly less talented NDSU team. Very strong against the run, tough at the front lines, good run game that can pass effectively when necessary, but the ground game is their "bread and butter".
Western Illinois finished their season at 8-4 overall.
Weber State is now 10-2 and will head down the road to take on 8th seeded in-state conference rival Southern Utah late Saturday night.
My Pick in Review:
I said: Leathernecks by 3
It was: Wildcats by 2
Close battle…yup. Low scoring…yup. Leatherneck victory…😞
Looks like home field advantage was more of a difference than I thought it'd be.
---
South Dakota (7-4) at Nicholls State (8-3)
Coyote history!

South Dakota wins its first #FCSPlayoffs game in school history, outlasting Nicholls 38-31, to advance to the second round against No. 6 Sam Houston State pic.twitter.com/3qxlmNDQ7Q

— FCS Football (@NCAA_FCS) November 26, 2017
| | | | | | |
| --- | --- | --- | --- | --- | --- |
| | 1st | 2nd | 3rd | 4th | Final |
| USD | 7 | 10 | 14 | 7 | 38 |
| NSU | 0 | 7 | 14 | 10 | 31 |
Quick Hits:
USD – QB Chris Streveler showed why he was the MVFC Offensive POY with a 378 yard, 4 TD passing performance (1 INT) and 34 rushing yards
USD – WR Brandt Van Roekel led the team in receiving yards with 82 and 2 TDs
USD – DL Darin Greenfield had 11 tackles including 1 sack
USD – DB Phillip Powell had 10 tackles and 1 sack, but also forced the decisive fumble at their own 1 yard line to essentially win the game
NSU – QB Chase Fourcade threw for 232 yards, but gifted the Coyotes 3 INTs. He also ran for 89 yards
NSU – RB Kyran Irvin ran for 88 yards and 1 TD and RB Tahj Smith ran for 65 yards and 2 TDs
NSU – DB Corey Abraham led the team with 7 tackles and DB Austin Dickerson had an interception that he returned 43 yards for a TD
NSU – P Tyler St. Germain had 3 punts for an average of 55 yards per punt, including a long of 73 yards and 2 within the 20
The game was a little slow to get the scoring going, with USD picking up the first points with a few minutes left in the 1st quarter. Into the 2nd and they'd have another one before Nicholls State would get things rolling with a 43-yard INT returned for a TD. As time expired in the first half, USD kicked a 39-yd FG to take a 17-7 lead into the locker room at halftime. In the second half, NSU was the one to score first with their own TD, but was answered by a Coyote TD on a 47-yard pass a couple of minutes later. Nicholls ground out another TD with 40 seconds left in the 3rd, only to be responded to "in kind" with a 75-yard TD pass on the next play from scrimmage to keep USD ahead by 10. The Colonels defense buckled down in the 4th, while their offense put together a TD drive and a FG in the first half of the 4th to tie the game up at 31-all. The Coyotes had one more solid drive for a TD to go ahead by 7. Nicholls was then able to drive down the field again, starting at their own 45-yard line, and at one point, converted a 4th and 3 at the South Dakota 4 yard line to make it 1st and goal at the 1 (with a TD needed to tie the game and likely head to OT). But then, on the 1st and goal run, USD DB Phillip Powell stripped RB Kyran Irvin of the ball and it was recovered by USD DB Andrew Gray in the end zone for a touchback. From there, South Dakota was able to kneel a few times to run out the clock and come away with the 38-31 victory.
I'm personally very impressed with the ability of the Colonels' offense to keep pace with the Coyotes and keep it a much closer game than myself (and many MVFC fans) expected.
South Dakota moves to 8-4 on the season and will play Saturday afternoon at the #6 seed, Sam Houston State.
Nicholls State ends their season at 8-4
My Pick in Review:
I said: Coyotes by 14
It was: Coyotes by 7
Like I said, I underestimated NSU's ability to move the ball against USD, especially considering that 7 point differential was very nearly a tie game going to OT.
---
Monmouth (9-2) at Northern Iowa (7-4)
Dome-inance

UNI's home field advantage is too much for Monmouth, as the Panthers prevail 46-7 to advance to face No. 5 South Dakota State in the #FCSPlayoffs second round pic.twitter.com/uRUuJi039Y

— FCS Football (@NCAA_FCS) November 26, 2017
| | | | | | |
| --- | --- | --- | --- | --- | --- |
| | 1st | 2nd | 3rd | 4th | Final |
| MU | 0 | 0 | 0 | 7 | 7 |
| UNI | 14 | 19 | 13 | 0 | 46 |
Quick Hits:
MU – WR Reggie White Jr. (son of former NFL D-Lineman Reggie White…no, not that Reggie White, this Reggie White) led the Hawks with 81 receiving yards
MU – DB Mike Basile led the team with 13 tackles and DB Agbai Iroha had 11 with 1 sack and 2 pass breakups
MU – WR Lonnie Moore IV only had 25 yards receiving, but had the only score for Monmouth on a 19-yard TD pass in the 4th quarter
UNI – QB Eli Dunne returned from being out for a couple of weeks due to injury to throw for 260 yards and 4 TDs
UNI – RB J'Veyon Browning ran for 136 yards and RB Marcus Weymiller had 74
UNI – WR Daurice Fountain caught 139 yards on 10 catches with 2 TDs
UNI – DB Korby Sander led the team with 8 tackles, while LB Jared Farley only had 3 tackles but also a 1-yard TD reception
Hey Panthers, hasn't anyone ever told you not to play with your food before you eat it? I'm pretty sure that's the best way to describe putting in your top LB as essentially a TE and getting him a TD catch in the first quarter. Anyway, this was one of those games where one team is very obviously outmatched. UNI had 2 TDs in the first quarter (including LB Farley's 1-handed TD catch), 2 more TDs and 2 FGs in the 2nd to go into halftime up 33-0. The 3rd quarter, the Panthers continued to pile on with a couple more FGs and a TD run near the end to go up 46-0 against the #2 team in the Big South. Finally, with 8 minutes left in the 4th, MU was able to pick up their first score of the game on a 19-yard pass, although something tells me that UNI had their second string in their by then. Overall just a dominating performance for a playoff game.
Monmouth University finishes their season at 9-3.
Northern Iowa moves to 8-4 overall and is set for a conference rematch at #5 seed South Dakota State next weekend.
My Pick in Review:
I said: Panthers by 20
It was: Panthers by 39
Wow, ok then. MU was averaging 35 points per game…but apparently against fairly mediocre defenses…or they just forgot their defense back in NJ.
---
So that's it for the games from the first round of the playoffs. Now each of last weeks winners gets to head on the road to face off against a Top 8 seeded team. Three of those games will involve MVFC teams: a conference rematch of Northern Iowa and South Dakota State at 2 PM (Central) in Brookings, South Dakota again heading "down south" to face off with Sam Houston State (also at 2 PM), and a half hour later (2:30 PM), Pioneer League champion San Diego fresh off the heels of their big win over Northern Arizona (theirs and the Pioneer League's second ever playoff wins) will face a VERY tough challenge against North Dakota State in Fargo. San Diego at NDSU will be a rematch of last year's second-round game, where the Bison steamrolled San Diego 45-7…so we'll see if history repeats itself next Saturday.