2015 Record: 10-3 (7-1): Shared MVFC Champion, Playoffs (2nd Round)
Key Returnees: WR Anthony Warrum, CB Davontae Harris, DE Brannon Barry
Key Losses: QB Tre Roberson, RB Marshaun Coprich, DE Teddy Corwin, DE David Perkins, LB Pat Meehan, LB Alex Donnelly
Illinois State is coming off of back-to-back co-conference championships and over those two years they are a combined 23-5 with a trip to a national title game. A program coming off of a run like that you'd think there is no way there's a significant drop the next year. There is a reason for optimism, if you're a Redbird fan, that the regression won't be too far.  Brock Spack is entering his 8th year in Normal, where he's won 65.88% of his games and seems to finally be finding "his program".  The realist in me, though, looks at that with a few tablespoons of salt as his first 5 years he was just 33-24, missed the playoffs in 4 of those 5, and was just 5-6 in 2013 with his seat starting to get a touch uncomfortable as he was unable to ride Matt Brown, who holds more records than almost every other MVFC quarterback, to a playoff berth. Something happened in 2014 to change that. Maybe it was his system finally taking hold.  Maybe 09-13 had a large number of "bad bounces" that held them back.  The more likely reason for the elevation the last two years is the reason I'm quite bearish about them moving forward: Tre Roberson, Marshaun Coprich, and Kurt Beathard.
The trio of an All Conference quarterback Tre Roberson, transferring in from Indiana (where he had received Big 10 Player of the Week honors), running back Marshaun Coprich transforming into a multi time All American, and offensive coordinator Kurt Beathard, stepping on campus. Those three electrified Redbird fans for two years. In 2015 Roberson and Coprich accounted for all but 592 yards and 8 total rushing and passing touchdowns. Heading into this season Roberson and Coprich have graduated, and the offensive coordinator announced his resignation June 16th. The timing of his resignation seems strange, there is no reason to doubt his wanting to spend time with his family as his youngest child will be a senior in high school this year.
With that trio gone, where does Illinois State turn?
Jake Kolbe, rSo, seems like the unquestioned starter going into the year. He's the only QB with any real experience. He saw action in all 13 games for Illinois State last season, though he really only accumulated stats in two of them – Iowa and UNI. He looked impressive against both, but for the season completed just 26 passes for 246 yards and 2 touchdowns. He doesn't have the dynamic ability of Tre, but he certainly looks "serviceable" at the very least. I have fewer questions about him stepping in and taking charge than I do whomever Spack starts at tailback. After Coprich, no other back had more carries than rSo. George Moreira who had 34 carries for 145 yards (4.2 ypc) and 1 touchdown. If I was putting a bet on a starter going into fall camp/week 1 it would be him, though Jamal Towns (28 carries 164 yards and 2 touchdowns) is another potentially solid starter. I doubt we see one back dominate carries like Coprich did. The bright spot for Illinois State is the returning receiving corps – more specifically, Anthony Warrum. Last season Warrum had 58 catches for 1,290 yards and 15 touchdowns. His numbers are higher in every category than the rest of the Redbird wide receivers combined. The key will be the new OC getting Kolbe in a position to get the ball into his hands, and a running game that can keep defenses from focusing strictly on the Kolbe/Warrum connection.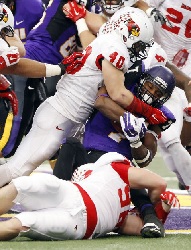 When looking at lost players, everyone, rightfully so, focuses on Roberson and Coprich. What 98% of people overlook is the losses on defense. Gone are DE Teddy Corwin (2x All Conference), LB Pat Meehan (2X 1st team All Conference, 1x 2nd Team All Conference), linebacker Alex Donnelly (2X All Conference and started every game over last three years), and DE David Perkins (3x All Conference selection, led team in TFL and sacks), among others. Those are not easy guys to replace. The Redbirds do return a fair amount of talent, but I wonder if the Richmond playoff game, where ISU was torched, gave a game plan for others to study. Overall though, the defense is in much better shape than the offense.
So where does all that leave Illinois State? Well, unfortunately NDSU is back on their schedule after being off for two years. They do get the best possible consolation prize though as Northern Iowa drops off for the next two. Here's how I see their season going:
9/3 Valparaiso – W 1-0 (0-0)
9/10 @ Northwestern (FBS) – L 1-1 (0-0)
9/17 Eastern Illinois – W 2-1 (0-0)
9/24 @ Indiana State – W 3-1 (1-0)
10/1 @ North Dakota State – L 3-2 (1-1)
10/8 Youngstown State – L 3-3 (1-2)
10/15 Southern Illinois – W 4-3 (2-2)
10/22 @ South Dakota – W 5-3 (3-2)
10/29 South Dakota State – L 5-4 (3-3)
11/5 @ Western Illinois – L 5-5 (3-4)
11/12 Missouri State – W 6-5 (4-4)
As I mentioned, I'm probably more bearish than most on Illinois State. If Youngstown State was a few weeks later I'd probably take Illinois State, simply because of the normal late season Penguin meltdown when it gets cold and some inexperience of ISU getting traction. If the offense comes together the SDSU game could also be flipped. There are two I'm pretty solid on, but could be swayed on if the new coaching staff doesn't get off to a smooth start at WIU, or better than expected start at USD.
We had never seen a 6-5 playoff team before last year, maybe ISU gets it this year based on name from the last few years, but I don't see a playoff team. My guess is the high side, if everything clicks perfectly, for ISU is 8-3 (6-2) and worst case would be 4-7 (2-6). I know that's a range, but I don't know what to expect. They have good talent, just too many unknowns for me to trust them to be better than 6-5.