Lafayette Leopards
2017 Record: 3-8 (3-3)
Head Coach: John Garrett, 2nd Year 3-8 (3-3)
Last Patriot League Title: 2013
Last Playoff Appearance: 2013
2018 Schedule
9/1 @ Sacred Heart
9/8 @ Delaware
9/15 Monmouth
9/22 @ Colgate
9/29 Central Connecticut State
10/13 Georgetown
10/20 @ Bucknell
10/27 @ Fordham
11/3 Holy Cross
11/10 @ Army
11/17 Lehigh
Overview
The positive take away from Garrett's first season in Easton? The Leopards were in the Patriot League title hunt until their second to last game of the season. The negative take away? The 3-8 record was program's 8th losing season in a row. There was also the 3rd straight loss to arch rival Lehigh to conclude the 2017 season.
If Lafayette is to once and for all end their current decade long run of misery they'll need some unexpected names to step up. While the Leopards have several known commodities, there remains major depth concerns at key positions. Garrett's first priority needs to be assembling a quality offensive line that can protect the QB and pave the way for a competent rushing attack. The Leopards simply could not run the football (39.1 ypg, 7th in PL) in 2017. With the multitude of uncertainties on "O" the defense will once again be counted on to keep Lafayette competitive.
Offense
Best Returning Player: WR Nick Pearson
Freshman to Watch: OL Ben Wild
There are numerous question marks on offense facing Coach Garrett and Offensive Coordinator John Van Dam. Last year's "O" was a no go (12.0 ppg, 7th in PL) despite having a talented group of wide receivers. The offensive line, quarterback and running backs struggled to find any sort of consistency. Until the OL starts winning the battle along the line of scrimmage, production from the skill positions is not going to improve unless a real dynamic playmaker emerges.
The quarterback situation is rather unsettled heading into the year. Sophomore Sean O'Malley (60.7 completion %, 1,967 yards, 12 TDs, 15 INTs in '17) started every game as a freshman but has been pushed in spring and fall practice. Fellow sophomore Cole Northrup has emerged as a viable candidate for the starting position during that time. O'Malley appears to be the odds on favorite to start game 1 but his grasp on the starting position seems to be tenuous at best. Of all the quarterbacks on the roster, highly touted freshman Troy Fisher might have the most upside.
Questions also surround who will be catching the ball. The Leopards lost their top four receivers to graduation so they'll need some new names to step up. Senior Joey Chenoweth (17 rec 229 yards 1 TD) and junior Nick Pearson (21 rec 246 yards 2 TDs) should see significant time. Pearson showed real promise before an injury derailed his season. Freshman Tim Payne has had a great fall camp and will be a major factor at WR. Junior Julian Spigner (6'3) gives the Leopards some needed size beyond the hash marks.
The RB position is fairly set with the quick-footed C.J. Amil (129 yards, 1 TD) and bruising Selwyn Simpson (174 yards, 2 TDs) splitting the majority of the carries. The question now is if their production can reach a competent level. The Leopards rushed for an anemic 430 total yards during the 2017 season. The struggles along the OL are obviously a big reason for the lack of production at the RB position. Even so, Amil and Simpson need to step up and make a few game changing individual plays time to time. Sophomore J.J. Younger has big play potential if he's completely healthy.
The offensive line could be a revolving door due to injuries and lack of cohesion. Junior Jake Marotti and sophomore Gavin Barclay should man the tackle positions given their experience. Kevin Zataveski will likely be the center. The senior started 11 games at center in 2016 before missing all of last season. Fellow senior Logan Grieser, sophomores Taron Ham and John Burke figure to battle it out for playing time at the two guard spots. A trio of freshmen OL, Ben Wild, Josh Roberts and Casey McCollum, possess the physical assets to make a push early on for playing time if things need to be shaken up.
Defense
Best Returning Player: LB Jerry Powe
Freshman to Watch: DL Malik Hamm
The Lafayette defense battled admirably in 2017 to keep the Leopards in the league title hunt until the final month of the season. What made some of their efforts even more impressive is how little help they got from the offense. The unit was often on the field way too much but hung in for parts of the 2017 campaign. The "D" was not without warts however. In 7 of Lafayette's 8 losses the opposition averaged 38 points.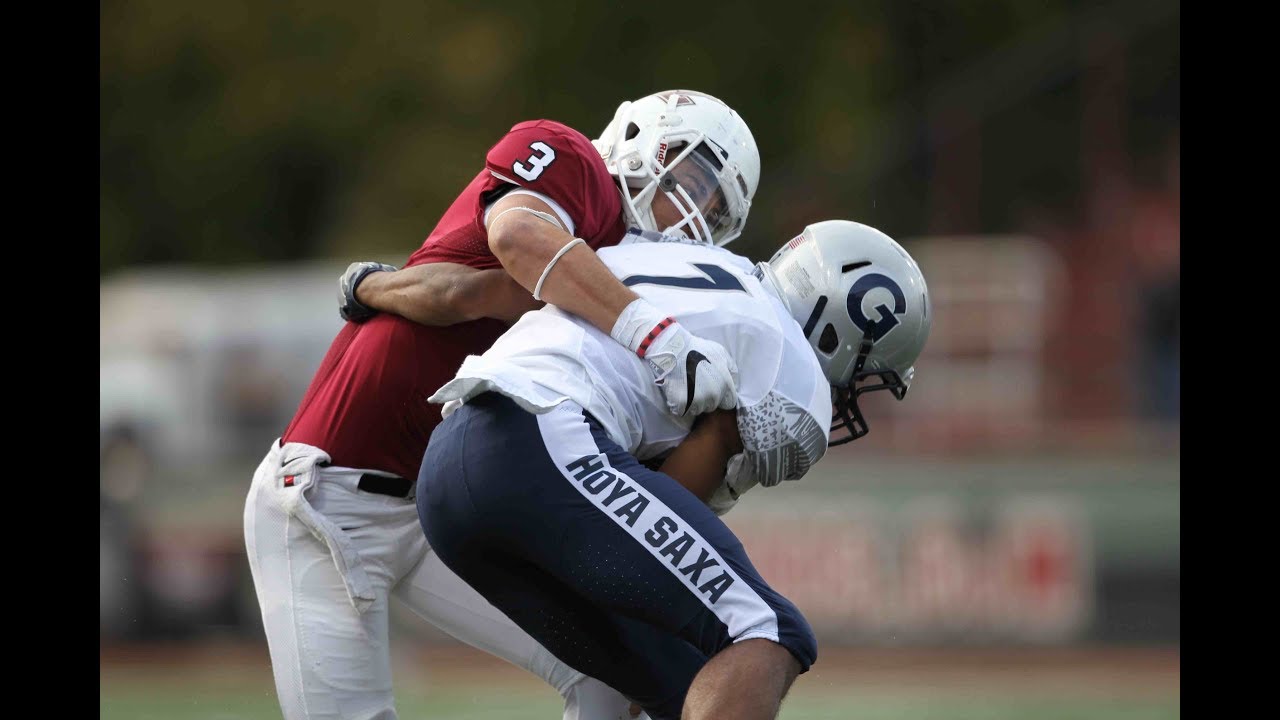 The leader of the defense is unquestionably senior LB Jerry Powe (Preseason 1st Team All-PL) now that fellow backer Brandon Bryant graduated. Powe's versatility makes him one of the most difficult defensive player in the league to account for. Michael Root is an extremely good (2nd on team in tackles in '17) LB in his own right. Major Jordan and Ryan Dickens will be in play at the third LB spot. While there's no questioning the front line talent, depth is a major concern.
The defensive line was hit hard by graduation but the cupboard is not completely bare. Syracuse transfer and Preseason 1st Team All-PL DT Tony Giudice is a great piece to build around. Senior Lavel Ramsey and junior Demetrius Breedlove will join Guidice inside. Andrew Chuma, Keith Earle and Ryan Barnett will battle for time at DE. Freshman Malik Hamm has impressed in fall camp and should see meaningful minutes.
The pass defense will once again be a strength (202.4 ypg allowed, 3rd in PL) with 3 starters returning. The safety combo of Yasir Thomas and the undersized Trent Crossan is formidable. Junior Eric Mitchell will man one of the CB positions while Tre Jordan should have the inside track to the other spot. Jordan missed 6 games last year due to an injury. Depth could be an issue as there's not a lot of experience after the starters.
Special Teams
Michael Turk's surprising decision to transfer to Arizona State could be a huge loss given the Leopards struggles on offense. With Turk's departure, sophomore Jeffrey Kordenbrock (5-12 field goals, long of 43) and senior Jacob Bissell (missed all of '17 with an injury) will battle it out for all 3 kicking duties. C.J. Amil and Joey Chenoweth are experienced return men.
Outlook
Those that don't follow the Patriot League closely might not realize how difficult of job John Garrett took on. The Leopards have had pockets of success over the years but generally speaking it has been an uphill battle during the Patriot League era. Things have gotten especially worse recently as Lafayette is currently on pace for the worst decade in program history. If Lafayette's fortunes are going to change Garrett needs to use all of his offensive intuition to come up with a solution to improve the offense.
The schedule has to be concern for a program searching for its first winning season in 9 years. The Leopards will be decided underdogs in 4 out of the first 5 games. If they fail to notch a "W" against Sacred Heart to open the season an 0-5 start is quite possible, if not probable. The conclusion to the season is not much better. Playing what should be a bowl bound Army team the week before Lehigh could prove to be rather detrimental.
With so many question marks on offense and a defense that lacked consistency, it's hard to predict Lafayette seriously threatening the top half of the league in 2018. Exceeding last year's 3 win total will not a foregone conclusion unless numerous players on both sides of the ball emerge as playmakers.
Prediction: 3-8 (2-4)