Holy Cross Crusaders
2017 Record: 4-7 (3-3)
Head Coach: Bob Chesney, 1st season
Last Patriot League Title: 2009
Last Playoff Appearance: 2009
2018 Schedule
9/1 @ Colgate
9/8 @ Boston College
9/15 Yale
9/22 Dartmouth
9/29 Bucknell
10/6 @ New Hampshire
10/12 @ Harvard
10/27 Lehigh
11/3 @ Lafayette
11/10 Fordham
11/17 @ Georgetown
Overview
For the first time in several years there's genuine excitement surrounding the Holy Cross football program. New head coach Bob Chesney comes to Mount Saint James with an extremely impressive track record of success. Prior to taking over the Crusader head job Chesney spent the previous five seasons leading Worcester neighbor Assumption College to a 44-16 record and 3 Division II Playoff appearances. Before guiding the Greyhounds, Chesney reeled off a trio of winning seasons at Division III Salve Regina.
Chesney's first season at Holy Cross will likely be his toughest to date. The Crusaders will face a very difficult schedule without their unquestionable leader on offense, QB Peter Pujals and the heart and soul of the defense, LB Nick McBeath. Both were for 4 year starters at their respective positions. If Chesney, in his first year at the Division 1 level, can keep his streak of winning seasons (currently 8) alive the Patriot League Coach of the Year Award will be heading to Massachusetts.
Offense
Best Player: WR Richie DeNicola
Freshman to Watch: Justin Bruno
New offensive coordinator Patrick Murphy's first order of business will be deciding who will take over the quarterback position. Peter Pujals was the Crusader QB for so long it felt as though he immediately followed the great Dominic Randolph. Senior Geoff Wade and Junior Emmett Clifford are the two most likely candidates to take over the starting spot. While Geoff Wade has the experience advantage (5 starts his sophomore year), Clifford appears to have to have a higher ceiling skill wise. 6'6 Sophomore Connor Dagenhardt has the tools to potentially push for playing time at some point as well.
Running back is another area of concern for the offense heading into the year. The two leading rushers from 2017 have graduated which leaves Miles Alexander (72 carries 351 yards 3 TDs) and Dominic Cozier (39 carries 216 yards) as the primary duo heading into the season. While the combo has experience, neither one has been called upon to be the bell cow in key situations.  Freshman and Georgia native Justin Bruno was a dangerous dual threat RB in high school. Given his versatility, Bruno could see an increased role as the season moves along.
If Holy Cross can get quality quarterback play they have the weapons outside to be an excellent passing team. Preseason 1st Team All-Patriot League WR, and former quarterback, Blaise Bell (46 rec 601 yards 8 TDs) leads the way in terms of name recognition. However, fellow senior Richie DeNicola might put up more impressive stats in 2018. After a breakout sophomore year, DiNicola was sidelined early last year with an injury. His return is a huge boost to the offense. Martin Dorsey (43 rec 590 yards 2 TDs) gives the Crusaders an excellent 3rd option at WR. With only three tight ends on the roster (Derek Mountain, Cole Pitwitz and Henry Teeter) there's a good chance they all see time important snaps during the season.
The offensive line returns a good amount of experience from a unit that had its ups and downs last year. Rory Costello, John Brekke, Max Daurelle, Brian Foley, Jack Bowler, Jackson Dennis and Joe Mattingly are names worth paying attention to as the season begins. Brett Boddy, who missed all of last season, is another experienced lineman who will vie a starting spot. Sophomore Mike Pizziketti (6'8 289) clearly has the physical tools to be noticed as well.
Defense
Best Player: DE Teddy Capsis
Freshman to Watch: DL Matt Cedeno
The Crusader defense was the definition of a mixed bag in 2017. Some games it looked like one of the most formidable "Ds" in the league while other times it had more holes than Swiss cheese. The unit was quite stout against the run (120.5 ypg allowed, 2nd in PL) but got lit up (247.5 ypg allowed, 7th in PL) through the air. New defensive coordinator Scott James does have a lot of returning experience in secondary. That alone is reason to believe the Crusaders will be better equipped to slow down opposing passing attacks. Coach James also has one of the best defensive lineman, Teddy Capsis (6 sacks in '17), in the Patriot League leading the pass rush.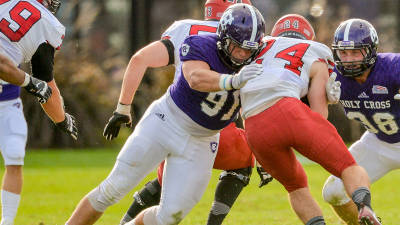 Joining Capsis along the defensive line is a host of players who saw significant time last year. Fellow seniors Neil Vorster, Kevin Bucceroni and Jake McArdell give the Crusaders a ton experience in the trenches. Add in Mark Ebo, Jordan Jackson, highly touted recruit Matt Cedeno and the potential is there for the best DL in the Patriot League.
The linebacker position should also be an area of strength for the Holy Cross "D". Preseason 1st Team All-Patriot League selection Ryan Brady will be leading the way. Joining him will be fellow senior Andre Chevalier. Chevalier was fifth on the team in TFL's last season despite missing 3 games. Jack Haddon, Keiston Lowery and Jack McCade will also be in the mix for starting roles.
If the pass defense improves it will be te result of a lot of familiar names stepping up. Akeem Walcott and Damion Baker are good bets to get the starting nod at CB. Josh Hicks and Grant Holloman will also have key roles at CB. Chris Riley returns from injury to man one of the safety spots. Riley has the potential to be major force in the back end of the defense if he's back to 100%. Kendrick Knight and Alex Johnson will be in the running for other starting safety spot. Senior Corey Stefanik gives the Crusaders a playmaker at the hybrid LB/DB position.
Special Teams
Cody Wilkinson is the lone returning kicker with experience. Wilkinson was responsible for kick offs in 2017 but did not handle any punting duties or attempt a field goal. As a result, junior Derek Ng and freshman Andrew Beatty will be in the mix. Richie DeNicola is well versed in the return the game.
Outlook
Given Chesney's track record of success there's plenty of optimism surrounding the Holy Cross football program. The first year coach inherits a team that returns a lot of talent and depth at certain positions. He also faces several question marks, most notably at QB. The defense should be good enough to at least keep the Crusaders in the majority of their early season games until the "O" finds its stride.
The biggest obstacle facing Holy Cross in 2018 is their schedule. It's absolutely brutal from the get go. The Crusaders open the season on the road against league favorite Colgate in Hamilton. The Raider's Andy Kerr Stadium has been a house of horrors for Holy Cross over the years. After that the Purple rekindle a bitter rivalry with Boston College at Alumni Stadium. Then it's home to face defending Ancient Eight champion Yale and an always tough Dartmouth squad. Road trips to preseason Top 15 New Hampshire and Bay State rival Harvard round out the non-league portion of the schedule.
Chesney is too good of a coach to fail at Holy Cross if the administration fully backs him. He's already hit a few homeruns in the early portion of the 2019 recruiting season. Unfortunately for Crusader fans they'll likely have to endure one more subpar season before the program takes off. With that said, don't be shocked if the Crusaders have at least one head turning win before the 2018 season comes to an end.
Prediction: 5-6 (4-2)