James Madison (9-3) at #8 Colgate (9-1) 1 P.M. Andy Kerr Stadium Hamilton, NY
Live Streaming: ESPN3
What's At Stake: Advance to play the winner of the North Dakota State/Montana State game in the Quarterfinals
Series History: Colgate 1-0
2015 FCS Playoffs 2nd round; Colgate 44 James Madison 38
Playoff History:
Colgate – 11th Appearance, 6-10 record, 2003 National Runner-up
James Madison – 15th Appearance, 16-12 record, 2004 & 2016 National Champions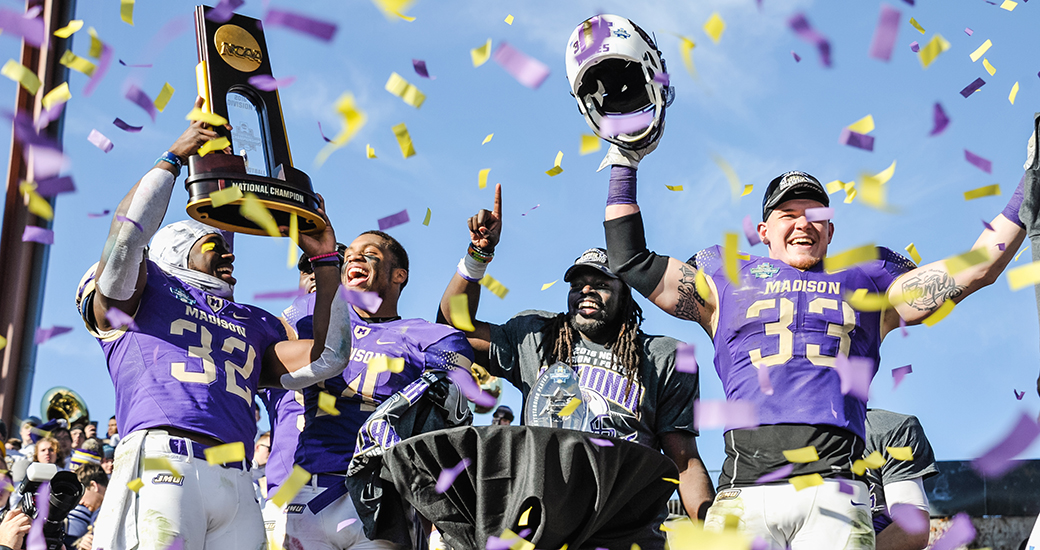 Season Recap
Colgate – The Raiders entered the season as the preseason favorite in the Patriot League and easily lived up to expectations on their way to a perfect 6-0 mark in league play and a 9-1 overall record. Colgate played a 10 game regular season schedule due to a mid-September roadie against Furman being cancelled (Hurricane Florence). The strength of this Colgate team is unquestionably their defense (5.7 ppg allowed) which set numerous league records in 2018. As a result of Colgate's historically great defense this season, the "O" has been a little underappreciated despite being quite productive (30.1 ppg). QB Grant Breneman and 5th year senior RB James Holland form one of the top backfields in FCS that no one knows about.
James Madison – The Dukes entered the season ranked #2 in the major polls and were the clear favorite to repeat as CAA champions. Heading into the season they were once again touted as North Dakota State's main challenger to the throne. James Madison lost a heart breaker to the Bison in the 2017 National Championship Game as their bid for back-2-back titles came up just short. The Dukes offense (35.1 ppg) isn't quite as explosive as it was the last two years with R-Jr. QB Ben DiNucci running the show behind a retooled offensive line. The defense on the other hand, might be better overall (13.9 ppg allowed, 3 shutouts).  There's been a few more bumps in the road than most anticipated yet James Madison is still thought of as a serious threat to make it to Frisco for a third straight year. The Dukes began their playoff run last week by shutting down Delaware en route to a 20-6 1st Round win over the Hens.
Colgate Offense vs James Madison Defense
The biggest question heading into this game for Colgate is the health of starting quarterback Grant Breneman (168 ypg 5 TD, 3 INT passing, 263 yards rushing 6 TD). The sophomore signal injured his shoulder against Fordham on November 3rd which caused him to miss the final two games of the regular season (@ Lehigh, @ Army). Senior Sage Atwood did an admirable job filling in but does not possess the arm talent and overall command of the offense that Breneman does. The general belief is that Breneman will be ready to go. If Breneman is in fact healthy and capable of attacking the Duke defense with his arm the Raiders ability to put up enough points to win greatly increases. While the Raider's wide receiver duo of Thomas Ives (14 rec 243 yards 1 TD) and Owen Rockett (29 rec 591 yards TDs) won't scare the talented James Madison secondary, they are capable of producing impact plays. The 6'5 Ives is especially dangerous in man coverage situations. There's no question Coach Hunt will want to establish the run with the heart and soul of the Raider offense, RB James Holland (1,065 yards 12 TD). It will be up to the Raider's big, physical offensive line to open up some holes against a very good Duke defensive front. Colgate must maintain balance on offense in order to effectively move the ball for four quarters.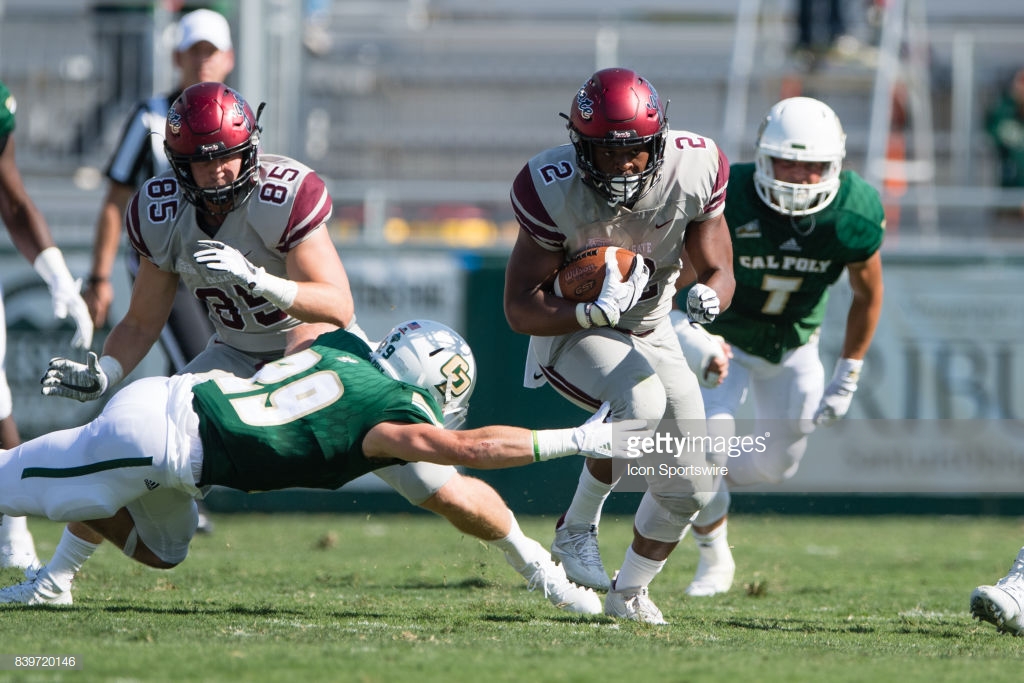 The James Madison defense is quite possibly the best unit Colgate will have faced in 2018. Army's "D" was physical and disciplined but the Black Knights lack the speed the Dukes possess; especially in the secondary. CAA Defensive Player of the Year Jimmy Moreland is a playmaking machine at cornerback. The R-Sr. has tremendous ball skills (5 INT, 10 pass breakups) as well as the ability to make plays at or behind the line of scrimmage (6 TFL). All-CAA Safety Adam Smith gives the Dukes another highly touted playmaker in the backend of the defense. The front 7 is led by a pair of All-CAA performers, 1st teamer DL Ron'Dell Carter (12 TFL, 7.5 sacks) and 2nd teamer Dimitri Holloway (leading tackler) at LB.  John Daka is a bit of a forgotten name along the DL despite leading the team in TFL (15.5).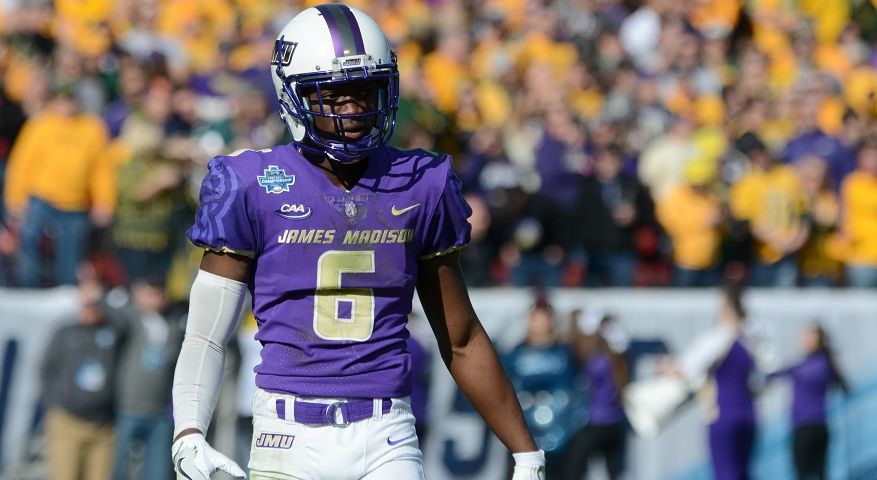 James Madison Offense vs Colgate Defense
The Duke offense is led by R-Jr. quarterback Ben DeNucci (2,083 yards 16 TD 7 INT passing, 357 yards 8 TDs). The Western Pennsylvania native has been extremely effective in his first year as the starter. He's been under the microscope all season due to the inevitable comparisons to former JMU QB Bryan Schor. Making DeNucci's life easier is the 3-headed monster at RB; Cordon Johnson (591 yards 4 TD), Trai Sharp (520 yards 4 TD) and Marchall Marcus (420 yards 6 TD). Johnson is the "household name" but Sharp and Marcus are just as dangerous. Riley Stapleton (63 rec 705 yards 7 TD) gives the Duke offense a legitimate number one WR. The 6'5 R-Jr. burst onto the national scene last year during James Madison's run to the Title Game. Kyndel Dean (43 rec 587 yards 5 TD) and Jake Brown (34 rec 393 yards 2 TD) are great compliments to Stapleton out wide. The James Madison offensive line, while not as dominating as the previous two editions, is still quite formidable. Colgate's front 7 on defense will be the best James Madison OL has faced since the season opener against FBS North Carolina State.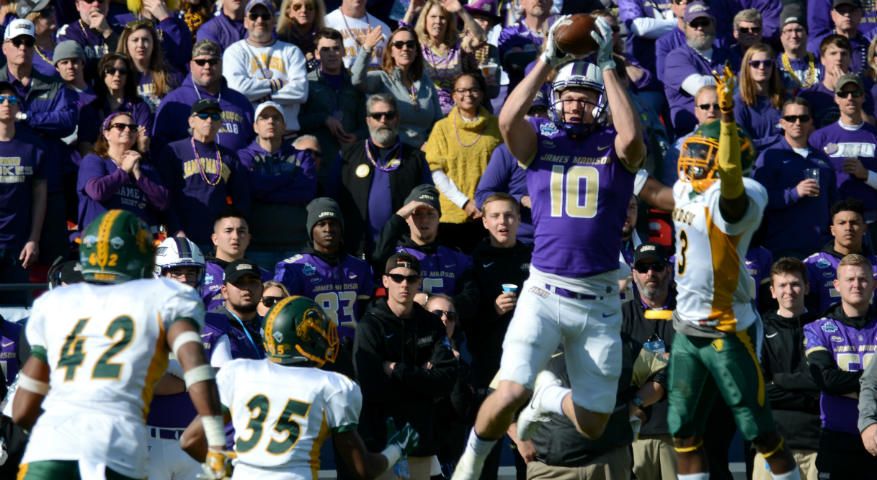 Colgate defensive coordinator Paul Shaffner received great news when All-Patriot League DL Nick Wheeler (8 sacks, 14 TFL) was cleared to play after suffering a lower body injury in the regular season finale against Army. Like Breneman on offense, Wheeler's importance to the Raider's historically dominant defense can't be emphasized enough. Unfortunately, for Shaffner and the 'Gate defense, not all news was good news. Starting NT Cam Rohr is expected to miss the game with a leg injury. Not having the 6'1 315 pounder in the middle clogging up the running lanes could prove to be a critical loss. Jacob Escaro (6'4 280) and Chuck Moore (6'4 275) will need to stand up physically for four quarters against the big Duke OL. Patriot League Defensive Player of the Year T.J. Holl (44 solo tackles, 13 TFL) leads a fantastic linebacker unit. The Raider linebackers have been great at tackling in space all season. Sure tackling is an absolute necessity against James Madison's speedy skill players. The Colgate secondary features three 1st Team All-Patriot Leaguers; CB Tyler Castillo, CB Abu Daramy-Swaray and Safety Alec Wisniewski. It will be interesting to see who draws Stapleton in man coverage situations.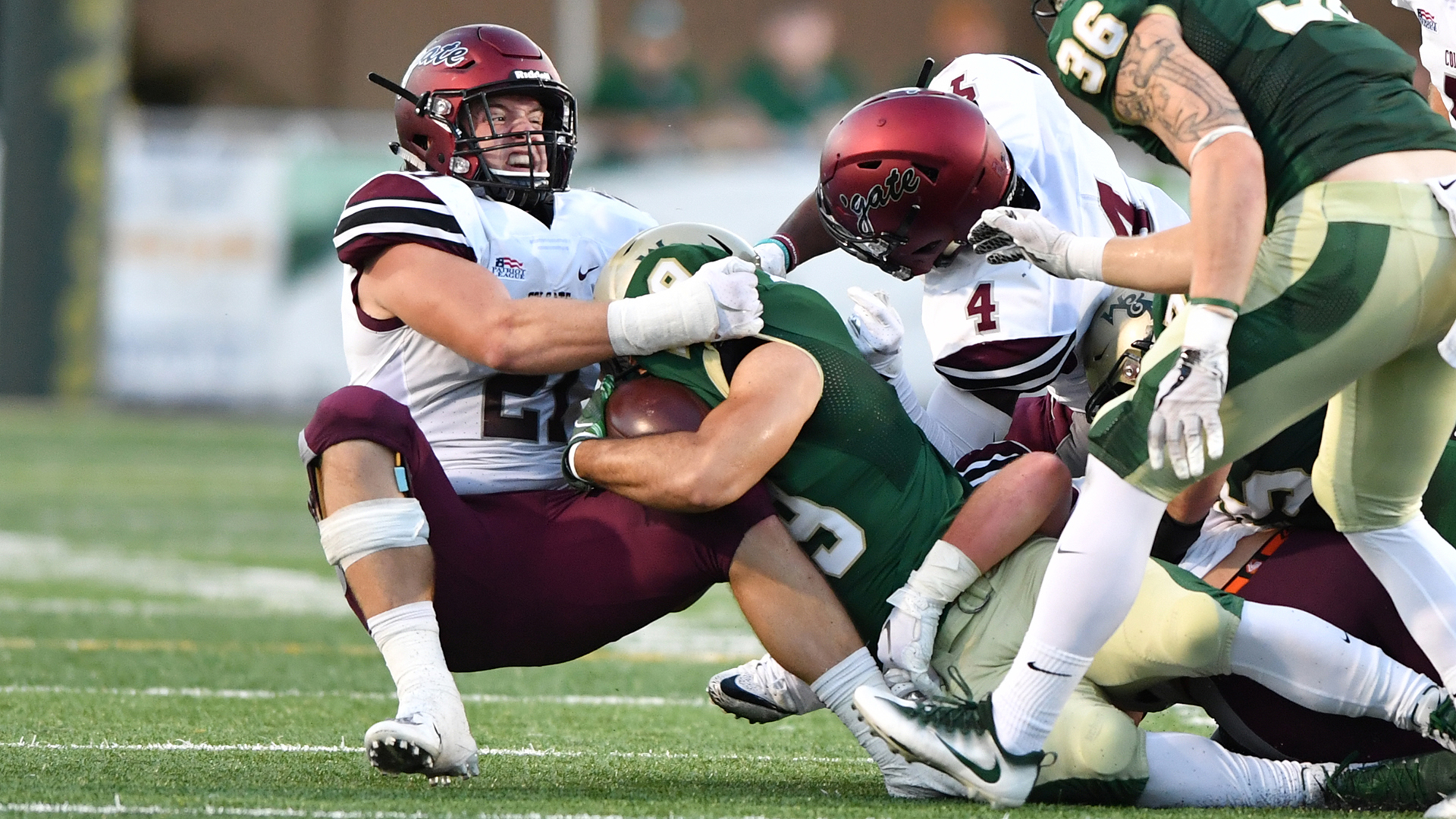 Special Teams
Both teams feature strong special teams units. For Colgate, PK Chris Puzzi is the most dangerous weapon. The junior was 12-14 kicking field goals including going an impressive 3-5 from 40-49 yards. He's the type of kicker you want lining up for a game winner. The Dukes' game changer on special teams is punt returner D'Angelo Amos. The R-So returned 3 punts for TDs during the season.  A long Amos return that flips field position may prove to be the defining moment in a game like this.
Prediction
This battle took a huge twist on Wednesday when it was "leaked" that James Madison General Mike Houston had accepted the head gig at UNC-Charlotte. As Wednesday night became Thursday morning and more details emerged, it became clear that Coach Houston had only been offered the job. At this point, one must assume that come late Saturday morning Houston will be leading the Purple onto the Andy Kerr turf. Given the unique circumstances surrounding Houston's tenuous status, this is a huge test for the James Madison program and its players. The Dukes are traveling to one of the more inhospitable locals in all of FCS to face a rested team who's been waiting all season for this opportunity.
In a game that features two of the best defenses in FCS, mistakes and lapses in focus could prove fatal. James Madison has the weapons on offense to test the Raider defense like no one has this year. If the Duke OL can protect DeNucci, Stapleton and company should be able to find some room to work. It will be crucial for Colgate to make sure a 20 yard pass play doesn't become a 65 yard TD. James Madison will try to hammer away at the interior of the Rohrless 'Gate defense. How the Raiders hold up will go a long way in determining the outcome. If James Madison can maintain balance on offense Colgate's defense might finally crack.
Colgate's offense isn't flashy but it is efficient. The Raiders possess the physical OL and workhorse RB that win cold weather games in December. Breneman is more than capable of extending plays and/or drives with his arm and legs. It will be important for Breneman to quickly acclimate himself to game speed. Colgate can't afford to have their quarterback come out rusty. James Madison has the type of defense that will pounce on a mistake prone signal caller. Just ask South Dakota State about last year's semifinal debacle in Harrisonburg.
This figures to be an old school defensive slugfest. James Madison has the more talented roster top to bottom but Colgate's veteran 2-deep can rival anyone in the country. That combined with home field, an extra week to prepare and uncertainty surrounding the James Madison coaching staff gives the Raiders the slightest of edge. A late Chris Puzzi field goal proves to be the deciding score.
Colgate 20 James Madison 17