Bucknell Bison
2018 Record: 1-10 (1-5)
Head Coach: Dave Cecchini, 1st year (17-38 career record)
Last League Title: 1996
Last FCS playoff Appearance:  Never
2019 Schedule
8/31 @ Temple
9/7 @ Sacred Heart
9/14 Villanova
9/21 BYE
9/28 Princeton
10/5 Holy Cross
10/12 @ Colgate
10/19 @ Towson
10/26 @ Lafayette
11/2 BYE
11/9 Lehigh
11/16 Georgetown
11/23 @ Fordham
Overview
2019 ushers in the Dave Cecchini era in Lewisburg. This comes after the Bucknell administration opted not to bring back Joe Susan for a 10th season. Susan was let go after a disastrous one win 2018 campaign; the Bison's fourth straight losing season. Cecchini comes to Central Pennsylvania after serving as Valparaiso's head coach for the last five seasons. Prior to that, the former Lehigh All-American WR served as the offensive coordinator at his alma mater from 2010 thru 2013. Before his stint at Lehigh, he was the OC at Harvard and The Citadel.
There's no question Cecchini knows offense and Patriot League football. He also knows what it's like to try and turn around a morbid program. Bucknell is without question one of toughest jobs in all of FCS due to its location, ho-hum tradition and general apathy that surrounds the program. All things considered, Valparaiso might be the most difficult job in the subdivision.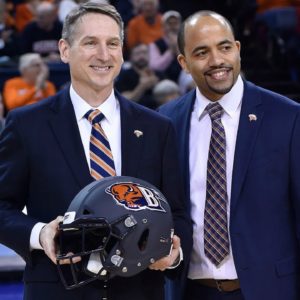 Offense
It will be up to Cecchini and offensive coordinator Jason Miran to formulate a strategy to get the Bison offense out of their multi-year slump (13.4 ppg in '18). The lack of offense under Joe Susan's watch further drained the life out of a Bucknell program that has struggled for decades to stir up excitement. One of the best ways to get people interested in Bison football is to have an offense that scores points and generates big plays. Losing is bad enough. But losing in a boring, lifeless manner is arguably the worst way to go down.
The straw that stirs the drink on offense is obviously the quarterback. Heading into the 2019 season Bucknell has three signal callers with significant experience. Sophomore QB Tarrin Earle (386 yards 3 TD, 2 INT in 4 games) should have the inside track to the starting position. Earle was a highly touted prospect out of New Jersey and did some good things when given the opportunity late last season. Senior John Chiarolanzio (434 yards 0 TDs, 6 INTs in 4 games) and Junior Logan Bitikofer (1050 yards, 7 TDs, 8 INTs in 6 games) will vie for playing time. Bitikofer is the most likely to push Earle in fall camp.
The strength of Bucknell's offense should be the running game. In fact, heading into the season the Bison have the deepest, most proven stable of running backs in the Patriot League. The return of Chad Freshnock (1,139 yards/16 TDs career) is significant. The bruising senior RB was injured last August and missed the entire 2018 season. Joining him will be shifty sophomore Jared Cooper (525 yards, 2 TDs). Cooper also emerged as a reliable pass catcher (38 rec 287 yards 2 TDs). Marquis Carter gives the Bison a third quality back. Carter was expected to be the starting RB last year but he was lost for the season following an injury in the 2018 opener against William & Mary.
Sophomore WR Brandon Sanders (44 rec 516 yards 0 TDs) is coming off a great rookie season and will be the focal point of the passing attack. Sanders numbers in 2018 were especially impressive when factoring in the revolving door at QB during the course of the season. Senior Justin Bethea (21 rec 250 yards 1 TD) seems likely to be penciled in at the other receiver position. Slot WR/RB Stefone Moore-Green is talented enough to find an important role in Miran's offense. Senior Marcus Ademilola (missed all of '18 with an injury) should vie for all league honors at TE.
The offensive line returns a plethora of experience and versatility. Junior guard P.J. Barr anchors the unit. Fellow Juniors Simor Krizak and Justis Peppers (6'4 330) seem like a safe bet to start at the tackle positions. Seniors Chuck Sanders, Erik Lukner and Justin Falcone (missed '18 w/injury) along with sophomore Michael Killiri figure to be key contributors along the OL as well.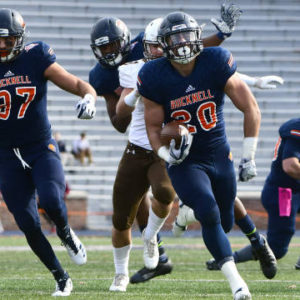 Defense
Like in 2017, the Bucknell defense was rather feast or famine (28.3 ppg/388 ypg allowed) last season. The Bison emerged as one of the top defensive units in the country during Susan's first 5-6 years but there's been a steady decline in recent seasons. The ups and downs on defense combined with an inept offense created the perfect recipe for  10 losses in 2018. First year defensive coordinator Ryan Manalac will be in charge of retooling the once proud Bucknell "D".
Leading the way on defense is hybrid LB Simeon Page (9 TFL/4.5 sacks in '18). Despite missing 4 games in 2018, the junior still garnered 1st team All-PL honors. Senior Sam Chitty (74 tackles in '18) and Rick Mottram (10 TFL in '18) are expected to join Page as starters in Manalac's 4-3 base "D". Jon Fox, Gerrit Van Itallie and Ryan Brida should also see significant time.
In the trenches, Fifth year senior Joe Shiano and junior Roger Mellado give the Bison two quality/experienced defensive ends. Senior John Hunt (6'0 300) figures to anchor the middle of the line. Hunt started the first 4 games of 2018 before suffering a season ending injury. 6'7 270 pound junior NNamdi Unachukwu will also start/see significant time assuming Manalac sticks with the 4-3 alignment. Seniors Sean Naiman, Blake Fletcher and Jimmy Sheehan, Junior Clay Myers and Sophomore Grayson Cherubino will to be key rotation players along the "D" line.
The Bison enter 2019 with serious question marks in the secondary. The cornerback and safety positions appear to be wide open heading into the season opener against Temple. Senior Mike Caruso, Junior Eric Butler and Sophomores Sterling Deary and Micah Dennis were all mainly role players in 2018. As a result, the door could be open for talented freshman Jonathan Searcy to work his way up the depth chart at cornerback. Gerrit Van Itallie will start at the hybrid safety/LB position while juniors Brandon Benson and Conner Romango should battle it out for the other starting spot. Freshman Justin Murray is a highly decorated DB out of Texas who will play safety in college. Expect Murray to get on the field early and often.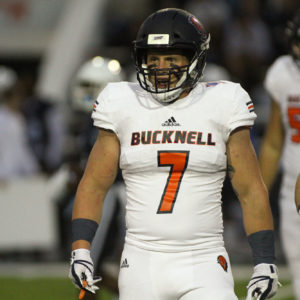 Special Teams
Fifth year senior Alex Pechin just might go down in history as the best punter/kicker in PL history. The 1st Team All-American (STATS) has a great chance to continue his career in the NFL if he so chooses. Junior Ethan Torres will handle the FG duties (5/8, long of 37 yards in '18). Marquis Carter and Brandon Sanders should be Bucknell's main punt/kickoff return weapons.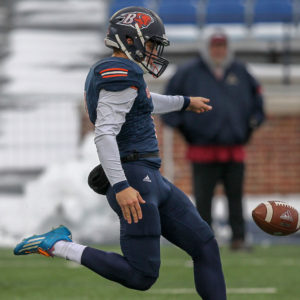 Outlook
To be frank, Dave Cecchini inherits a mess in 2019. While Bucknell reached a level of respectability during Susan's first few years, the wheels really started to fall off the last 2-3 seasons. There's no doubt  Bucknell has quality individual pieces dotting the roster. The sophomore class is especially strong. Getting several key players back from season ending injuries in 2018 should provide a huge boost. Still, top to bottom the Bison lack the personnel to finish in the upper half of the league.
The schedule is extremely difficult for a team coming off a 1-10 record. Heading into the season it's hard to see Bucknell managing more than two wins (Sacred Heart and Lafayette). If Cecchini can work his magic with the offense and the secondary comes together then another win or two is possible. The Bison are probably two or three years away from having a legitimate chance of ending their league title and playoff droughts.
Prediction: 2-9 (1-5)