Georgetown Hoyas
2018 Record: 5-6 (4-2)
Head Coach: Rob Sgarlata, 6th Season (16-39, 7-23)
Last Patriot League Title: Never
Last FCS Playoff Appearance: Never
2019 Schedule
8/31 @ Davidson
9/7 Marist
9/14 Catholic (Division II)
9/21 BYE
9/28 @ Columbia
10/5 @ Cornell
10/12 Fordham
10/19 Lafayette
10/26 @ Lehigh
11/2 Colgate
11/9 BYE
11/16 @ Bucknell
11/23 Holy Cross
Overview
31-5. That was the score with 4:21 left in the third quarter of Georgetown's 2018 season finale against Holy Cross. The Hoyas were a little over a quarter away from just their second winning season since joining the Patriot League in 2001 (8-3) and first ever solo runner-up finish in the final standings. Unfortunately for Georgetown, the Crusaders would score the final 27 points of the game on their way to mounting the biggest comeback win in program history. While Georgetown doesn't get a chance to play those final 19+ minutes over, they get another crack at Holy Cross and 10 other opponents in their quest for a winning season and a first ever Patriot League Title.
There's no question the 2019 edition of the Hoyas is the program's most talented team since joining the Patriot League nearly two decades ago. The offense is led by a veteran quarterback, an explosive WR and an experienced offensive line. On defense, Khristian Tate is the anchor of a very formidable unit. The league (4 league home games) and out of conference portions of the schedule set up favorably as well.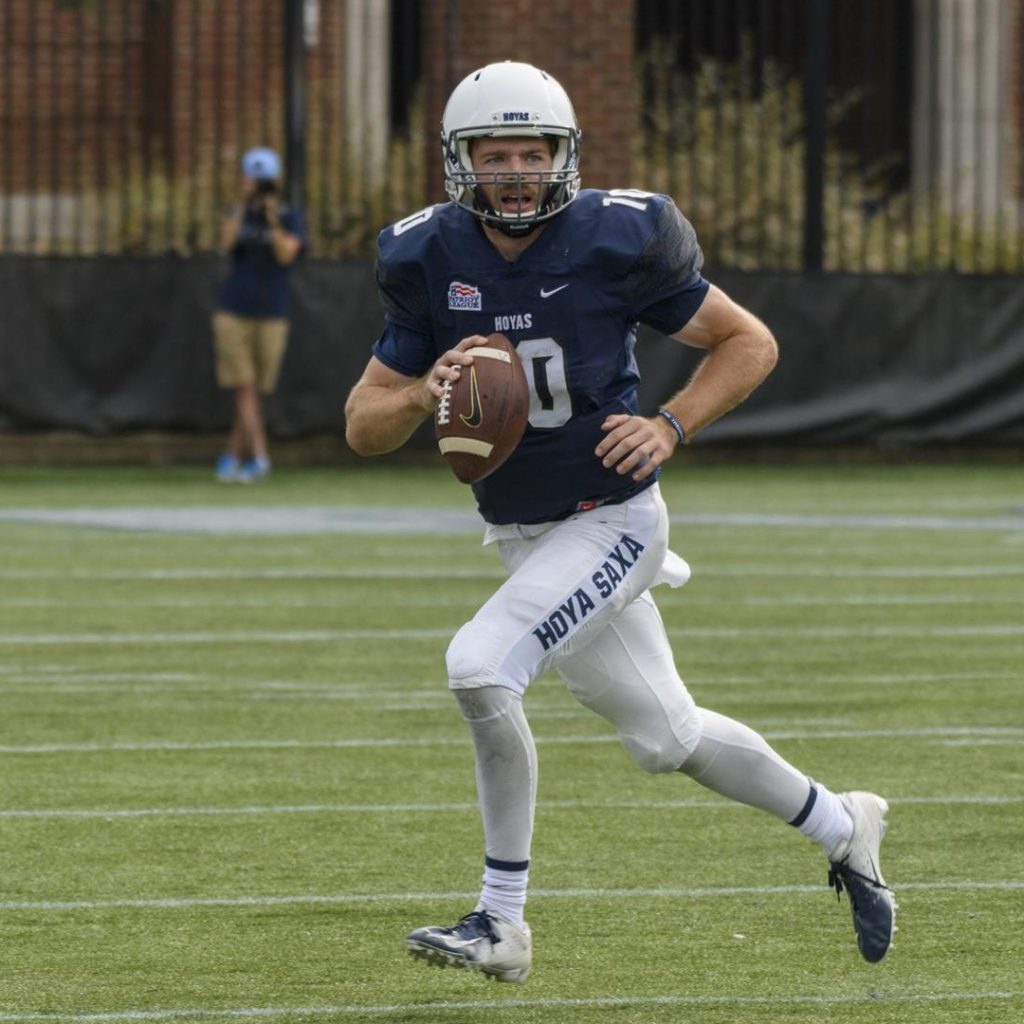 Offense
If Georgetown is going to capture their first ever Patriot League Title and potential playoff berth the offense must take a big step forward (15.6 ppg/249 ypg in '18). In the Hoya's six losses they averaged a paltry 6.1 ppg with two shutouts. The personnel appears to be in place for an improvement. Just how big of a jump (OC) Rob Spence's "O" makes will determine the Hoya's ultimate ceiling in 2019.
The onus of the offense falls primarily on the shoulders of senior QB Gunther Johnson (1,696 yards 9 TDs 6 INTs, 4 rushing TDs in '18, 15 career starts). The Arizona native must become more efficient passing the ball (51% completion in '18) in order for the offense to drive the ball down the field in key situations. Johnson has displayed All-League ability at times during his career. He's also had stretches of poor play which really bogged down the offense over the last two seasons.
The passing attack should be in good hands with an experienced group of wide receivers returning. All-PL selection Michael Dereus (21 rec 379 yards 2 TDs in '18) is the unquestioned playmaker on offense. The senior gives the Hoya offense a much needed big play threat. A pair of juniors, Max Edwards (14 rec 159 yards 2 TDs) and Dijon Williams (missed '18 with injury)along with sophomore Joshua Thomas(17 rec 163 yards 1 TD) will either start or be key rotation players. Sophomore Cameron Crayton and Tennessee transfer Cooper Melton figure to contribute at WR as well. Issac Schley (19 rec 112 yards in '18) should be locked in at TE.
The running back position enters the season in the best shape it's been in since the Hoyas joined the league. The top 3 producers from last year all return; sophomore Herman Moultrie III (358 yards 2 TDs), juniors Jackson Saffold (271 yards 2 TDs) and Jay Tolliver (170 yards 1 TD). While the individual numbers are modest, this is a talented group. Johnson's ability to run adds another element to Georgetown's rushing attack.
Last year the Georgetown offensive line took a considerable step forward after several years of poor play. It will need to continue to improve if the Hoyas are to take off on offense. Senior Ryan Jelinek figures to be the leader of the unit. He can play either tackle or guard. Fellow senior Justin Hood (missed 5 games with injury in '18), juniors Chris Caylor, sophomore Neal Azar, T.J. Thomas and Josh Stevens should battle for the other four starting jobs. This is a versatile group which is a great asset if/when injuries hit. Freshman Spencer Harris has the resume, size and demeanor to push for playing time.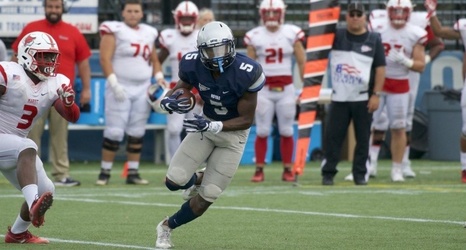 Defense
The Hoya defense has varied from good to excellent during Sgarlatas tenure as head coach. On paper, third year defensive coordinator Kevin Doherty has his best unit ever.
The 2019 "D" is led by an excellent line. Senior Preseason All-PL DE Khristian Tate (54 tackles, 7 sacks) is one of the top 10 players at his position in all of FCS. DE Mike Taylor III returns for a 5th year at the other DE position. Fellow Preseason All-PL Duval Paul (Jr.) will man the middle of the Hoya's 3-3-5 alignment. Junior Kinsley Umemba and sophomores Isaiah Byrd and Ibrahim Kamara will once again be important reserves. This is a deep and talented unit.
Georgetown is also stacked at linebacker. Preseason All-PL Wes Bowers (91 TOT) leads an excellent foursome of juniors at LB. Owen Kessler (8.5 TFL) has a great chance to earn postseason accolades at the OLB position.  Xavier Reddick and George Ikott are expected to compete for the other starting spot. Sophomores David Owens, Palmer Nix and Justin Fonteneuax will be key contributors as well. This group has a very high ceiling over the next 2/3 seasons.
The secondary suffered two significant losses to graduation but still retain plenty of talent and experience. Senior Ahmad Wilson (Preseason All-PL) is the captain of the defense from the safety position. Fellow senior Leon Agee will start at the other safety spot. Dawson Hawkins (Jr.) and Roemello Walton will be in the running for the third safety position in the Hoya's 5 DB defense.  A pair of juniors, Cameron Deen and Andre Danova, should battle it out to see who joins senior Jalen Goldwire (20 solo tackles) at the CB.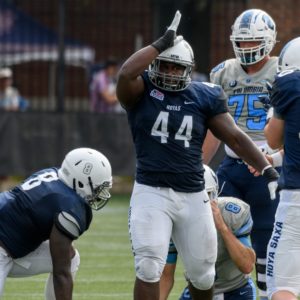 Special Teams
Senior Brad Hurst (40.7 per punt avg) is extremely reliable when it comes to handling the punting and kickoff duties  Unfortunately for the Hoyas special teams, Hurst struggled mightily booting field goals last season (3-11 in '18). As a result, odds are Tulane transfer Davis Walker assumes the FG duties in 2019. The Hoyas have a dangerous return man in Joshua Thomas.
Outlook
There hasn't been a Georgetown team in the Patriot League era that entered the season with higher expectations than the 2019 edition. Outside of field goal kicking, Georgetown does not have a serious concern entering the season.  Assuming the injury bug does hit, the two things that will ultimately determine the Hoya's ceiling this season are Johnson's ability to become a better passer and whether or not the offensive line can become more physical. If those two things happen it's not inconceivable to think double digit wins and a first ever trip to the FCS playoffs are within reach. The Hoyas get four out of their six league games at home and their only real OOC test is a late September trip to New York City to face Columbia.
On paper Georgetown should enter the 2019 season as either the favorite or number one contender in the Patriot League Title race. Yet, when taking into account some of the changes that took place around the league Georgetown's place at/near the top of the league does not seem so certain. The late November date with Holy Cross will once again play a huge role in defining the Hoya's season.
Prediction: 8-3 (4-2)