Colgate Raiders
2018 Record: 10-2 (6-0)
Head Coach: Dan Hunt, 6th Season (36-23, 24-6)
Last League Title: 2018
Last FCS Playoff Appearance: 2018, Quarterfinalist
2019 Schedule
8/24 Villanova
8/31 Air Force
9/7 BYE
9/14 @ William & Mary
9/21 Maine
9/28 @ Dartmouth
10/5 Lehigh
10/12 Bucknell
10/19 @ Cornell
10/26 @ Holy Cross
11/2 @ Georgetown
11/9 Fordham
11/16 @ Lafayette
11/23 BYE
Overview
Colgate enters 2019 on the heels of one their best seasons ever at the FCS level. The 2018 team was led by one of the statistically great defenses in the subdivision's history. The Raiders gave up a grand total of 29 points (3.6 ppg) in their 9 games against FCS competition (FBS Army scored 28)! The Raider's "D" pitched five shutouts and had a stretch of 32 scoreless quarters! The offense, while not overly explosive, was extremely steady throughout the year (30.1 ppg). Even special teams had their moments to shine. Chris Puzzi's game winning FG against James Madison punched Colgate's ticket to the Quarterfinals. Unfortunately for Colgate, Puzzi's FG would be the final points of the year as the eventual national champion North Dakota State Bison blanked the Raiders 35-0 the following week in Fargo.
The question now is what does Colgate do for an encore? They return a handful of All-League selections and plenty of experience in key positions. The major concerns are at wide receiver, linebacker and in the secondary. There's also a pretty daunting schedule to navigate.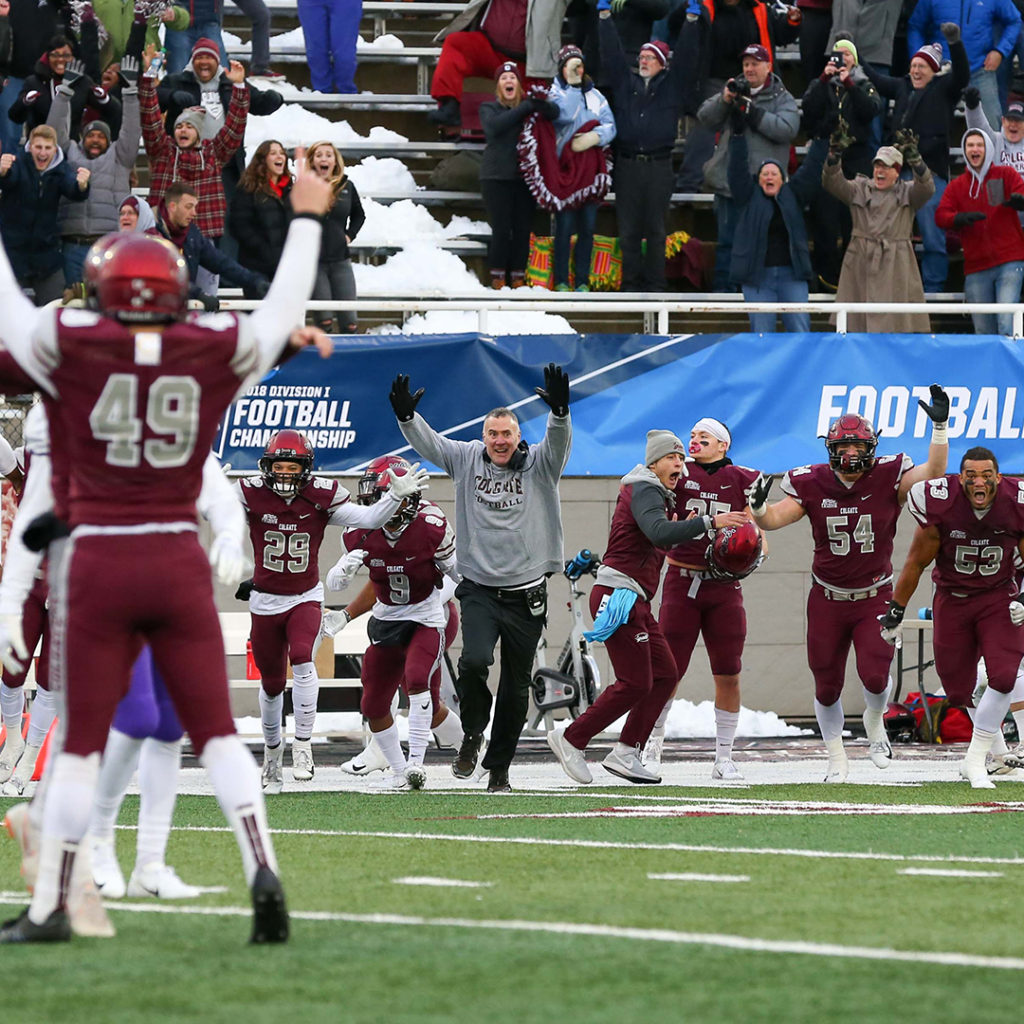 Offense
There's a lot to like (1st Team All-PL QB and excellent OL) about the Colgate offense heading into the 2019 season but there's also two serious question marks, WR and RB. The unit was extremely efficient last year against the weaker competition but when facing the better teams it often struggled. With offensive coordinator Chris Young moving on to Elon after 16 seasons in Hamilton and no replacement being named, it appears Hunt will have more of an influence on the offense this season.
Leading the way on offense is not only the best returning QB in the Patriot League (Preseason Offensive POY), but one of the better signal callers in all of FCS, junior Grant Breneman (160.5 ppg 6 TDs 4 TDs passing, 7 TDs rushing in '18). The preseason Payton Award candidate is especially dangerous when he gets outside of the pocket. If there's one area he could use some improvement it's throwing to the second and third level from the pocket. Making that task a little trickier will be a very green group of wide receivers.
Amazingly, due to graduation and players leaving the program Colgate does not return a single wide receiver that caught a pass in 2018. While experience is clearly lacking, the one thing Colgate does have at the WR position is size; senior's Nick Gill and Frank Rica III are 6'3 as it junior Nick Draught. Then there's 6'4 freshman Ryan Cekay who could blossom into a redzone terror. Keep an eye on shifty fellow freshman Rory Boos in the slot as the season progresses. Breneman will likely lean on 1st Team All-PL TE Nick Diaco (9 rec 114 yards) in key situations before the new crop of wide receivers settle in.
Another area of concern on offense heading into the season is at running back. The loss of fifth year stud James Holland will hurt the rushing and passing attack. Taking over the RB duties will be the duo of senior Alex Mathews (147 yards 5 TDs in '18) and junior Malik Twyman (292 yards 1 TD). Diminutive sophomore John Cox (5'7 200) should see his role increase in 2019. Mathews (Preseason 1st Team All-PL) and Twyan should from a solid duo behind what will be one of the top offensive lines in all of FCS.
Along with Breneman at QB, the strength of the Raider offense will be the OL. A pair of 1st Team All-Patriot Leaguer's OT Jovaun Woolford and G Jack Badovinac lead the way. Senior Charlie Holsopple, Juniors Sam Diehl and Jayvion Queen seem like the leaders in the clubhouse to start at the other OL positions. All three have All-League potential. Sophomores Michael Griggs and Shiva Puttagunta should also be in the mix to see time as the season goes along.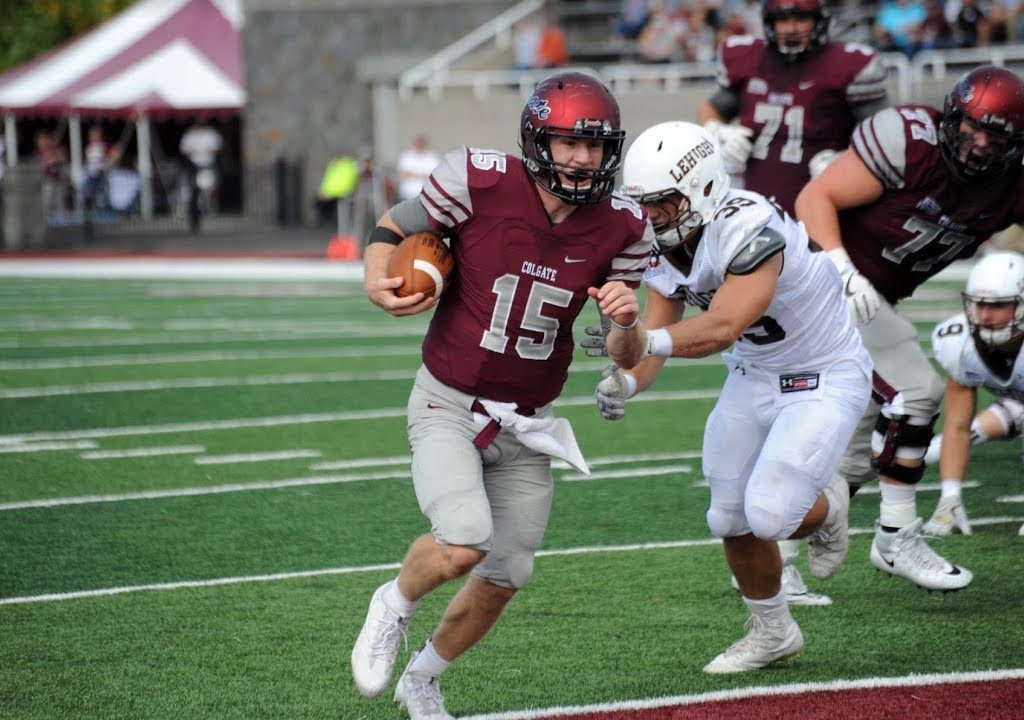 Defense
It's safe to say that an encore performance of the 2018 Raider defense will be impossible. Between graduation and an uptick in competition, the historical stats and complete domination the Colgate "D" reveled in last season is a thing of the past. That's not to say the 2019 edition won't be the best unit in the league, because it will, or it won't be quite good nationally, because it will be.
The strength of the defense in 2019 will be the defensive line. 1st Team All-American (STATS) DE Nick Wheeler is the ultimate disrupter off the edge while Cam Rohr (6'2 315)is an excellent cog in the middle. Junior Abdoul Kouyate will see significant time at the other end position. Senior Jacob Escaro, junior Owen Rosenberger, sophomore E.J. Simmons and freshman Will Anderson (Navy transfer) should all see important snaps as well.
The linebacker unit will be led by senior 1st Team All-PL selection Nick Ioanelli (6 TFL, 28 solo in '18). Senior Shane Shaffner, juniors Blane Briggs and Trevor Thompson seem likely to start in defensive coordinator Paul Shaffner's 3-4 alignment. Freshman Tyler Flick was an excellent athlete (All-State HS RB) who could see significant time. Replacing the caliber of T.J. Holl (17 TFLs, 121 total tackles) and Dillon Deluliis (73 total tackles) will be nearly impossible but there is some good experience returning. However, depth could be an issue.
Like at linebacker, the secondary returns a stud in 1st Team All-PL (STATS 2nd Team All-American)senior CB Abu Daram-Swaray but lost a lot of experience and production. Taking over at the other CB position will likely be either senior Jordan Jefferson or sophomore Collin Heard. Both got a lot of reps last year in reserve roles. Aiden Gaertner and Marques Bruce seem to have the inside track to the starting safety positions. Kyan Brumfield and talented freshman Keshaun Dancy should see significant time as well in the secondary.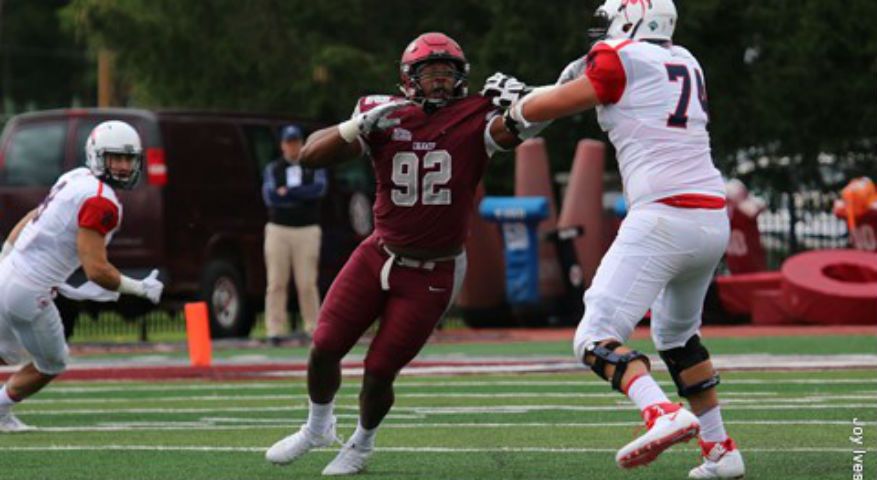 Special Teams
1st Team All-PL PK Chris Puzzi leads the specials teams unit. The senior's most memorable kick last year was his 38 yard buzzer beater against JMU in the second round of the FCS playoffs. Abu Daramy-Swaray will likely again have a significant role in the return game. TySean Sizer and perhaps fresham Rory Boos will get a few opportunities in the return game as well. The punting duties will likely be handled by senior Tommy Halkyard (37.4 avg in '18).
Outlook
While Colgate returns a strong talent base and experience at key positions, the Raiders will be hard pressed to come close to last year's magical run. First, Colgate lost a tremendous amount of production due to graduation. Every team suffers graduation losses but rarely do so many key players leave at once. Wide receiver, linebacker and the secondary are without question a major concern heading into the season.  Secondly, the schedule is going to be much harder in 2019. Colgate benefited greatly by feasting on one of the weakest schedules in all of FCS last season; 28-58 record of FCS competition/0 teams with a winning record.
Heading into the season Colgate appears to have just enough to squeeze out another league title and trip to the playoffs. However, neither is a foregone conclusion. The Raiders margin for error this season will be much smaller than it was in 2018. They certainly can't afford Breneman getting banged up like he was down the stretch in 2018.
Prediction: 8-4 (5-1)