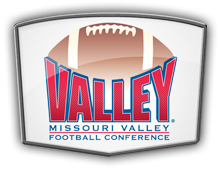 Missouri Valley Conference football games begin this coming weekend, so I figure this is a good time to do a quick review of what happened during the out-of-conference (OOC) games for each team. WIth the exception of South Dakota State, who had their game against Iowa State cancelled due to weather, everyone in the conference has played three games. For the most part, every team has played a game against an FBS team, with the exception of the previously mentioned SDSU, as well as North Dakota State, who FBS teams stopped scheduling out of fear. Everyone has also had their bye weeks now (most this last weekend), so from here on out, it's all MVFC, all the time, for 8 straight weeks until we hit the postseason.
Illinois State
The Illinois State Redbirds had a tricky time scheduling for this season, having to leave a NAIA team on their schedule for their opener, Saint Xavier (IL). As expected, the Redbirds rolled to a 24-0 halftime score and 46-0 win.
Game #2 was the annual rivalry game against Eastern Illinois. Many years, this game is a hard-fought battle regardless of how good or bad each team is otherwise…that was not the case this year though. Illinois State QB Brady Davis threw for 317 yards and 4 TDs, with 174 yards and 2 TDs of that going to WR Spencer Schnell. RB James Robinson ran for 153 yards and a TD on the ground en route to an easy 48-10 victory.
ISU had their bye week a little earlier than most of the other teams in the conference, with a week off to prepare for a game against FBS Colorado State. CSU got up early with a TD in the first but missed the XP. Illinois State responded with two TDs in the 2nd, with the last one coming with 2 seconds left in the first half to head into halftime up 14-6. The 3rd quarter was pretty well even with each team picking up a TD, but ISU blew things open in the 4th with two more TDs to take a 22 point lead. The Rams picked up a TD with only about 90 seconds left in the game ("garbage time") to put the final tally at 35-19 Redbirds. RB James Robinson had another great game, running for 184 yards and 2 TDs.
Illinois State is now 3-0 to start their season and will head down to Springfield, MO to take on the Missouri State Bears this weekend.
Indiana State
The Indiana State Sycamores kicked off their season with a home game against Quincy University (DII) and a 49-0 win…their first win since October 22, 2016.
They then headed down the road a bit for their FBS game against Louisville. Indiana State started that game off fairly well, despite giving up a punt return TD early, they scored their TD in the 1st quarter as well and held off the Cardinals in the 2nd quarter, going into halftime tied up 7-7. Depth caught up to the Sycamores though, as Louisville would put up 24 points in the second half to take a 31-7 victory.
Indiana State then headed over to Eastern Illinois for what would turn into quite the offensive display (or maybe everyone's defenses just forgot to show up). A back-and-forth 1st quarter where 37 points were scored gave EIU a slight lead, but a couple of TDs in the 2nd would give ISU the advantage that they would never relinquish. There was quite a bit more scoring in the game, but Indiana State held on for a 55-41 victory. In this game, Senior RB Ja'Quan Keys had a career day, racking up 234 yards on 34 runs with 4 TDs. True freshman RB Christian Covington had 14 carries for 60 yards and 2 TDs also.
The Sycamores are 2-1 on the season and after taking last weekend off, will welcome Northern Iowa to Terre Haute to open MVFC play.
Missouri State
The Missouri State Bears opened their 2018 season with their FBS game against then #25 ranked Oklahoma State. As expected, Oklahoma State would get up early, scoring 31 first-half points and holding MSU to a TD late in the half. The same story in the second half gave the Cowboys a 58-17 win. Bears QB Peyton Huslig accounted for 150 passing yards and 2 TDs as well as 109 yards rushing.
Game #2 for the Bears essentially flipped the script, hosting the DII Lincoln University of Missouri Blue Tigers. Despite being down early, MSU would have a strong 2nd quarter to pull ahead en route to a 52-24 victory.
MSU would then host (then FCS #20 ranked) Northern Arizona. In a somewhat surprising turn of events, MSU took the lead early with 23 first half points while holding NAU to a TD (missed XP). The second half was similar, with 17 more points for the Bears and a safety in "garbage time" being the only points allowed. In a game that was expected to be much closer, even with the absence of a couple of big NAU playmakers, Missouri State crushed the Lumberjacks 40-8. This was despite MSU QB Peyton Huslig throwing 4 INTs. MSU Senior RB Jason Randall threw down 181 yards on the ground with 2 TDs.
The Bears also had a bye week last weekend, are now 2-1 to start the season, and will host Illinois State next weekend for MSU's Family Weekend game.
North Dakota State
The North Dakota State Bison had the advantage of playing all of the OOC games at home (actually their first 4 games are all in the Fargodome). First up was Cal Poly. NDSU had the first TD, but then allowed a 50-yard FG to let Cal Poly pull within 4. That was the closest that they would get though, as the Bison defense held the Mustangs scoreless the rest of the game while putting up 21, 14, and 7 points in the next three quarters respectively to win 49-3. For the most part, NDSU got it done on the ground, with RB Bruce Anderson running for 185 yards and 2 TDs and RB Lance Dunn picking up only 65 yards but 3 TDs. Cal Poly was held to a total of 207 yards of offense in the game.
Up next was FCS newcomer (but former DII powerhouse) North Alabama. In this game, NDSU churned out a couple of scores every quarter and holding UNA scoreless until 94 seconds left in the game when they picked up a TD. QB Easton Stick threw for 162 yards and a TD while running for another TD. RB Bruce Anderson and #2 QB Trey Lance each ran for TDs as well. WR Dallas Freeman caught 117 yards on 4 catches and LB Jabril Cox had 7 tackles and an INT taken back 43 yards for a TD. DT Cole Carcz picked up 2 sacks in the game.
Like Illinois State, NDSU then took a week off before welcoming a team with quite a bit of historical success at the FCS level. This time around, the Bison decided to blow things open early, rolling up a 28-0 advantage after the first quarter. They then picked up a TD in the 2nd and a FG in the 3rd while only allowing 10 points to the Blue Hens with both scores coming with under 5 minutes left in the game. Final score of this one was 38-10.
NDSU is 3-0 on the season and have outscored their first three opponents by a combined score of 125-20. In what will likely be their toughest test during the regular season, they will welcome rival South Dakota State to the Fargodome next weekend for the Dakota Marker game.
South Dakota
The South Dakota Coyotes began the season in Manhattan, KS, taking on K-State, where the Coyote defense did a particularly good job of keeping the Wildcats out of the end zone. USD had 3 TDs in the first half, including an INT returned to the end zone while holding K-State to 4 FGs in the first half. A scoreless third quarter meant that USD was taking a 24-12 lead into the final frame. K-State though, was able to get some momentum going on a 85-yard punt return TD and was able to follow it up a short while later with their first actual TD drive of the game, scoring about halfway through the 4th to take the lead and the game 27-24. USD QB Austin Simmons threw for 257 yards and a TD and ran for a TD in the loss.
Heading home to Vermillion, USD welcomed Northern Colorado of the Big Sky Conference. The game would be close for a bit, but a 20 point second quarter gave the Coyotes a lead they wouldn't relinquish. UNC picked up a couple of TDs in the 4th, but was unable to come back, as USD would take the win, 43-28. QB Austin Simmons had a phenomenal day, completing 31 passes for 462 yards and 4 TDs and rushing for 80 yards and a TD. Receivers Shamar Jackson and Trystn Ducker each caught for over 130 yards and 1 TD apiece.
South Dakota then traveled out to Ogden, UT to play last year's top non-seeded FCS playoff team, Weber State. In this game, the Wildcat defense showed their strength, holding the Coyotes to only 10 points and forcing 3 turnovers, while their offense did enough to maintain a relatively comfortable lead and come away with a 27-10 win.
South Dakota sits at 1-2 and after their bye week, will head down to Carbondale to take on Southern Illinois.
South Dakota State
The South Dakota State Jackrabbits were supposed to open their season at FBS Iowa State…and, I guess they technically did. Iowa State scored on their first drive, but the game was halted due to thunderstorms. After 2+ hours with no break in the storms projected for a while, the decision was made to cancel the game.
In their second game, SDSU hosted Big Sky team Montana State. In looking for a replacement for their receiving corps of the last couple of years (two of which are in the NFL), the Jackrabbits seem to have found a likely candidate in Sophomore WR Cade Johnson. The first three scores of the game were TD passes from QB Taryn Christion to Johnson. A FG would put SDSU up 24-0 at halftime. In the second half, Montana State started to show signs of life, picking up a couple of TDs, however each was answered shortly thereafter by Jackrabbit TDs leading to a 45-14 victory. QB Christion threw for 319 yards and 4 TDs while running for an additional TD. WR Cade Johnson caught for 138 yards and all 4 of Christion's thrown TDs.
South Dakota State would then host Arkansas-Pine Bluff and apparently decided to put everything into this game that they had saved up from the cancelled Iowa State game. 4 TD passes…in the first quarter alone…led to three more TDs in the 2nd and a 49-6 lead. Despite SDSU bringing any many second and third string players, the Lions' defense had a hard time stopping the Jackrabbit offense from pretty much scoring at will. SDSU rolled to a record-setting 90-6 victory. QB Christion threw for 332 yards and 2 TDs, despite only playing the first half. RB Isaac Wallace ran for 192 yards on only 5 attempts (38.4 yards per rush average) with 2 TDs.
South Dakota State heads into their slate of MVFC after a weekend off with a 2-0 record. They could probably use the rest, because their next game is the Dakota Marker game, at rival North Dakota State.
Southern Illinois
The Southern Illinois Salukis started their season by heading down the road to Murray, KY to take on the Murray State Racers. Murray State picked up a FG halfway through the 1st, but SIU answered with a passing TD, a fumble recovery->TD, and an INT->TD to pull ahead 21-3. The Racers picked up another TD later in the 2nd quarter but SIU answered again with their own TD run in the final seconds of the first half to head into halftime up 28-10. From there it was all Salukis with a couple more "regular" TDs and another fumble recovery returned for a TD to win the game 49-10. RB DJ Davis ran for 127 yards in the game. Safety Jeremy Chinn had 2 forced fumbles, while LB Cody Crider and CB Madre Harper had one each. In total, the SIU defense forced 6 turnovers (4 fumbles and 2 INTs).
Next up was an FBS game at SEC member Ole Miss. I'm not going to recap all the scoring…because apparently everyone forgot how to defense…but SIU was up 21-14 after the first quarter. The 2nd was similar but slightly to Ole Miss' advantage, although SIU still had a slight (38-35) lead going into halftime. The Rebels really kicked things into high gear in the second half though, putting up 14 points in the 3rd and 27 points in the 4th quarters while holding the Salukis to a FG in the 3rd. The P5 team would win this one 76-41. QB Sam Straub threw for 382 yards and 4 TDs and allowed 2 INTs, while running for another TD. RB DJ Davis ran for 121 yards and WR Raphael Leonard caught 117 yards and 2 TDs.
SIU's third game was the newly-dubbed "War for the Wheel" rivalry against Southeast Missouri State. Despite the new name and the two teams being in different conferences, the teams have been playing each other since 1913 and have met up 85 times…so it's an old rivalry between teams separated by about 32 miles (45 if you're driving) and a river. Like any good rivalry game, this one was a back and forth battle. SIU took the lead early, but SEMO would answer back and have the lead at the end of the 1st quarter, 14-10. SIU had the advantage in the 2nd, going on top for a 20-17 halftime score. The Redhawks scored early and often in the second half, rolling to a 34-27 lead going into the final quarter. The 4th saw SIU pull ahead on a FG and a TD…then a SEMO TD….SIU TD…and finally another TD for the Redhawks to pull ahead for good and take the 48-44 victory. SIU QB Sam Straub threw for 338 yards and 2 TDs and ran for a TD, but also threw 3 INTs. RB DJ Davis had another great game, rushing for 172 yards and 2 TDs (he's now averaging 140 yards per game), as did Raphael Leonard who hauled in 11 catches for 124 yards and 2 TDs.
Southern Illinois had last weekend off and will host South Dakota this weekend for their Family Weekend and Blackout Cancer game, sitting at 1-2.
Northern Iowa
The Northern Iowa Panthers started their season at one of the toughest places to play in the FCS…at Montana. The 25k+ fans helped Montana to an early lead, shutting out the Panthers and putting 26 points up on the board. In the second half though, it was pretty much the reverse, as UNI was able to hold the Grizzlies offense scoreless while doing their best to catch up. They almost did, but would fall a FG short, losing 26-23. QB Colton Howell threw for 140 yards and a TD and ran for a TD.
Next up for UNI was…well….a bye week actually…to prepare for their game against the Big 10's Iowa. Like the last game, UNI's offense took a while to start getting things moving (not that I blame them against a decent P5 team). By the time UNI had their first points in the 4th, Iowa was already up 38. UNI would add another TD but would ultimately fall 38-14 to the team just down the road. QB Eli Dunne threw for 200 yards and 2 TDs in this game after being put in for the second half.
To finish up the OOC portion of the season, Northern Iowa welcomed the Hampton Pirates to the UNIDome. Unlike the first two games, however, this one was all Panthers, rolling up 20 points in the first half, 21 in the 3rd quarter and topping it off with a FG while holding the Pirates scoreless the entire game for a 44-0 shutout for their home opener. QB Eli Dunne threw for 191 yards and 3 TDs and true freshman WR Deion McShane (younger brother of WIU RB Steve McShane) caught 7 passes for 117 yards and 1 TD. The UNI defense had 4 interceptions and a forced fumble in this game.
UNI is now 1-2 and will play a Thursday night game at Indiana State to open the MVFC portion of the season.
Western Illinois
Like UNI, the Western Illinois Leathernecks opened their season on the road in Montana, although down the road a bit at Montana State. WIU started off fairly strong, trading WIU TDs for MSU FGs to head into halftime up 13-6. MSU had a productive 3rd quarter, however, with a couple of TD runs and tied the game up at 20 to head into the 4th. WIU picked up 3 more on a FG, but MSU had two FGs to take the victory 26-23. It was a tale of special teams in this game, with MSU hitting 4 FGs including 47 and 50 yarders. WIU was 1 for 2 missing a 48-yarder and missing an XP earlier in the game, which would have made the difference. RB Steve McShane ran for 76 yards and 1 TD and caught for 40 yards and 2 TDs.
Next up, WIU headed across the state to play Illinois. WIU got on the board first with a TD to transfer WR George Wahee in the 1st quarter. The Illini would pick up two TDs in the second to take a 14-7 halftime lead. They'd get two more in the 3rd before WIU was able to answer back with one of their own to pull back within 10 points. In the 4th quarter, however, turnovers would doom the Leathernecks as Illinois would halt a quality WIU drive at the ILL 15 (receiver caught the ball but fumbled after being crushed between two defenders) and would put WIU in the position of having to force some risky throws that were intercepted to seal the Illini victory, 34-14. WR George Wahee caught 104 yards and a TD and WR Tony Tate had a 49-yard TD reception.
In their third game, WIU headed home to take on Top 25-ranked Montana at Hanson Field. The game started off looking like it was going to be a blowout win for WIU after a 71-yard TD pass to WR John Brunner on the 2nd play from scrimmage, then a fumble for Montana recovered by WIU which was followed up by a 37-yard TD pass for WIU on the next play. Montana would respond immediately with a kickoff return for a TD. A FG and another TD would put the Grizzlies up after 1 quarter and with just a 44-yard FG for WIU in the 2nd, Montana would head into halftime up 18-17. In the 3rd, Montana had another FG and early in the 4th, a TD drive that put them ahead 27-17. The score would stay that way until ~5 ½ minutes left in the game, when RB Steve McShane would return a Montana punt for a TD to pull within 3. Then, on the first play from scrimmage, WIU would recover a fumble, then drive down the field for a TD to take the lead back, which they would hold onto for the 31-27 victory. QB Sean McGuire threw for 360 yards and 3 TDs while throwing 1 INT. WIU got nothing done on the ground, with only 45 total rushing yards, but Junior transfer WR John Brunner had a big game with 180 yards and 2 TDs receiving. RB Steve McShane had 77 yards and 1 TD receiving as well as the punt returned for a TD.
WIU is 1-2 so far, and will open their MVFC games hosting Youngstown State at Homecoming.
Youngstown State
The Youngstown State Penguins started off their season with a home game against non-scholarship Butler. The Bulldogs started strong with a TD which was answered by a Penguin TD to tie things up in the first quarter. A scoreless 2nd quarter would preserve the tie into the second half when YSU would rifle off two long TD drives to pull ahead 21-7. Butler was not about to go away quietly, however, as they would rally back with two TDs in the 4th. On the second one, the Bulldogs went for a 2-pt conversion, which was stopped and looked like it would give YSU a narrow win. On the kickoff however, Butler would successfully recover an onside kick, which they would then drive down the field with and hit a 44-yard FG with 4 seconds left to steal the victory, 23-21. RB Tevin McCaster rushed for 166 yards in the loss and QB Montgomery VanGorder threw for 234 yards and 3 TDs. PK Zak Kennedy missed FGs from 48 and 33 yards out.
Up next for YSU was a game at FBS #14 West Virginia. The Mountaineers got the scoring started late in the 1st quarter on a 99-yard drive and doubled that up with another one early in the 2nd. YSU answered with a 75 yard drive for a TD of their own, but WVU would get another with 1 minute left in the half to gain a 21-7 halftime lead. West Virginia opened things up in the 3rd, rallying for 21 points although allowing a YSU TD and a 45-yard FG. By then, though, they were up 42-17 and only added onto that total in the 4th with another TD and FG to put the final score at 52-17 for WVU. Receiver Zach Farrar had 6 catches for 135 yards in the game and RB Tevin McCaster ran for 79 yards and a TD.
The final game for the Penguins saw them return back home to take on another Pioneer League team, Valparaiso. At the start, it looked like this could be another close game against a non-scholarship foe, when Valpo would nail a 75-yard TD pass to put the first points on the board with about 5 minutes left in the 1st. YSU was able to answer though, tying things up. The rest of the game, however, was all Penguins, with Youngstown State racking up 14 points in the 2nd and 3rd quarters and topping it off with 7 more in the 4th while holding the Crusaders scoreless the rest of the game to grab their first win, 42-7. In this game, RB Tevin McCaster ran for 141 yards and 2 TDs, QB Montgomery VanGorder threw for 202 yards and 3 TDs, and LB Armand Dellovade picked up an interception and 8 tackles.
Youngstown State is 1-2 to start the season, was off last weekend, and will head to Western Illinois this week for a matchup with the Leathernecks.
Standings
So, here's where things currently stand with the OOC games all taken care of. I've also added in Massey's ranking of Strength of Schedule (out of 125 FCS teams) based on only games played so far. It's not perfect, but it gives some idea of the quality of opponents that each team played before wading into the MVFC season.
| | | |
| --- | --- | --- |
| Team |  Record |  SoS Rank |
| Illinois State | 3-0 | 77th |
| North Dakota State | 3-0 | 67th |
| South Dakota State | 2-0 | 86th |
| Indiana State | 2-1 | 89th |
| Missouri State | 2-1 | 57th |
| Northern Iowa | 1-2 | 4th |
| South Dakota | 1-2 | 1st |
| Southern Illinois | 1-2 | 35th |
| Western Illinois | 1-2 | 3rd |
| Youngstown State | 1-2 | 52nd |