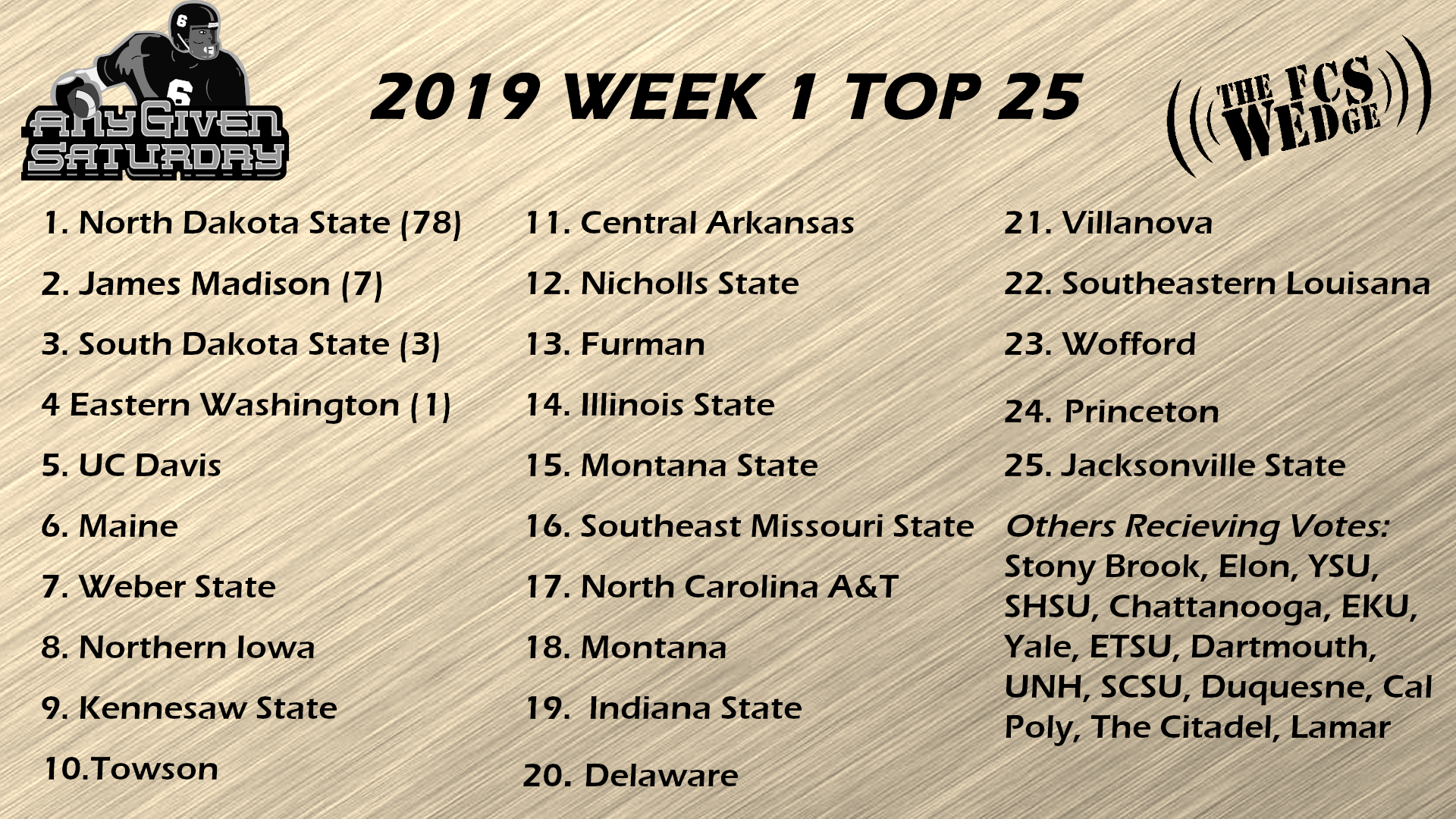 It was a topsy turvy week in the AGS top 25 in week 1 with 14 of the top 19 teams in the preseason poll taking losses. Despite that the top of the poll stayed pretty stable. North Dakota State remained at #1. They were followed by James Madison and South Dakota State who each moved up a spot after taking close losses to FBS foes. Eastern Washington dropped 2 spots down to #4 and UC Davis maintained their #5 ranking.
As for other teams on the move Northern Iowa moved up 7 spots to #8 after taking Iowa State to 3 overtimes before ultimately dropping a tight one. Central Arkansas used a win over FBS Western Kentucky to shoot up 12 spots to #11. North Carolina A&T and Montana each moved up 7 spots to #17 and #18, respectively, after solid wins to start off their seasons. Villanova and Southeastern Louisiana also sky rocketed up to #21 and #22, respectively, after not even receiving votes in the preseason poll following impressive week 0/1 showings.
With that movement there were plenty of teams going in the opposite direction headlined by Wofford who plummeted 14 spots into a tie at #22 after a loss to South Carolina State. Jacksonville State dropped 16 spots to barely hang on at #25 after their loss to aforementioned Southeastern Louisiana which kept their streak of consecutive weeks in the AGS top 25 alive now standing at 75 (which is the 3rd longest active streak behind North Dakota State and South Dakota State). Elon and Colgate dropped out of the top 25 after taking on season opening losses – in Colgate's case a pair of season opening losses.
For conference representation the Big Sky, CAA, and MVFC each placed 5 teams into the top 25. There were followed by the Southland with 3 and the OVC and SOCON who each put 2 teams into the top 25. Overall there were 9 conferences represented amongst the top 25.
Full results below:
Rank
Change
Team
Total Points
First Place Votes
1
–
North Dakota State Bison
2191
78
2
1
James Madison Dukes
2044
7
3
1
South Dakota State Jackrabbits
2008
3
4
-2
Eastern Washington Eagles
1912
1
5
–
UC Davis Aggies
1859
6
–
Maine Black Bears
1766
7
–
Weber State Wildcats
1579
8
7
Northern Iowa Panthers
1379
9
2
Kennesaw State Owls
1269
10
3
Towson Tigers
1259
11
12
Central Arkansas Bears
1151
12
-2
Nicholls State Colonels
1089
13
4
Furman Paladins
994
14
–
Illinois State Redbirds
985
15
-3
Montana State Bobcats
888
16
4
Southeast Missouri State Redhawks
730
17
7
North Carolina A&T Aggies
723
18
7
Montana Grizzlies
682
19
–
Indiana State Sycamores
681
20
2
Delaware Fightin' Blue Hens
518
21
NR
Villanova Wildcats
341
22T
NR
Southeastern Louisiana Lions
328
22T
-14
Wofford Terriers
328
24
-3
Princeton Tigers
301
25
-16
Jacksonville State Gamecocks
281
ORV:
26
1
Stony Brook Seawolves
233
27
-9
Elon Phoenix
208
28
NR
Youngstown State Penguins
178
29
-1
Sam Houston State Bearkats
176
30
-3
Chattanooga Mocs
154
31
1
Eastern Kentucky Colonels
89
32
-1
Yale Bulldogs
61
33
-7
East Tennessee State Buccaneers
60
34
-5
Dartmouth Big Green
59
35T
–
New Hampshire Wildcats
50
35T
NR
South Carolina State Bulldogs
50
37
-7
Duquesne Dukes
41
38
NR
Cal Poly Mustangs
38
39
NR
The Citadel Bulldogs
33
40
-2
Lamar Cardinals
29
Most Significant Win: Central Arkansas Bears
Most Significant Loss: Jacksonville State Gamecocks
Dropped out of the poll:
Alcorn State Braves
Colgate Raiders
Incarnate Word Cardinals
Samford Bulldogs
San Diego Toreros
Western Illinois Leathernecks
Join the discussion here: https://www.anygivensaturday.com/showthread.php?232932-AGS-Poll-Results-WEEK-1-POLL-2019-SEASON