The FCS Wedge Playoff Bracket
Our Method: We use the AGS poll to pick both the seeds and at larges as that poll has been one of the better predictors of both those selections and is a combination of many voters and not just that of one opinion. We use feedback from many wedge contributors to determine our best guess at automatic qualifiers. Once we have the field set we use the guidelines the committee uses from the FCS Championship handbook to put the bracket together. You can see those guidelines in the link below.
Here is the bracket based on current standings in the AGS Top 25 Poll.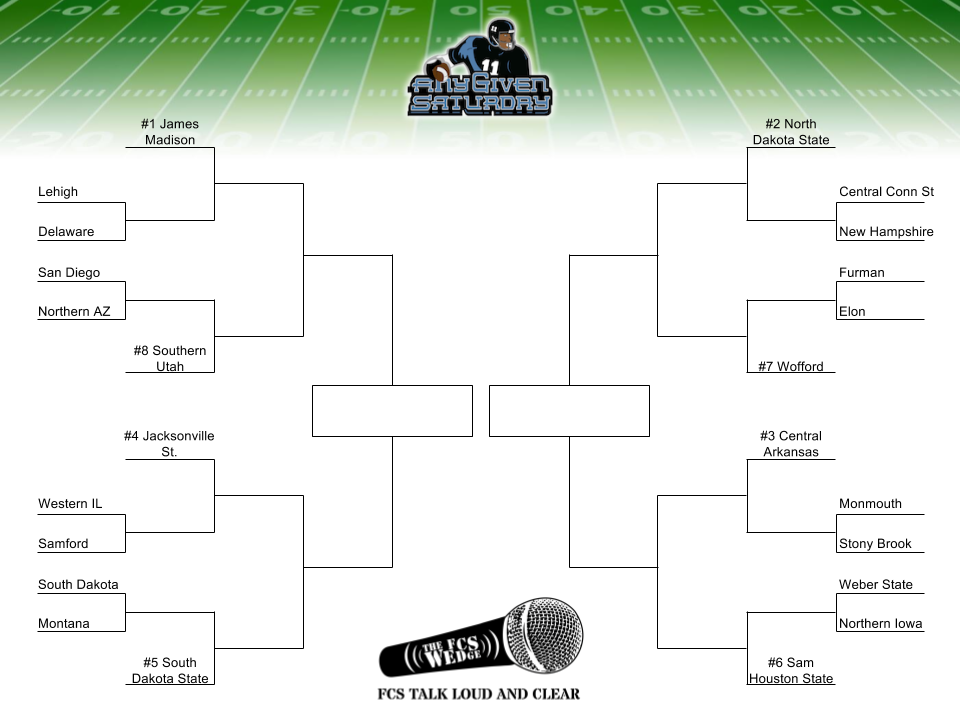 Last four in: Montana, New Hampshire, Delaware, Samford
First four out: McNeese St, Kennesaw St, Eastern Washington, Illinois State
Next four out: Nicholls St, Western Carolina, Richmond, Colgate
The Seeds: This week we saw NDSU jump back to the 2 spot it had resided in for the entire season until last week following an impressive win against South Dakota. Central Arkansas jumped ahead of Jacksonville St following JSU's close bout with Tenn-Martin. Elon was bumped from seeded territory after taking a loss at New Hampshire which made room to move Southern Utah into the seeds at 8. On the outside looking in we have Stony Brook at 9 followed by Weber State and Western Illinois.
The Bubble: Montana was the final team into the bracket with McNeese St being the unfortunate first team left out. McNeese St, Kennesaw St, and Nicholls St all look to finish with strong records but less than ideal SOS. Meanwhile both Eastern Washington and Illinois State look to finish with so-so records but both will have top 10 SOS in the nation. Barring a bunch of upsets this final weekend the bubble is looking awful full. The committee will have to make some tough decisions deciding who to leave home.
*Note: Elon and Furman played an OOC matchup earlier in the season. The committee does try and avoid these matchups barring it doesn't create additional flights. As this field was set, splitting up that matchup would create additional travel.
| | | |
| --- | --- | --- |
| | Conference Breakdown | |
| | Automatic Qualifiers | At- Large Bids |
| | | |
| Big Sky | Southern Utah | Weber St |
| | | Northern Arizona |
| | | Montana |
| | | |
| Big South | Monmouth | |
| | | |
| CAA | James Madison | Stony Brook |
| | | Elon |
| | | Delaware |
| | | New Hampshire |
| | | |
| MVFC | North Dakota St | South Dakota St |
| | | Western Illinois |
| | | South Dakota |
| | | Northern Iowa |
| | | |
| NEC | Central Connecticut | |
| | | |
| OVC | Jacksonville St | |
| | | |
| Patriot | Lehigh | |
| | | |
| Pioneer | San Diego | |
| | | |
| Southern | Wofford | Furman |
| | | Samford |
| | | |
| Southland | Central Arkansas | Sam Houston St |