Lehigh Mountain Hawks
2017 Record: 5-7 (5-1), PL Co-Champions
Head Coach: Andy Coen, 13th year, 82-56 (51-19)
Last Patriot League Title: 2017
Last Playoff Appearance: 2017
Schedule:
9/1 Saint Francis
9/8 Villanova
9/15 @ Navy
9/22 @ Penn
10/6 @ Princeton
10/13 Fordham
10/20 @ Georgetown
10/27 @ Holy Cross
11/3 Bucknell
11/10 Colgate
11/17 @ Lafayette
Overview
Lehigh enters the 2018 season seeking their third straight Patriot League Championship. Motivation should not be an issue after the Mountain Hawks won the league title with a losing record in 2017. The season ultimately ended with a second straight blowout loss in the 1st Round of the FCS Playoffs. At this point last year Lehigh was a preseason Top 25 team with legitimate national aspirations. Then the games started and the defense proceeded to have the worst statistical year in school history. This year expectations are far more tempered as a result.
They key to a 3-Peat is obviously improving the defense. The downright offensive "D" gave up a staggering 41 ppg. They  surrendered a whopping 243 ypg on the ground. Teams were able to run over, around and through the Lehigh front 7 for massive chunks of yards. Not even one of, if not the best, set of skill players in FCS could offset such a putrid defense.
Offense
Best Returning Player: RB Dominic Bragalone
Freshman to Watch: RB Reshawn Allen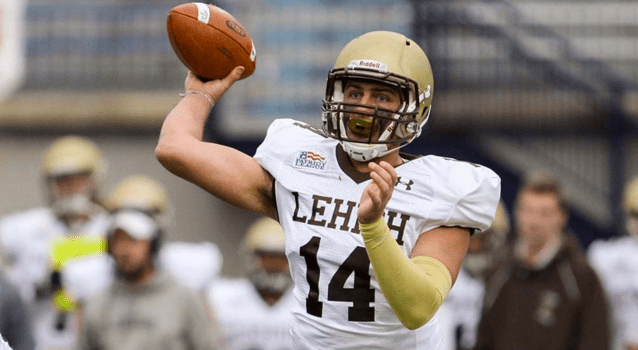 Heading into the 2018 season it's hard to find a better QB/RB combo than Brad Mayes and Dominic Bragalone in FCS. The two seniors have shredded opponents during their time in Bethlehem. Following the 2017 campaign Bragalone (1,388 yards, 18 TDs in '17) was named a 1st Team All-American by numerous media outlets while Mayes (64% Completion, 323 ypg 31 TDs 12 INTs) garnered 1st Team All-Patriot League honors at QB. Backing up the two stars will be junior QB Tyler Monaco and highly touted freshman RB Rashawn Allen.
The biggest question facing Head Coach Coen and OC Scott Brisson is the OL. The unit was hit hard by graduation and then injuries in camp compounded the problem. Despite these issues the Mountain Hawks still possess the talent needed to have a quality unit. Preseason 1st Team All-PL OT Chris Fournier and senior guard Liborio Ricottilli are entrenched in their positions. Junior Derek Lomax and freshman Justin Gurth will battle for the other tackle position. Jackson Evans (Jr.), Time Wagner (Sr.), Ryan Oneidas and Matt Fest (So.) will be in play for the center and LG spot.
The WR unit was also hit hard by graduation. 2nd Team All-American Troy Pelletier and 1st Team All-Patriot League selection Gatlin Casey were arguably the greatest WR duo in Lehigh history. Replacing their big play ability will not be easy but Lehigh has a history of churning out elite wide receivers. Waiting in the wings are several candidates who could become household names in FCS football before the end of the year. Jorge Portorreal (56 rec. 729 yards 2 TDs) put up really good numbers as the third option in 2017. Senior Luke Christiano is another candidate for a breakout year. Christiano had two huge games at the beginning of the 2017 season before a broken arm sidelined him. Seniors Sasha Kelsey, Cam Richardson and junior Devon Bibbens will also have an opportunity to make plays. Senior Dan Scaserra will likely get the nod at TE.
Defense
Best Returning Player: SS Sam McCloskey
Freshman to Watch: DL Bartek Rybka
The fate of Lehigh's 2018 season will be determined by how much the defense improves. New Linebacker Coach Mike Kashurba was brought in to shake things up and re-instill and overall toughness. The defense has fallen so far in recent years that a modest improvement likely won't be enough to win the league and climb into the national rankings. The unit must make significant strides in order to seriously compete for the league title and a return trip to the playoffs.
The Mountain Hawks must do a better job at stopping the run. They lost the battle at the line of scrimmage in often embarrassing fashion last year. There's plenty of experience returning along the DL but there's also one key cog missing. Defensive Coordinator Craig Sutyak must get better play from the unit without the unquestionable leader on defense, Tyler Cavenas (graduated). Seniors Julian Lynn and Harrison Kauffman will be called upon to lead the defensive front. Jack Kircher (So.) who returns from injury will also have a key role. Colin Nace (Jr.), Jason Dooling (So.) and Juwan Morrow (Sr.) will hopefully provide productive depth. Freshman Bartek Rybka was a disruptive force in high school and could see meaningful snaps as the season progresses. Overall, the defensive line still lacks size which one again might prove to be major issue against power running teams.
Like the DL, the LB unit is experienced but a bit undersized. To combat some of the size issues Lehigh be starting Davis Maxie (6'4 235) as a starting Rush End/LB.  Junior Keith Woetzel led the team in tackles. He's an extremely athletic backer who can make plays all over the field. Senior Mike Walker is also quite capable of making plays sideline to sideline. A trio of sophomores, Erik Slate, Nate Norris and Pete Haffner will be called upon to provide depth. Senior Brian Olshanski (6'2 235) has the size and experience to have an impact.
If the defense has a clear strength it's the secondary. Senior Sam McCloskey and junior Riley O'Neill give the Mountain Hawks two really good safeties.  The cornerback position is loaded with really good athletes. Donovan Harris and Kareem Montgomery have the experience and coverage skills to be lock down corners. Marquis Wilson and Tre Neal provide additional depth at CB. Freshman Divine Buckrham is expected to get the starting nod at the rover position.
Special Teams
Lehigh should have one of the better special teams units in the league. Ed Mish has proven he can successfully handle all 3 facets of the kicking game. If there's one area he can work on it's becoming more of a weapon kicking field goals. The return game should be good hands with Jorge Portorreal, Luke Christiano and Sasha Kelsey all having experience.
Outlook
Lehigh has the firepower on offense to put a scare in anyone in FCS. The ultimate question remains if the defense can improve enough to turn those scares into wins. While experience is bountiful, time will tell if it's good enough to get the job done on a consistent basis. The front 7 continues to be a bit undersized which will be problematic against teams with potent rushing attacks like Villanova, Navy, Fordham and Colgate.
The non-league schedule features 4 games that could go either way for the Mountain Hawks. Only the mid-September trip to Navy appears to be unwinnable. Lehigh opens the season with home games against St. Francis and Villanova. The Red Flashes have become a tough out in recent years while Lehigh-Villanova almost always comes down to the final minutes. A pair of quality Ivy Leaguers, Penn and Princeton, conclude the out of conference portion of the schedule. While wins will be hard to come by, a repeat of last year's 0-5 OOC record should not happen.
The odds of Lehigh winning 3 straight Patriot League Titles seems unlikely given the talent and experience that resides in Hamilton, NY and the offensive firepower Fordham possesses. That doesn't mean Lehigh won't make a legit run at it. With so much elite FCS talent at the skill positions Lehigh might have the highest ceiling of anyone in the league. They also seem the most likely to come up well short of expectations if the defense continues to struggle.
Prediction: 6-5 (4-2)